Are you contemplating starting a photography business? Probably, your mind is weighed down by an excessive range of questions.
If you were wondering how to start a business in photography then this small photography business guide is meant for you.
Is it rewarding to put in the hours? What are the pros and cons? How much money are you likely to reap? What type of equipment does photography entail?
Should you pursue a specialized type of photography? How do you acquire clients?
There are numerous factors to consider, including knowledge of camera angles, lighting, editing, and other aspects of photography.
Nonetheless, if you love shooting photography and are ready to put in the time and work, it is feasible to earn a career from your passion. "All our goals can come true if we dare to follow them," Walt Disney once stated.
We'll start you through the process of starting a photography business in this post.
POST CONTENTS
Starting a Photography Business: The Pros and Cons 
Photography Business Ideas
How to Start Your Own Photography Business
Summary: How to Start a Photography Business
FAQs about Starting a Photography Business
 Starting a Photography Business: The Pros and Cons 
Business and hobbies can intertwine, but the two are diametrically different.
Therefore, before transforming your hobby into a business, evaluate the advantages and disadvantages of starting a photography business.
Photography Business
Pros
1. Earn a Living by Pursuing Your Hobby
Confucius, the ancient Chinese philosopher, allegedly stated, "Choose a career you love, and you will never work a day in your life."
If you choose to start a photography business, you'll be able to spend the majority of your time doing what you love: capturing images.
2. Find Value in Your Profession
Photographers are engaged to capture and permanently preserve special moments. Whatever the subject, whether it's nature, family pictures, weddings, or anything else, photographers can discover a great deal of significance in their work.
3. Grow Your Social Circle
Whether you meet people at weddings, at your portrait studio, or on location while photographing wildlife, photography may be an excellent method to meet a large number of new and interesting people. Additionally, most cities have active meetup.com groups that gather regularly to socialize.
4. Travel Opportunities
Are you a travel enthusiast who thrives on new experiences? Many photographers make travel into their work regularly. Schedule clients to visit sites you like to call.
Flexibility
Operating a photography business might provide you and your family with a great lot of flexibility. Compared to a regular nine-to-five job, you have complete control over your schedule. This simplifies prioritizing childcare, vacations, and time with loved ones.
Photography Business:
Cons 
You Risk Pissing away Your Passion
As indicated previously, hobbies and companies are opposed in numerous ways. Turning your pastime into a business can sap the excitement and spontaneity it, and photography can become monotonous, tedious work.
Unsociable Hours of Work
Numerous photography shootings take place after-hours and on weekends. This can make socializing with friends and family members who work or attend school during the week difficult.
High Equipment Costs
Depending on the amount of equipment you already own, starting a photography business might be pricey.
Unreliable Customers
Some customers might be challenging or draining. Additionally, certain occurrences might be unpleasant and elicit the worst in people. For instance, if you choose to photograph weddings, you may occasionally encounter a "bridezilla."
Unpredictable Income
As is the case with any small business, income is not always predictable, and it may take time to establish a continuous flow of work. Therefore, when you first start, your income will almost certainly fluctuate.
Photography Business Ideas
The most successful photographers focus exclusively on one type of photography. Why? In summary, experts are in greater demand than generalists.
Consider this: If you're getting married, would you want to hire a general photographer or a wedding specialist?
Therefore, before you start your photography business, decide sometime to determine the type of photography business you wish to run.
We've compiled a list of nine popular photography business ideas to assist.
Entrepreneurship in Food Photography6. Food Photography Business
Restaurants, food brands, and advertising agencies frequently use the services of professional food photographers to highlight their products or menu items.
2. The Real Estate Photography Business Model
Realtors, property managers, homeowners, hotels, & even Airbnb hosts require outstanding photographs to sell their properties effectively.
3. Wedding Photography Business
Wedding photographers are needed to capture in documenting and preserving each couple's special day.
4. Portrait Photography business
Families, performers, models, and business people all require the services of a portrait photographer on occasion.
5. Fashion Photography business
Fashion photographers are required by designers, magazines, and runway events to capture and promote the latest trends and creations.
6. Product Photography Business
Businesses that sell products require acceptable images for marketing and sales purposes.
7. Travel Photography business
Travel photographers capture breathtaking images of countries, cities, magazines, blogs, hotels, and tourist sites. These pictures are suitable for use in entertainment or promotional materials.
8. Event Photography Business
Birthday parties, graduations, business gatherings, and religious ceremonies all require the services of event photographers.
9. Sports Photography business
Sports photographers are experts in capturing sporting events' movement, excitement, and drama.
How to Start Your Own Photography Business?
The process of starting a photography business would revolve around the following questions:
How Much Would a Photography Business Cost to Start?
Before starting a photography business, it's good to have a basic idea of how much setting up would cost – especially set the high cost of professional photography equipment.
Therefore, what does it cost to start a photography business?
To that end, Jamie Swanson, a Wisconsin-based wedding photographer, assessed the overall costs of beginning two distinct types of photography enterprises. What she discovered was as follows:
Total startup costs for a wedding photography business are $13,000 and $17,000.
Total startup costs for a portrait photography business are $8,500 and $12,400.
"With less than $10,000, you can start a portrait photography business, and with less than $15,000, one can start a wedding photography business," she added.
Great, but why do you need this much money?
What Equipment Would A Person Require In Starting a Photography Business In 2022?
If you've worked as an amateur photographer for a while, you're probably already equipped with the majority of the necessary equipment.
Nonetheless, you should assess whether your equipment is of sufficient quality to create work that you can confidently charge for.
Additionally, you'll almost certainly need to invest in additional equipment and services to operate your photography business.
This is a comprehensive list of everything you'll need to start your own photography business.
Equipment Used in Photography
Let's begin by going through the gear you'll need to start a photography business.
1. Smartphone with a High-Resolution Camera
Although you'll need a professional-grade camera for shoots, you may capture behind-the-scenes content for social media with your smartphone. This content can be used to promote your photography business.
2. Dependable Automobile or Van
As a professional photographer, your career is contingent on your ability to serve clients with a high-quality service. In other words, being late – or not at all – due to a car breakdown is highly detrimental to business. Make that you and your gear have reliable transportation.
3. Smartphone Applications
Additionally, you may want to download various picture editing tools to enhance the quality of your smartphone photos before sharing them online. Snapseed, Lightroom CC, Scratch Photos, & Photoshop Express are also worth looking at (picture below).
4. External Hard Drive
High-quality digital images can take a significant amount of hard drive space on your computer, which might cause your computer to slow down. Rather than that, invest in purchasing an external hard drive to save your photo files.
5. Professional Camera
Naturally, the most critical piece of equipment is a professional-grade camera. Before purchasing a camera, do extensive research on the make and model best suited to your type of photography.
6. Backup Camera
Having a high-quality backup camera is always a brilliant idea for a professional photographer. That way, if something goes wrong with your camera during a shoot, you can continue shooting.
Consider what would happen if you were hired to shoot a wedding and your camera malfunctioned during the vows!
7. Camera Bag
Because professional-grade cameras and lenses are not inexpensive, it's critical to protect them with a dedicated camera bag. Additionally, these backpacks make it easy to organize and access your gear while on location.
8. Studio Space
Depending on the type of photos you plan to take, you may require studio space to purchase or rent. Alternatively, you may create a modest home studio.
9. Editing Tools  
Additionally, you'll need professional picture editing software such as Photoshop or Lightroom to polish your photographs.
10. Photo Printer
If you plan to offer prints to your clients, you may invest in a picture printer. Alternatively, you may choose a nearby printing service to utilize whenever you need to print images for clients.
11. Backdrops
If you're going to start a portrait photography business, you will need to create or purchase some backdrops.
12. Computer
To market your business, edit images, and manage your photo files, you'll need a dependable computer.
13. Lighting
Excellent lighting is necessary for fantastic photographs. While natural light is frequently the finest, you'll need to take some lighting equipment or reflectors to assist you in taking amazing shots when there is insufficient sunlight.
14. Lenses
Each photographer must have a collection of professional lenses inset to capture their subjects. Again, do your research on the types of lenses best suited to your style of photography.
15. Tripod
Tripods are a necessary piece of photography equipment for any photographer. Not only do they assist in maintaining the stability of your camera, but they also enable you to take numerous shots of a subject without moving your frame.
16. Laptop
When you edit photos on a desktop computer with a large screen, you may also want to invest in a laptop for on-the-go editing.
17. Props
Depending on the type of photos you plan to take, you may wish to obtain props. For instance, if you're an event photographer, you may assemble a collection of party props such as big glasses and ridiculous hats.
Marketing Strategy
Now that you've sorted your equipment let's look at some of the marketing tools you'll need to grow your photography business.
18. Online Portfolio and Website
You'll need a professional website that promotes your services and past work. (I'll elaborate on this later.)
19. Social Media Platforms
It may be beneficial to have an active presence on social media networks like Facebook, Instagram, Pinterest, and LinkedIn. These channels can be used to promote your work and network with prospective clients.
20. Business Cards
Business cards are a tried-and-true method of self-promotion. Always keep a few on hand and share them with new connections during events and photoshoots. Check services like Vistaprint, Office Depot, or Staples to create your own.
Operational Instruments
Now, let's look at several tools that can take you to manage your business's operations.
21. Contracts with Clients
It is best to have the other party sign a contract whenever you acquire a new customer or project. This protects you if something goes wrong and defines what is expected of them in the arrangement for both parties. For example, you can purchase contract templates or employ a local attorney to create contracts on your behalf.
22. Accounting Software
Once you are self-employed, you'll be obliged to maintain financial records and file tax reports. For example, consider using an accounting program such as Freshbooks, Quickbooks, or Xero to assist you.
23. Payment System
As a business, you'll require an efficient collection method. This system would enable you to take payments online, via phone, or in person in an ideal world.
Using Shopify's POS system is a cost-effective and straightforward approach to accomplish this.
Shopify is a full-featured commerce platform that enables you to create a website, manage your business, and take payments.
24. Business License
Your business may need to be registered with your local or state government. Make that you research the licensing requirements for photography firms in your town.
25. PPA Membership
You might want to join the Professional Photographers of America. This association helps professional photographers with resources, advice, and instruction.
26. Insurance
Accidents do occur. You may decide to consider purchasing business or equipment insurance to help protect yourself if something goes wrong.
Photographers' Fees – How Much Do They Charge?
If you're considering how to start a photography business, you're undoubtedly also curious about the fees charged by photographers.
While there is no definitive answer to this question, we can look at some averages to understand the range.
According to the business site Fash, professional photographers frequently charge between $100 and $250 per hour, typically equating to a fee of between $25 and $100 per final edited shot.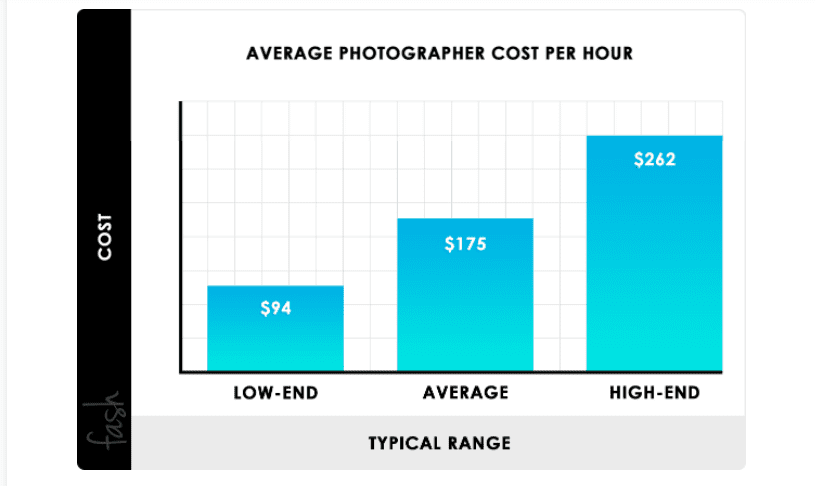 It's critical to remember that a photographer's earnings are determined mainly by their level of expertise, experience, and the type of photography they undertake.
Additionally, the average daily charge for photography services is between $300 and $500 for birthday celebrations and between $1,000 and $3,000 for weddings.
Additionally, keep in mind that this is the fee that photographers charge — not the fee that photographers make.
There are many types of photography business as shown in the picture below: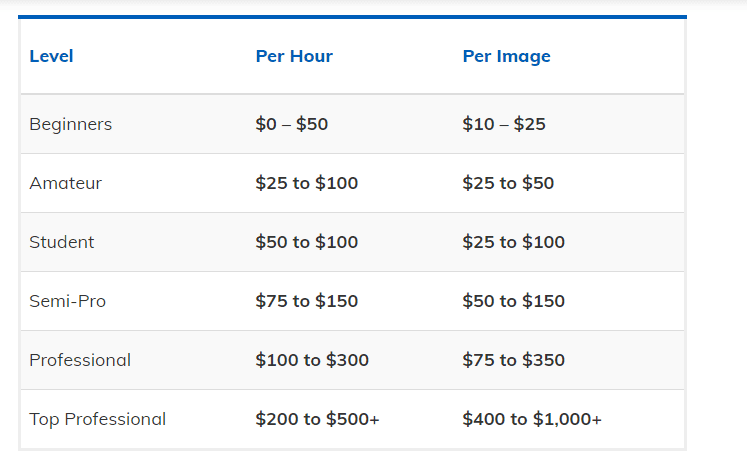 While a photographer's hourly cost may be $200, they must factor in administration, travel, marketing, equipment, and editing time. After deducting these added charges, their take-home pay would be whittled down.
How to Choose a Business Name for Your Photography Business
There are two fundamental considerations for naming your photography business: So below explain photography business name ideas that I may use;
Call your business simply "Carol Dollah Photography" or "Dollah Delance Wedding Photography."
Or create a new brand name for your photography services, such as "Deluxe Photography" or "Deluxe Wedding Photography."
You're all set if you picked option number one.
However, there are a few things to consider if you choose option two. To start, you must select a name appropriate for the type of photography business you are starting.
For instance, if you photograph weddings, the name "Happily Ever After Photography" will work well. However, this method may not be as effective when photographing corporate business gatherings.
Check out the business name generator to assist in brainstorming ideas.
Following that, you should see if your business name has previously been trademarked. To begin this process in the United States, conduct a TESS trademark search using the "basic word mark search" option found on the USPTO website.
Additionally, it's worth conducting a Google search to determine whether another business is already using the name or is using a confusingly similar name, such as "Happily Ever After Videography."
If you discover that someone is already using the name, it is preferable to avoid it and come up with something unique.
How to Develop a Strong Brand for Your Photography Business
You'll need to create your brand images before starting marketing your photography business.
This includes deciding on a visual style, color scheme, and font family. These graphics can be used on your website, social media channels, business cards, and any other marketing materials you create.
Additionally, it aids in developing a professionally designed logo; with Hatchful, this is entirely free.
The logo shown below was created in a matter of minutes. Additionally, Hatchful offers pre-designed branding images tailored for social media, as illustrated in the image.
The Marketing of Your Photography Business
The most critical stage of starting a photography business is now: client acquisition. You must market your services to accomplish this.
However, before you start marketing your photography business, it's a good idea to compile a portfolio of work that helps your skills. And the most straightforward way to showcase your photography portfolio is to create a professional website.
This is possible through the use of a service such as Shopify. This service offers many website templates designed exclusively for art and photography-related enterprises.
Once you've established an internet portfolio, you may promote your photography business.
Begin by posting on social media and contacting people in your network to see if they know of anyone who would be interested in your services. It's not unusual for a photographer's first few clients to be familiar people.
Additionally, make some business cards in your bag for all people to hand out to new acquaintances.
After completing these steps, join Facebook groups relevant to your target market and start networking. For instance, if you are a New York-based wedding photographer, you may like to join New York Weddings.
Additionally, you may visit trade exhibits and events in your market. For instance, you may find numerous prospective clients at dog exhibitions if you are a pet photographer.
Read Also:
Summary: How to Start a Photography Business
So, how do you start a photography business in a nutshell?
If you're unsure how to start a photography business, the following steps may help:
Consider the trade-offs between the pros and cons.
Focus on a specific type of photography, like weddings, fashion, or portraiture.
Determine the initial investment involved to start.
Acquire all necessary equipment, such as cameras, lenses, and editing software.
Set up a payment system, business license, insurance, and contracts for your business.
Design a pricing structure for your product.
Decide on a business name for your photography business.
Design a logo for your business and establish a brand identity for it.
Get your business marketing.
Developing a pastime into a source of income may be incredibly gratifying. Cheers!
FAQs About How to Start a Photography Business 
What is the best way for me to start my career in photography?
Apart from the primary camera, you'll need backup cameras, lenses, a tripod, a camera bag, adequate lighting, backgrounds, and props, as well as a computer or laptop and editing software.
You may also require marketing and operational tools if you're starting up your own photography business.
How much money is involved in starting a photography business?
Many photographers budget at least $5,000 to get started, although the exact amount varies according to the type of business being launched.
Portraiture, for example, has cheaper entry fees than wedding photography. How much you require is also determined by your marketing budget, available equipment, and long-term business objectives.
How can I start a photography business without money?
Here are some ideas for starting a photography business on a shoestring budget:
Instead of outsourcing your business website, invest some effort in building it yourself.
Hone your skills through practice with friends and family.
Become acquainted with photography fundamentals by taking advantage of online courses and tutorials.
Rather than owning equipment, rent it.