Are you set to be the next Shopify success story? It's understood that starting a business online can be scary. Here is a list of Shopify stores examples that are inspirational and very successful either selling their own products or dropshipping.
However, there are many aspects to address, from avoiding bankruptcy to optimizing your landing pages to naming your business. Nonetheless, you will find some inspiration here!
In This Post
Best Shopify Stores for Electronic Accessories & Gadgets
Best Shopify Stores for Health and Beauty
Shopify Stores for Home & Furniture
Best Shopify Stores for Accessories
Best Shopify Stores for Cosmetics
Best Shopify Stores for Clothing
Best Shopify Stores for Art
Other Worthwhile Shopify Stores
Setting up a Successful Shopify Store
FAQs About Shopify Stores
Summary
We have compiled a list of over 50 online powered Shopify stores to peruse. Not just any store, but businesses that are doing exceptionally well. Each of them is a successful eCommerce business that paved its path to success.
And success meant different stuff to each of them. Their exploits range from executing exceptional store concepts to landing high clients such as Ben Affleck to securing multimillion-dollar investments and a six-figure income.
Perhaps, these will inspire you to start your own online business.
Best Shopify Stores for Electronic Accessories and Gadgets
Master and Dynamic
Master and Dynamic sell high-quality headphones to all audiophiles out there. The products sold through this Shopify store are a part of the $1 billion headphone market and comparable to Beats by Dre.
A Melbourne-based product design studio runs this Shopify store. They describe themselves as "dedicated to reducing the complexity associated with everyday interactions with technology in a beautiful and basic manner." They sell mounting solutions for the iPhone, iPad, Apple Watch, desk stands, travel accessories, and wall mounts. They keep the design of their website unobtrusive and straightforward.
This Shopify store made our list for their fashionable tech accessories. They are headquartered in Los Angeles and create all their iPhone cases in-house. They are unique because they have incredibly intricate and bright designs embroidered on iPhone cases in various shapes and sizes, with a large selection to choose from.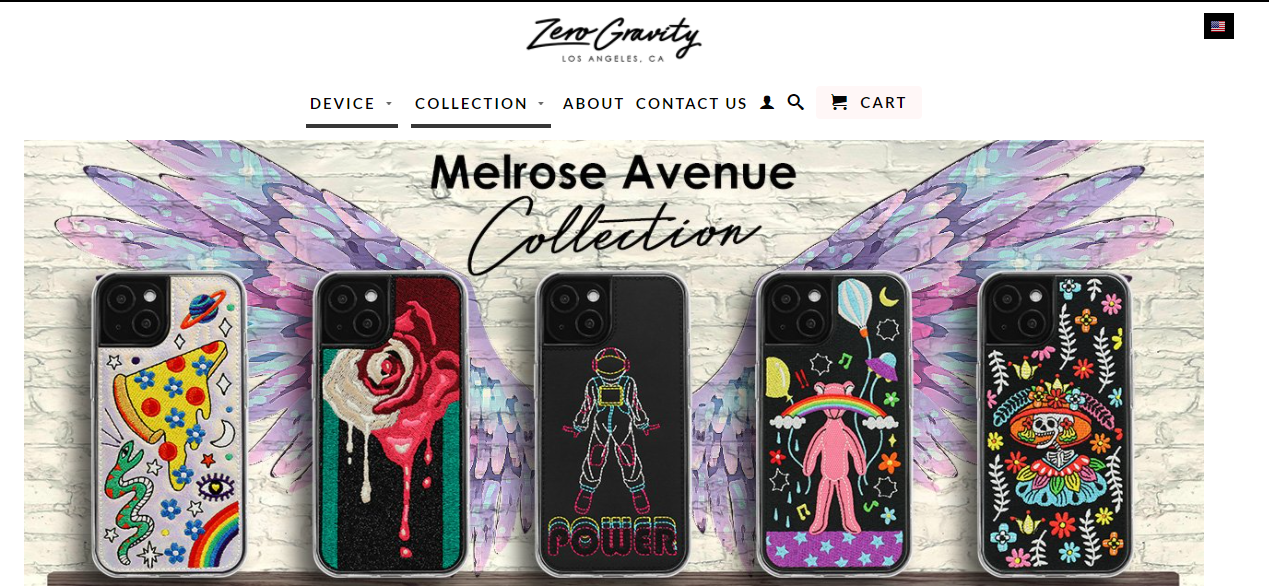 Studio Neat
Studio Neat raised funds for their product concepts via Kickstarter. They launched another campaign for a smartphone tripod in 2016, garnering nearly $210,000 in less than 30 days.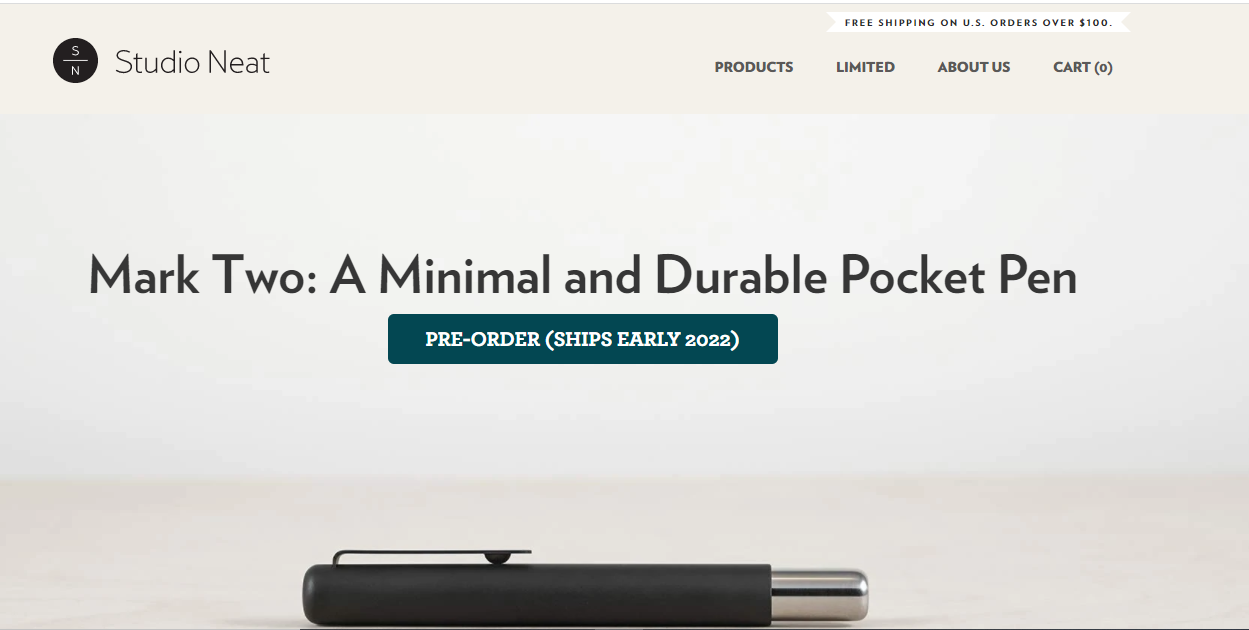 Their goal was a meager $50,000. The store is owned by two designers passionate about creating simple products that solve people's problems.
Quad-Lock
Quad-Lock is a Shopify store that was developed in 2011 in Australia. Their flagship device enables you to securely install your smartphone to your bike, car, or arm, among other places.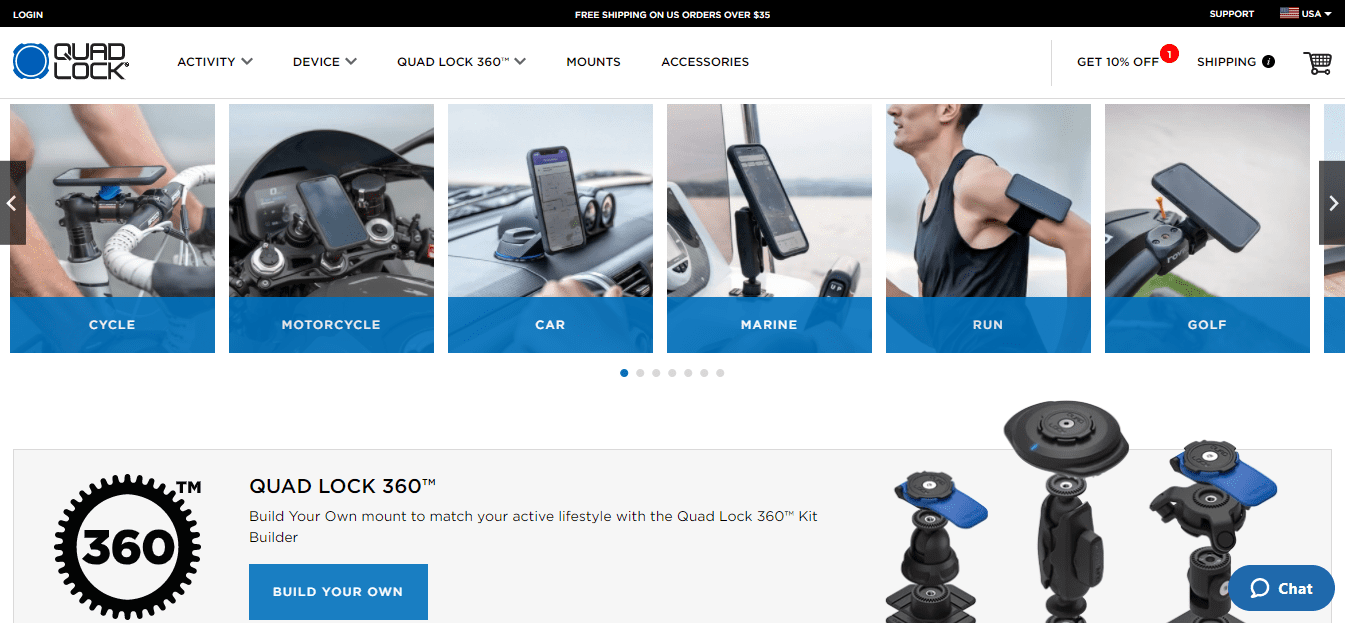 Since its introduction, the Quad Lock bike mount has been customized to accommodate a range of diverse uses, including a wall mount, belt clip, and tripod adaptor.
BURGA
This Shopify store sells a range of incredibly stylish and thoughtfully functional lifestyle accessories. What began as a women-centric phone case company — founded by two guys, no less! – has grown into a full-fledged store offering everything from water bottles to wireless chargers. You'll recognize BURGA products by their colorful signature designs and never-fading prints.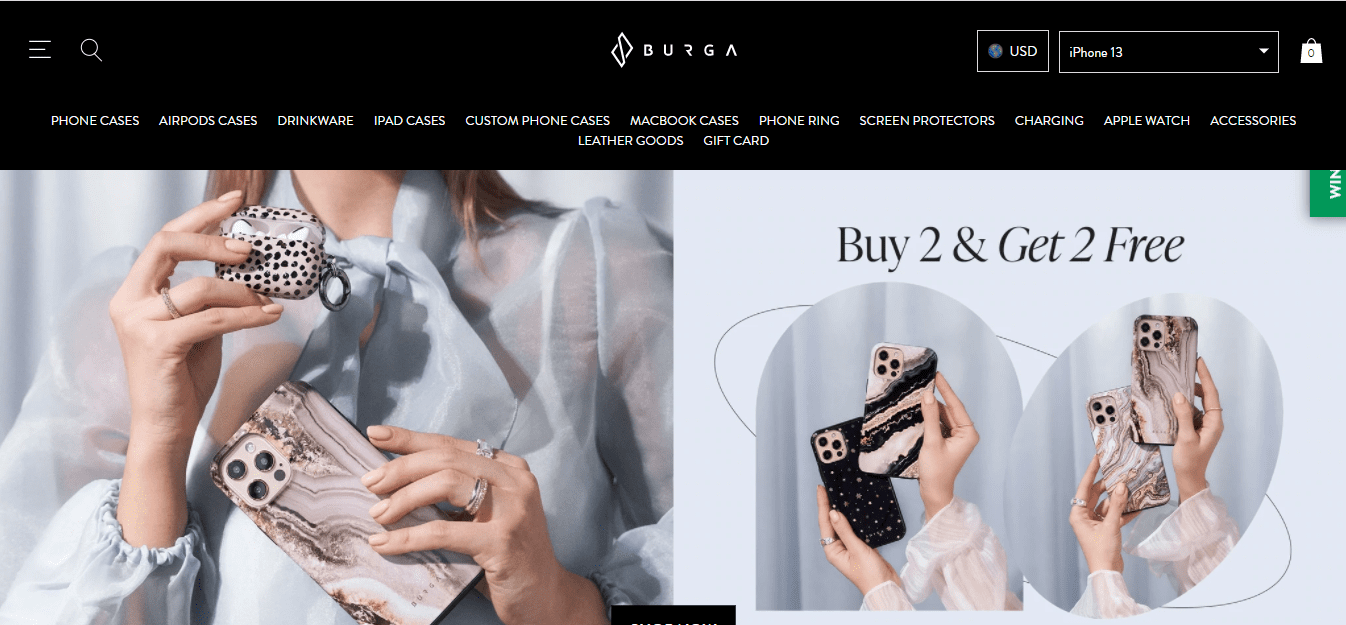 Health and Beauty Shopify Stores
Little Sparrow Tea
Little Sparrow Tea is a London-based specialty tea company. Their goal is to provide authentic and magical tea experiences. They have a limited selection of teas, including white, herbal, black, and green. Additionally, this Shopify store's blog contains a wealth of information about the health advantages of tea, as well as other intriguing tea-related posts.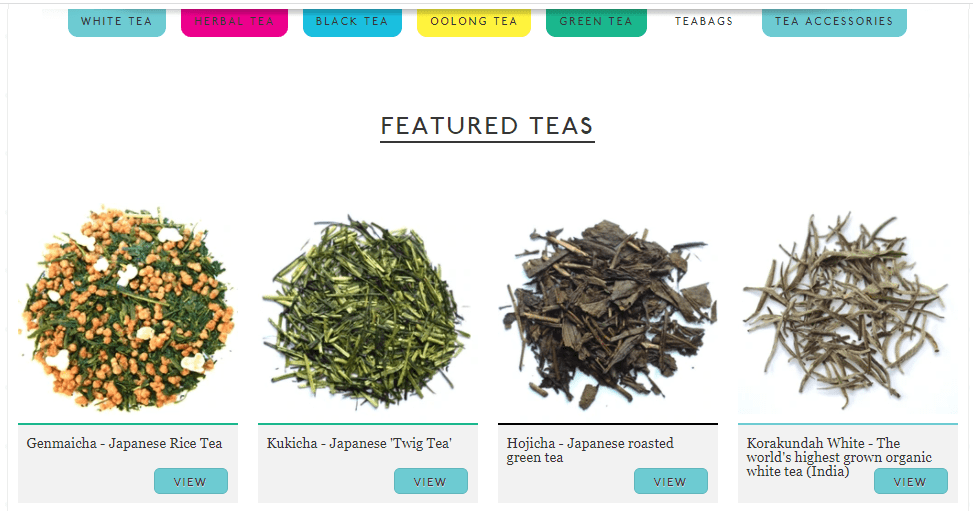 Happiness Abscissa
The Happiness Abscissa (Ha) is dedicated to reflecting joy. According to their ideology, The Ha is a subjective scale that integrates neurobiological and sensory components that may be tuned to increase a person's sense of wellbeing. This Shopify store is another excellent example from which you can draw inspiration.
Cookbook Village
Cookbook Village began selling cookbooks on eBay and has since flourished on Shopify. The owners come from a marketing experience and leveraged their store's blog, email marketing, and Google Ads to ensure the success of their business.

The Australian company produces entirely natural detox drinks. Their objective, founded in 2012, is to assist people in achieving their health and wellbeing goals. After only nine months, this Shopify store generated $600,000 in monthly revenue.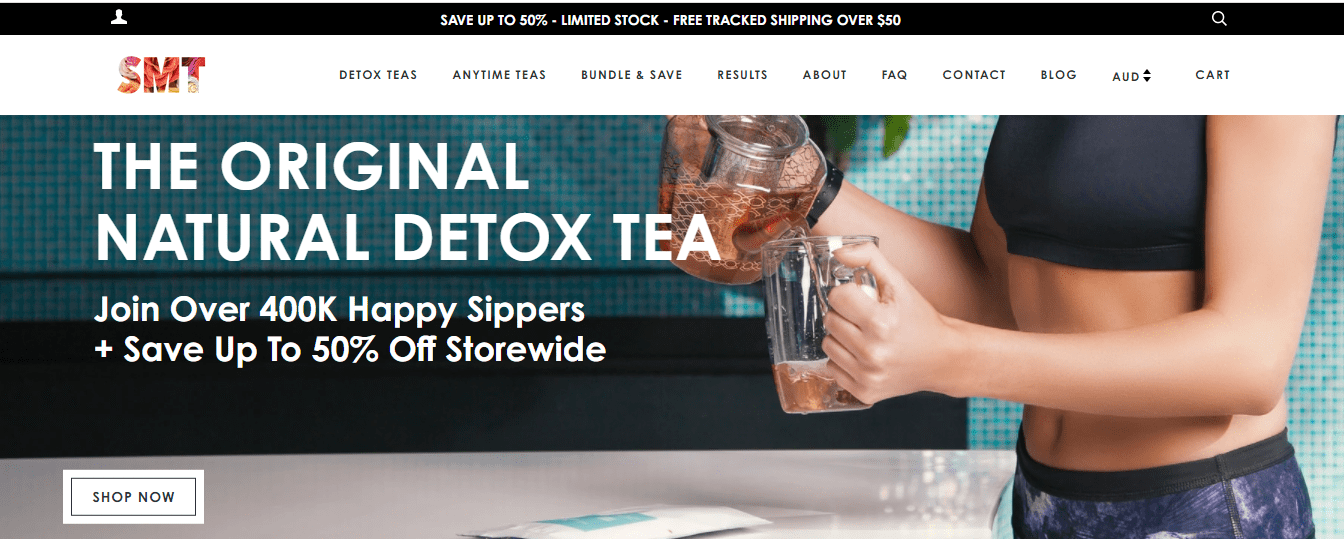 Skinny Teatox
Skinny Teatox is an all-natural detox tea regimen that improves overall health and weight loss. Due to its undeniably attractive website design, this Shopify store was included in the top 50 Stunning Ecommerce Stores Built Using Shopify list. Skinny Teatox is made entirely of natural ingredients, without preservatives or chemicals. The tea leaves, senna leaf, ginseng, chrysanthemum, cinnamon bark, cloves, rhubarb, and ginger are just a few of the ingredients.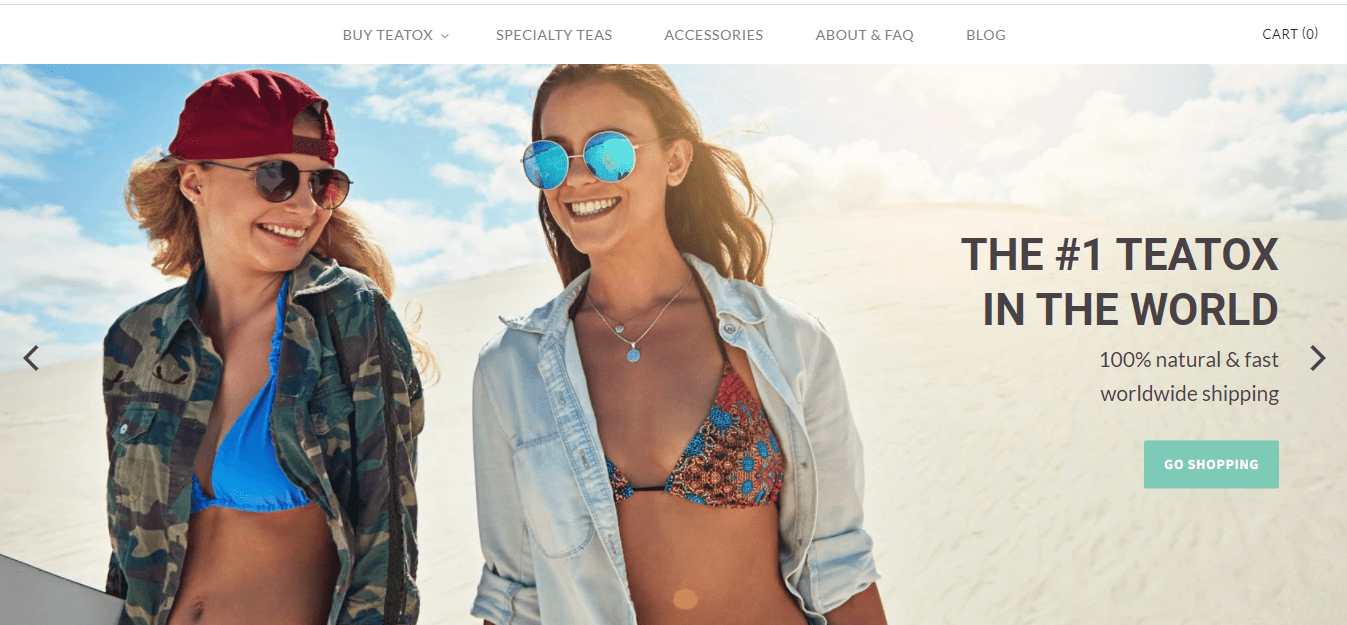 Georgie and Ed, the founders of PRESS, developed a taste for cold-pressed juices and came to rely on them as a convenient, delicious, & healthy addition to their diets. What is the outcome? Press London is the name of a Shopify store. This Shopify store is dedicated to providing juices that are delicious and help you meet your daily nutritional requirements.

Nutriseed
Nutriseed is a Shopify store that is nutrition-obsessed. They've grown exponentially over the last few years, from humble beginnings in the countryside to a state-of-the-art manufacturing facility in the United Kingdom.
They take a hands-on approach that requires them to exercise complete control over the quality of their products from beginning to start. They have nearly 40,000 Instagram followers and sell over 200 products per day.
Bootea
Bootea dominated the dietary and lifestyle scene in 2016 with its detox tea. With one of the most well-marketed Instagram products, this Shopify store has garnered listings with multiple national retailers and over 1 million global customers.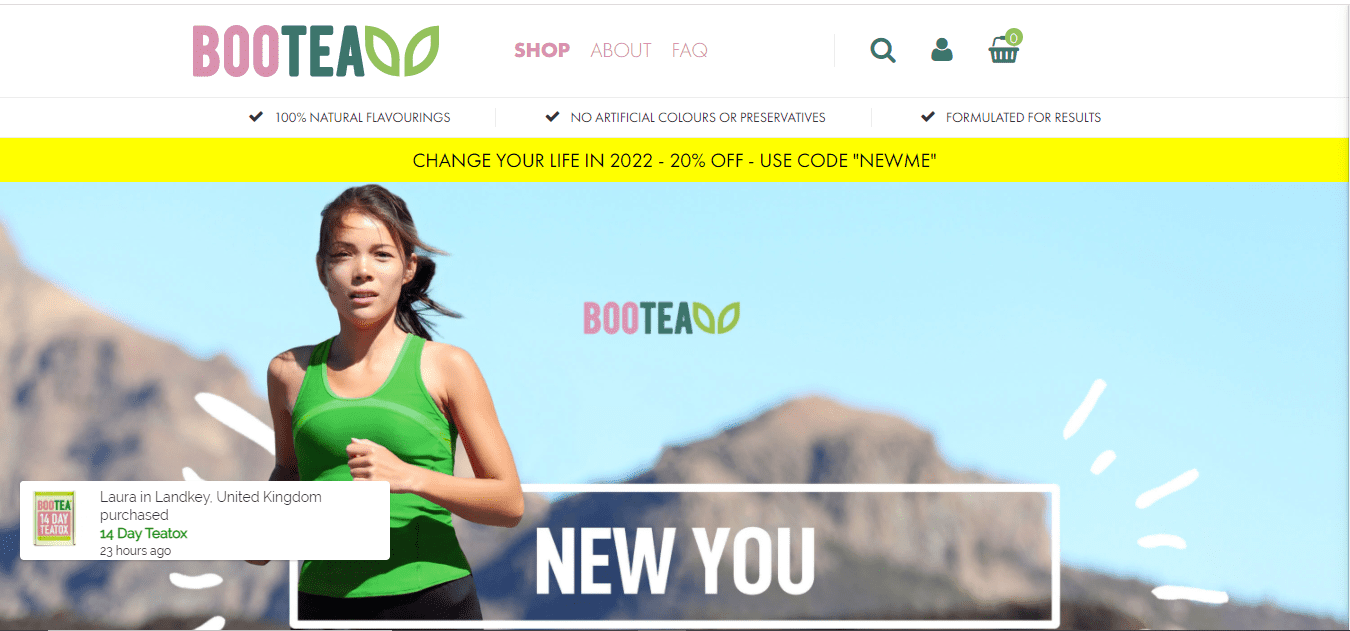 Flex
Flex is a feminine hygiene product that is an alternative to tampons. The wonderful thing about it is that it allows women to have sex during their period. If you're not convinced that's a viable business idea, consider that this Shopify store alone raised $4.6 million tor the first half of 2016.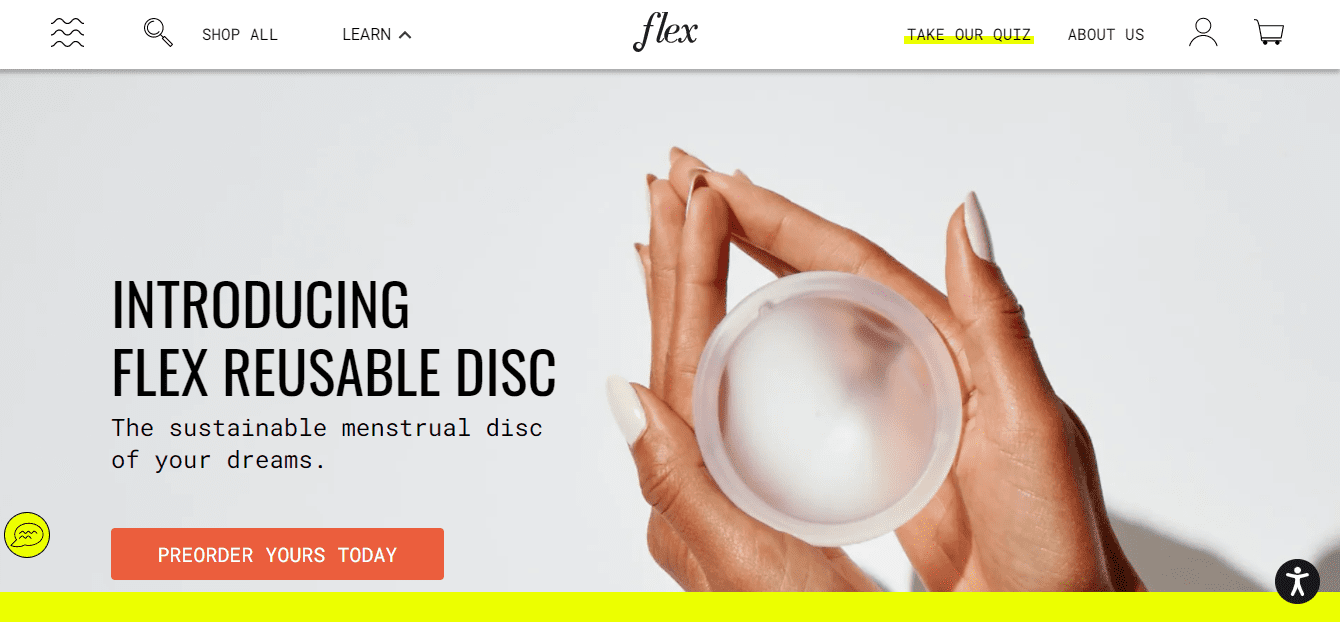 Home & Furniture Shopify Stores
Au Lit Fine Linens
This Shopify store's mission statement reads, "Change the way people sleep and improve their overall quality of life." The store carries a wide selection of bedding, pillows, duvets, and other bath and comfort products. What's great about this Shopify store is that it includes a section dedicated to tips and advice, which is beneficial for those seeking guidance and more.
If you're looking for homeware and furniture inspiration, this is the Shopify website to visit. Their product range is described as modern, nature-inspired home decor.
They sell everything from home furnishings to artwork, and they use warm autumn hues to highlight their products on their website, lending this Shopify store a friendly, cozy vibe.
This top Shopify store is all about rugs. Not only do they offer a large selection from which to choose your favorite rug, but they also offer the option of creating a custom rug precisely the way you imagined it for your home.
The said Shopify store sells exquisitely crafted decor. They have everything you need to decorate your home, including a sleek-looking website. This Shopify store sells various home accessories, ranging from pillows to kitchenware and everything in between.
This Shopify store is differentiated by its modern theme, which complements the products. Each product page includes a detailed description, large imagery, and a description of the product's designer. It is without a doubt one of the most visually appealing Shopify stores.
This Shopify store features an uncomplicated website. Not only did they choose an excellent business name, but the colors used on their website helped their products stand out. As a result, you can easily navigate this store to find the products that interest you.
Accessories Best Shopify Stores
Dave Allison launched this Shopify store in late 2010, and it has since gained worldwide recognition. The premium eyewear brand's strategy is based on quality, simplicity, and uniqueness.
WP Standard won Shopify's Design Award in 2013, gaining significant exposure to their target audience – the design- and quality-conscious technology crowd. It's a prime example of how design can significantly impact the success of a Shopify website. This Shopify store specializes in full-grain leather goods such as bags, wallets, belts, and laptop sleeves.
The said line of bags for moms and children generates 25% of its revenue through Shopify stores. Profit margins are higher on those sales due to the higher margins associated with direct sales. In addition, they have various collections for adults, children, and babies on their Shopify website.
Wolf Circus
Wolf Circus is a Shopify store that sells a line of fine jewelry that is handmade in Vancouver, British Columbia. All of the Wolf Circus products are hand fabricated or cast using the lost-wax casting process, using recycled sterling silver or recycled bronze that has been plated with 14k gold. This Shopify store bills itself as an "affordable luxury." They've gained recognition for their accessories, known for their superior quality and attention to detail.
This trendy Shopify store is not afraid to inject color into its shades. Instead, their website is extremely user-friendly and simple to navigate. ToyShades offers a variety of product collections, such as autumn shades, winter shades, and everyday eyewear. Oh, and if you're interested in seeing their trendy collections, they regularly post them on their Instagram page.
Nerdwax
Nerdwax is 100% organic and natural beeswax formulated to help people keep their glasses in place. The company declined two Shark Tank offers. If this Shopify store has made over a million dollars in total sales to date, it is doing something right.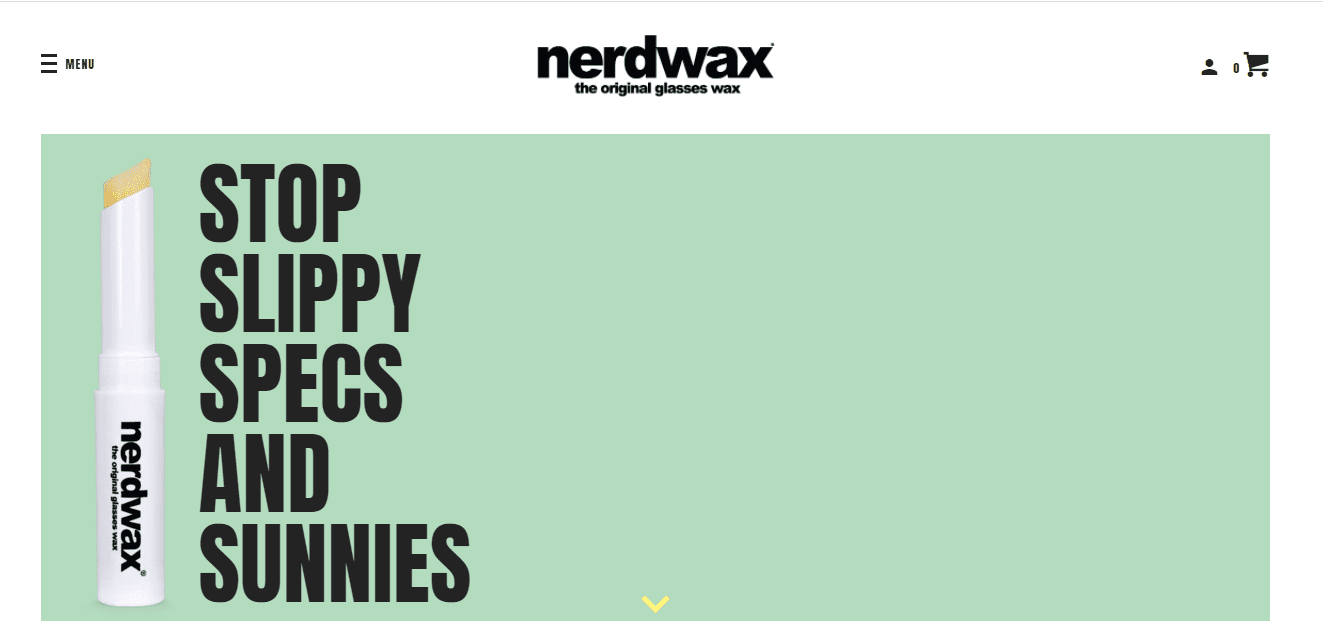 This British luxury watchmaker is an award-winning Shopify store featuring exquisitely engineered chronometers. Annual production ranges between 8,000 and 10,000 pieces. In 2017, the company's earnings were reported to have increased to £14 million.
This Shopify store sells high-end travel gear geared toward digital nomads. It was founded by two New Zealanders who became dissatisfied with their travel gear. They reasoned that quitting their jobs and starting their own business would be a fantastic idea.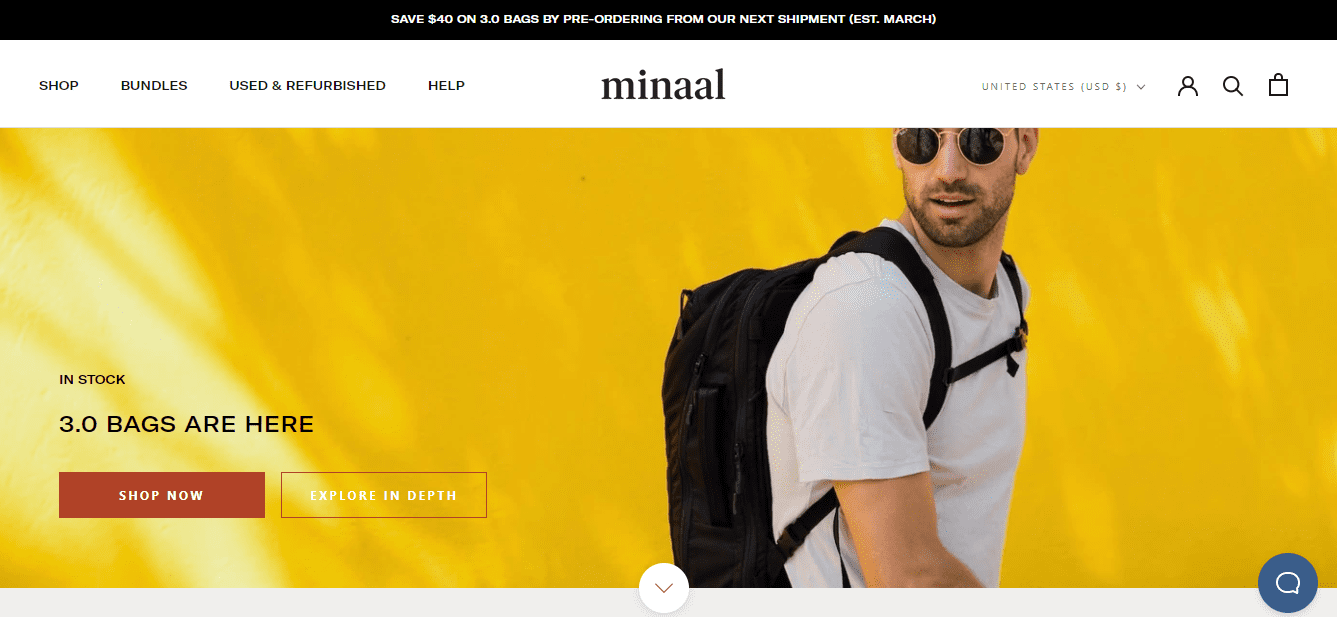 They launched a second Kickstarter campaign in December 2015, raising $707,631 from over 2,400 backers. The campaign's funding goal was a meager $10,000. This is an excellent Shopify store example for entrepreneurs with long-term goals who enjoy working on the go.
Biko
This Shopify store features a minimal design with only a few navigation options. Its photography is what distinguishes it. They self-describe as a "modern nostalgic jewelry brand." Biko, based in Toronto, handcrafts each piece using materials such as sleek mixed metals and natural stones.
Best Cosmetics Shopify Stores
Jeffree Star Cosmetics
Jeffree Star Cosmetics is the cosmetics line created by Jeffree Star, a makeup artist, fashion designer, and model-based in the United States. With a hot pink website design, Jeffree Star Cosmetics offers a slew of holiday and limited-edition products to their customers, as well as free shipping to the United States on orders over $100. It is undoubtedly cut as one of the most popular Shopify stores dedicated to makeup and cosmetics.
This Shopify store example was founded in 2009 to create high-end vegan, cruelty-free cosmetics with a unique twist. Their philosophy is one of minimalism — fewer ingredients, more pigment.
They are committed to not using parabens or preservatives in any of their products, and they are also gluten-free. They are based in Southern California and offer free worldwide shipping on all orders of $40 or more.
Kylie Cosmetics
Kylie Cosmetics, the wildly popular beauty brand, runs its fantastic online store through Shopify. Kylie Cosmetics hosts flash sales on a semi-regular basis that are among the largest on the internet. This is another instance of a Shopify store where products sell out in a matter of minutes.
NCLA Beauty 
This Shopify store sells a range of nail products and other cosmetic items like jelly balms and lipsticks. What makes their website unique is the way they've designed it. We can only conclude that they've nailed the look!
KKW Beauty
KKW, Kim Kardashian West's massively popular beauty brand, has been causing storms with the amount of recognition and fame it has garnered. With periodic sales, the products are not only of superior quality but also sell out in a matter of minutes. It is undoubtedly one of the most popular Shopify stores for cosmetics.
Beardbrand
Eric Bandholz founded an online business selling men's beard care products. Within a year, the company was generating $120,000 in monthly revenue. Beardbrand's email list, meanwhile, quickly grew to over 7,000 subscribers. The website invites you to take a quiz that will find you in resolving scent confusion and determining the optimal fragrance for your skin, beard, and hair.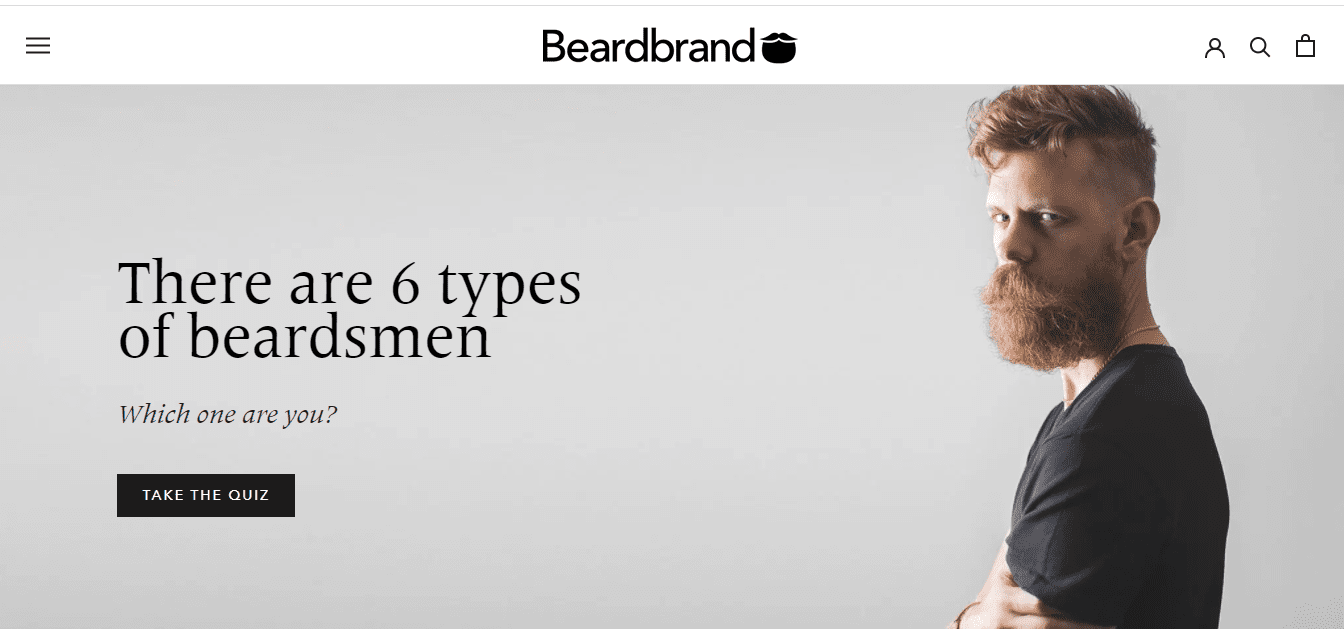 Clothing's Best Shopify Stores
Negative Underwear
Negative Underwear is dedicated to one aim: empowering women to be confident in their bodies. They do not want women to feel sexy solely through the use of push-up pads or bows.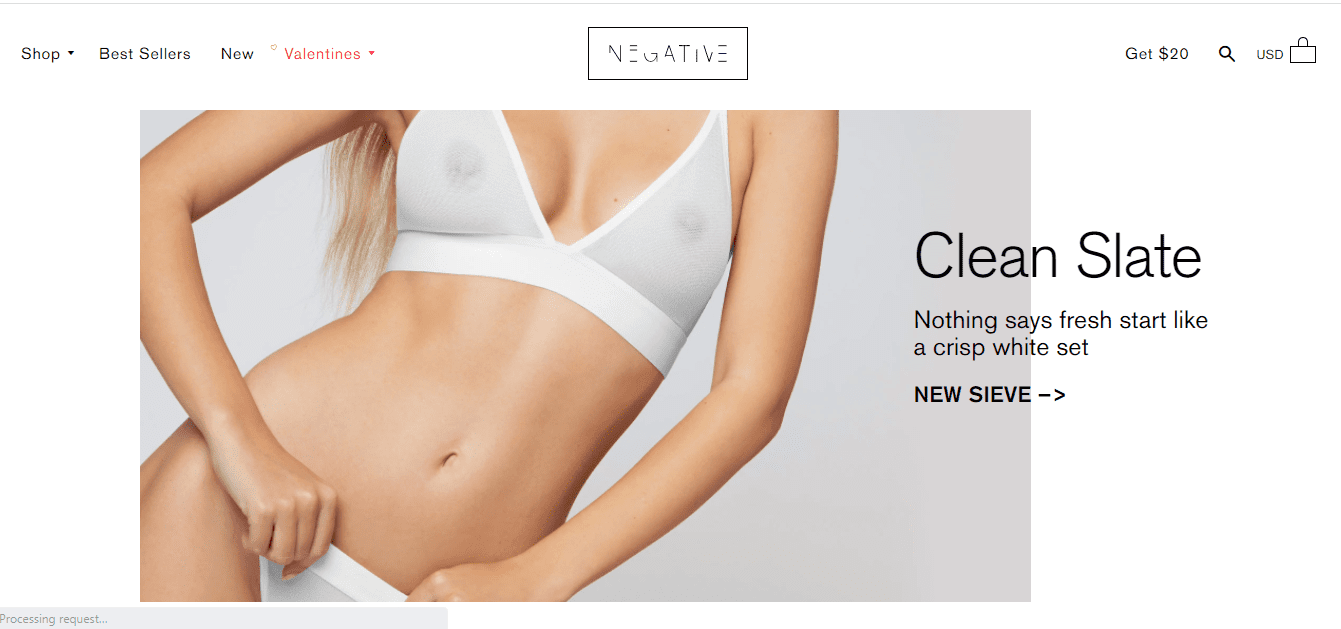 And the plan is paying off, as one Shopify store's revenue has increased by 150 percent in the few years after it debuted. Negative Underwear has received accolades from prominent publications such as Forbes, Vogue, and The Wall Street Journal to establish a foothold in the business and bridge the divide between comfort and attractiveness.
With its straightforward design and straightforward structure, this Shopify store is worth noting. They keep things simple by infusing their clothing line with soothing colors and expressions, which helps them stand out and establish an identity. In general, their understated design complements their vibrant products.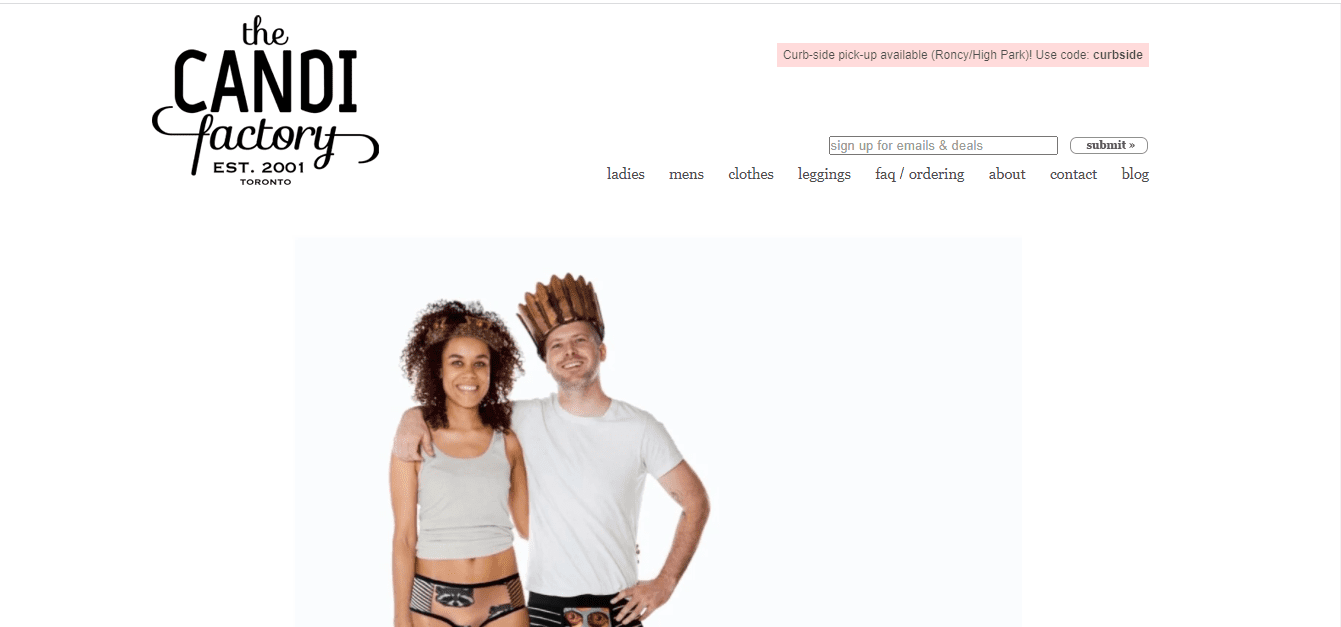 Unconditional
The website design of Unconditional is nothing short of stunning. It's uncomplicated but striking. This Shopify store began over a decade ago in London.

They pride themselves on being "a winning combination of easygoing and edge." Their homepage piques your interest, and as you scroll down, you're treated to an attractive presentation of their current fashion designs.
Taylor Stitch
Taylor Stitch opened its online Shopify store for handmade and customized menswear in 2010. Their mission is to make sophisticated dressing accessible to the masses.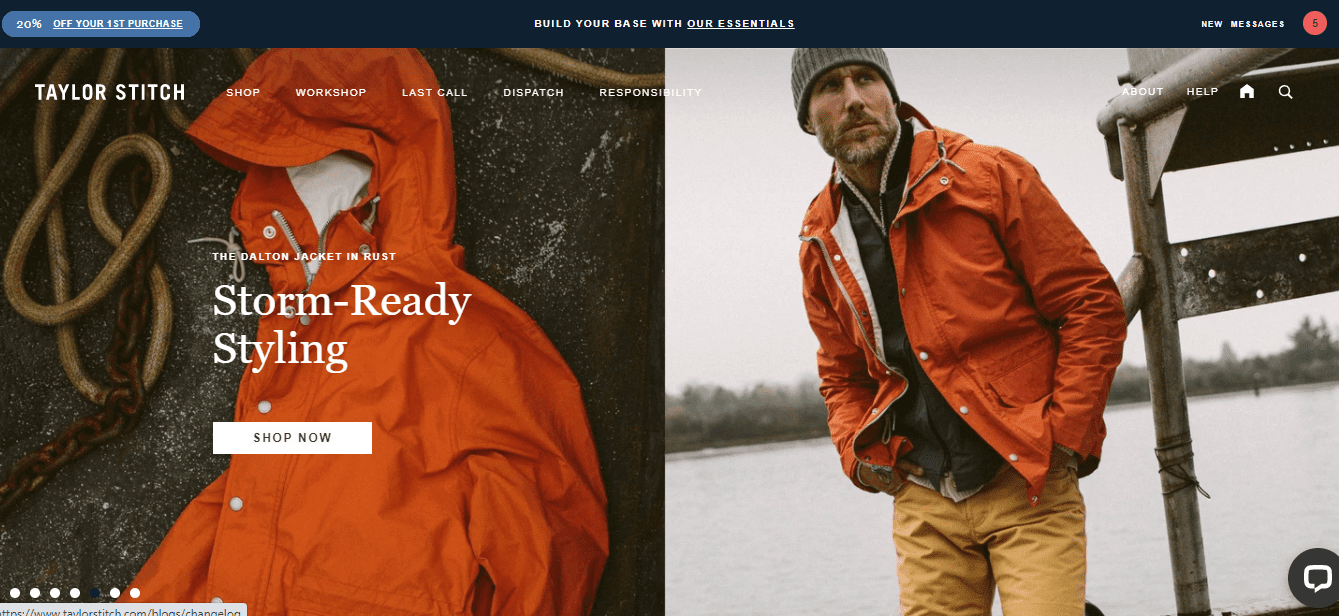 This Shopify store connects with them by allowing customers to contribute their unique tales. Their customers have shared incredible stories and pictures from fly fishing excursions, motorbike crashes, hurricane clean-ups, and wedding days throughout the years.
Each year since its launch, its revenue has tripled. Within three years of its launch, the company generated an anticipated $1.5 million in revenue and has continued to grow since then.
HELM Boots
HELM was founded in 2009 in Austin, Texas, to sell classic-style footwear with an adaptable, modern twist. HELM casual & work boots and shoes are manufactured and sourced entirely in the United States, making them 100% in the USA.

This fledgling boot store is rapidly gaining traction and receiving orders from celebrities such as Ben Affleck. Since 2009, when HELM launched their Shopify store, they have been committed to handcrafting leather boots with pride, care, and purpose.
Khara Kapas
Kharakapas is a Sanskrit word that means 'pure cotton. They sell boutique clothing influenced by Indian culture and created by hand. Their garments celebrate the unconstrained spirit of style, combining an appreciation for the elegance of cotton, earthy colors, flexible motifs, and simplistic design.
Their products are manufactured in India; however, they offer global shipping. This Shopify store averages over $1,500 in daily sales with its modern take on tradition.
Marc Wenn
Marc Wenn designed all products on this Shopify store in London. The brand is most known for its high-end biker denim, Chelsea boots, and handcrafted backpacks.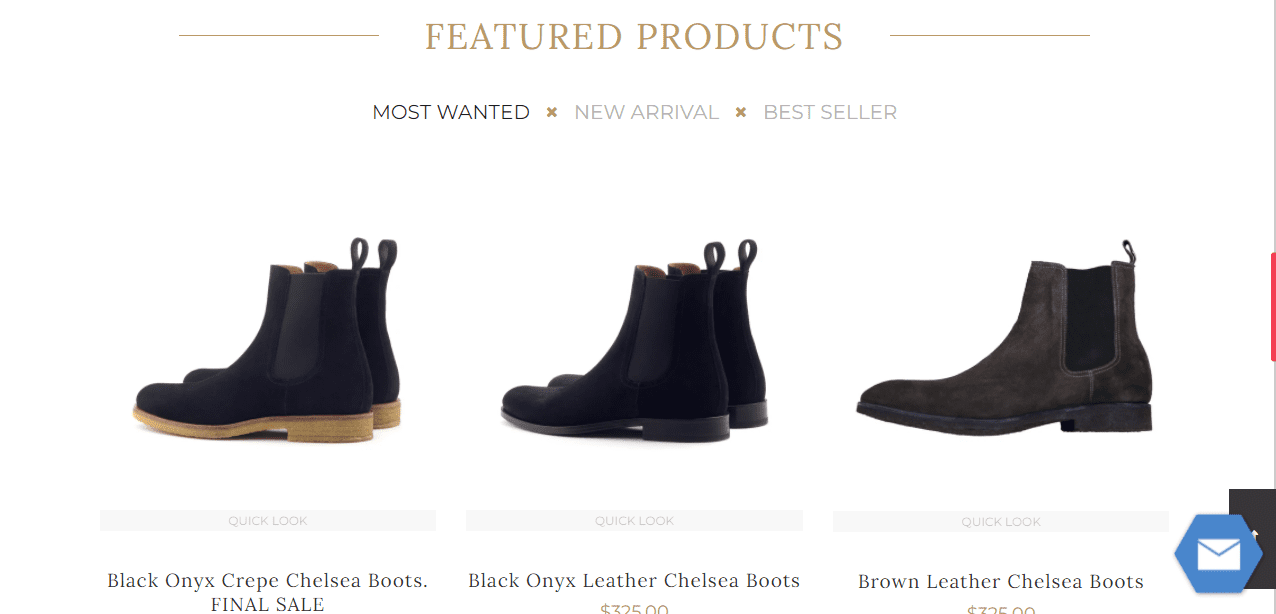 Marc Wenn recommends various activities to get traction early; for instance, individually thanking the first 100 customers would benefit any business, just like this Shopify store.
Gymshark
Gymshark, founded in 2012 by teenager Ben Francis and a handful of his high school pals, has developed from a garage screen printing operation into one of the fitness industry's fastest-growing and most recognizable companies.
This Shopify store is a manufacturer and online retailer of fitness clothes and accessories situated in the United Kingdom. Over 7 million active social media followers and customers are backed by it in 131 countries.
Bluebella
This Shopify store made our list for fashion-forward luxury lingerie and nightwear collections. Bluebella's designs are contemporary.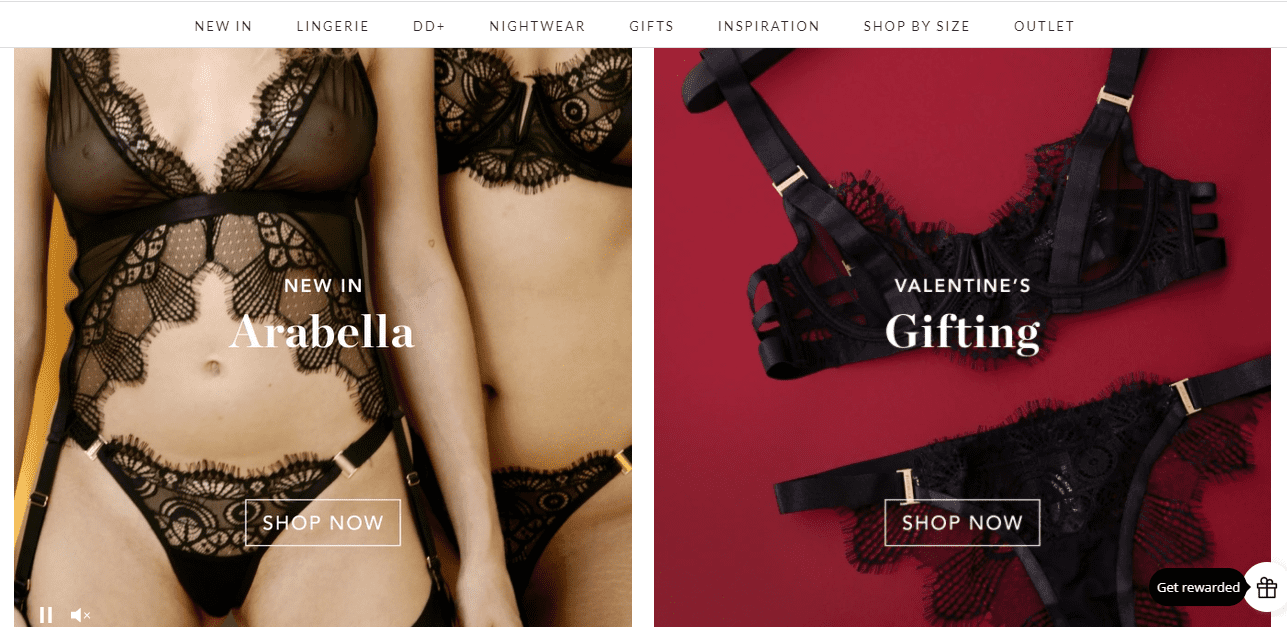 They claim to create magnificent new shapes by incorporating exotic materials and embellishments. There is a lot to say about this store, but we will let their fantastic website speak for itself.
Pour Moi
Pour Moi is a Shopify store that sells plus-size lingerie, swimwear, and nightwear. This Shopify store makes that its products meet the needs of modern, fashion-conscious women, providing them with the necessary support and comfort. Navigating this store, adding products to the cart, and interacting socially is a breeze.
Bando
This Shopify store sells graphic t-shirts, jumpsuits, swimwear, and sportswear. They're more of a lifestyle brand than a fashion brand, as they also sell tech, wellness, and workspace accessories. The website of Bando is a vivid canvas with straightforward navigation that makes it easy to browse. Additionally, it includes an embedded Instagram feed that highlights the products in action.
This Shopify store is dedicated to ensuring that women look and feel fabulous at work. Their vivid blazers and flowered jackets are a sight to behold. Generally, Argent does an excellent job catering to women who seem professional at work (or outside).
A remarkable women's firm that sells period underwear makes significant progress and profit. This Shopify store was funded through crowdfunding in 2014 and has grown 23 times since. No, not twice. five times. However, this occurs 23 times!
This swimsuit line was created in 2012 by an Australian couple. Erin Deering, one of the creators, came up with the idea for this Shopify store when she realized she couldn't find a bikini she liked that was also reasonable. By the conclusion of its first year, TRIANGL had earned over $5 million. The following year, this top-performing Shopify store made FIVE TIMES that amount. TRIANGL offers straightforward and sporty bikinis in vibrant neoprene fabric.
This Shopify store sells clothing for infants, emphasizing comfort, style, and functionality. The store launched in 2016, intending to create clothing for everyday living and enjoyment. That is why Milk places a premium on functional shapes crafted from soft, natural, and versatile fabrics.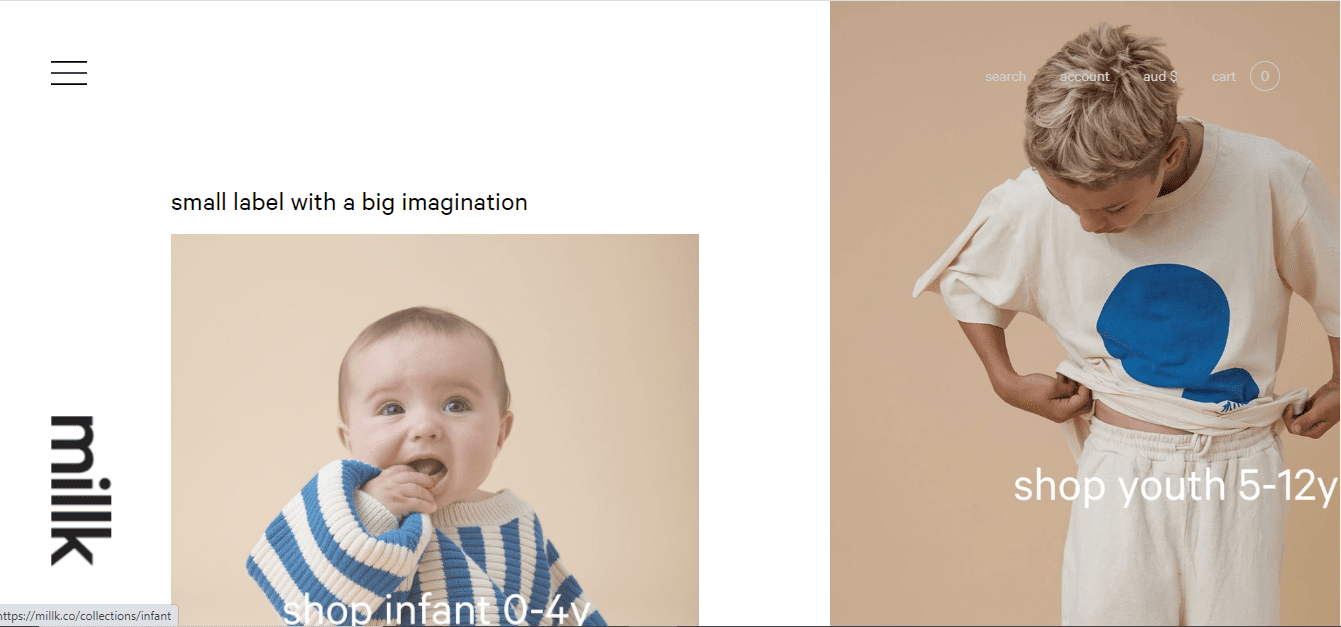 Sir
This Shopify store is bold, large, and stunning. Sir performs an excellent job of providing a peaceful message through the concept of its store, thanks to its serene photography style.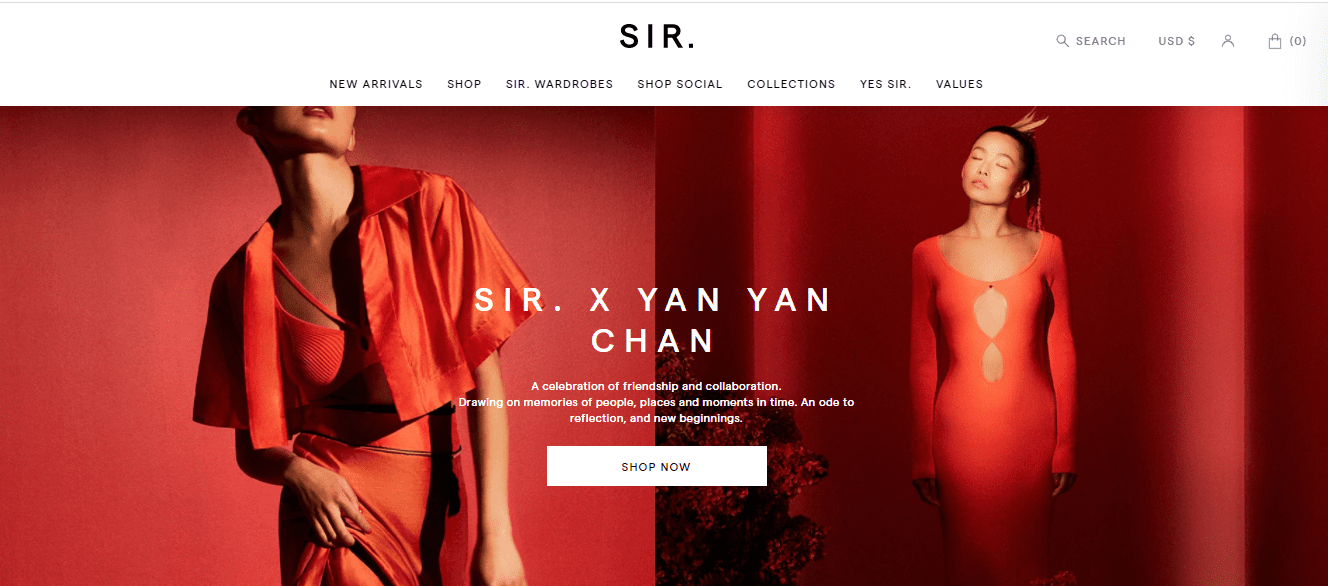 Located in Sydney, Australia, this store earns a place on our most visually appealing online clothing stores list.
Best Shopify Stores for Art
Nick Mayer Art features one of the unique Shopify art stores available. It is a manifestation of enthusiasm. A former marine biologist, Nick Mayer is now pursuing his genuine passion as an artist. And what better way to showcase his exquisite work than with a stunning Shopify website?
If you're looking for ideas for a Shopify website to sell your artwork, you've come to the right place. Raven Roxanne's Shopify store is one-of-a-kind. Her web page is colored subtly, lending it a homey air. Additionally, the homepage features an enticing video of her producing art.
Other Notable Shopify Stores
Paul Cunningham, the founder of Leather Head Sports, saw success selling his sports leather items that he was forced to migrate from Etsy to Shopify. Since then, he has not looked back.
This company offers and delivers specialty coffee directly to your door. The founders concentrated on counting their pennies and offering genuine value to coffee enthusiasts to grow their business from the start.
Canada Icons is a Shopify store – and a museum – dedicated to Canadian companies and products. The business is centered on storytelling and is proud of its Canadian roots.
Pure Cycle
The bicycle industry is estimated to be worth $6 billion. In 2012, Pure Cycle, which later became Pure Fix Cycle, sold over 2,000 bicycles and earned about $4 million. The brand's motorcycles emphasize style and comfort and the ease of using a bike to explore new locations.
Luxy Hair is a Shopify store recognized for developing clip-in hair extensions used by thousands of women worldwide daily. They instantly give length and volume to your hair and allow you to experiment with color without causing any damage. Their website features a hair blog, transformation videos, stories and products, and other educational resources.
Pipsnacks is a healthy snack story that was featured on Shark Tank. In 2013, the initial investment in Shark Tank was $200,000, and the company earned $800,000 in revenue in 2014 and was predicted to grow by at least 800 percent in 2015.
Tina Roth-designer Eisenburg's Tina Roth-Eisenburg began Tattly as a side interest. Today, it is a thriving business specializing in temporary tattoos. This Shopify store sold 2.6 million temporary tattoos in 2015, with prices ranging from $5 to $15 per sale.
Setting up a Successful Shopify Store
Looking at all Shopify store examples above, you'll notice one thing in common. They've all prioritized their websites and worked to make them appealing to the demographic they're attempting to reach. They are not only selling a product; they are also selling a story. That is what makes them.
If you've already chosen your product, the following are some helpful hacks to ensure that your Shopify store is headed in the right direction:
The Shopify theme you've picked. Ensure that the Shopify theme you choose is appropriate for the type of business you run and the products you sell.
Color matching is critical. Colors can work in your favor and help your products stand out even more. By choosing the appropriate colors for your Shopify store, you can assist your audience in developing a positive impression of your brand.
It's critical to prioritize accessibility with design. Your Shopify website should be easy to use, and your customers should have no difficulty finding the products they're looking for.
Photography can aid in the revitalization of your store. By selecting the appropriate images for your store, you have the opportunity to make a difference and increase the appeal of your establishment. A well-designed image can help you attract your audience's attention and demonstrate the worth of the products offered by your store.
FAQs About Shopify Stores
Which online businesses make some successful Shopify store examples?
Gymshark, Negative Underwear, THINX, KKW Beauty, and SkinnyMe Tea are just a few Shopify stores that have been successful to date.
In 2022, how many Shopify stores will there be?
According to Shopify's homepage, "over 1,700,000 businesses in 175 countries have generated over $200 billion in revenue using Shopify." With such a large customer base, it's unsurprising that Shopify is one of the largest eCommerce systems available today.
How can I start a profitable Shopify store?
If you've already chosen your product, here are some simple hacks to ensure that your Shopify store is set up for success:
• Choose a Shopify theme that is best suited for the products you're selling.
• Choose Shopify store colors that help your audience develop a positive impression of your brand.
• Sort your products into categories and collections to make it easier for your customers to find what they're looking for.
• Photography can significantly aid in pushing your business to life.
Summary
Although the performance of these Shopify stores varies, they are all terrific sources of inspiration for building a successful eCommerce store. Each of these examples generates thousands of dollars in monthly revenue. Additionally, some have a reputation for having extremely cool clientele like Ben Affleck. -Perhaps your store might feature in next future write=ups. Therefore, why delay? Launch your eCommerce store in less than 30 minutes! Which one of these Shopify stores would you pick? 
Summary
When used well, Instagram Stories are a highly effective tool and the features available provide an infinite canvas for creation! Regardless of how you use Stories, keep an eye on engagement and relationship building with your audience.
Most importantly, enjoy yourself! Which feature are you looking forward to utilizing next?
Tell us what you think in the comments section below!
Small Request
Kindly share it with your friends. Especially, the ones you believe really need this information.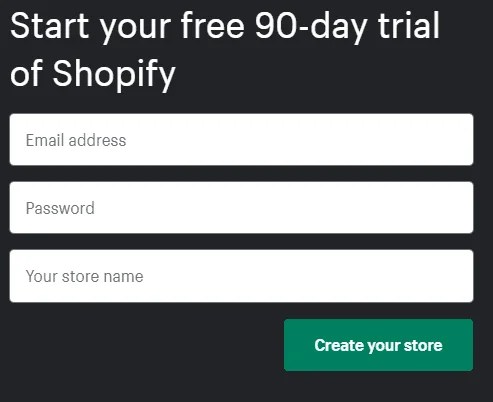 Sharing this information with others can make a huge difference. You may ask why?
Well, the truth is, my main aim is to provide the best information pertaining to drop shipping for both beginners and experienced dropshippers.
And I plan to continue doing so for as long as I can.
I would also like to thank those who support the work I do through reading my content and sharing.
Trust me, when you take your time and share it will help a lot not only for me but also for other people who may really be in need of this information.
Here are some great suggestions:
 Pin it
Share it on another blog
Share on Facebook (Share it with friends and even on Facebook groups)
Tweet it
Stumble it
This will only take a few seconds of your time and I would really appreciate it.
I appreciate you a lot. Thank you!
Join my Shopify dropshipping group mastermind and follow my blog to learn more about Shopify tips, dropshipping guides, dropshipping tricks and checklists, and e-commerce in general.
If you enjoyed and learned something from this post, you can get updates from me, free of charge!
I send out email newsletters about new posts published on the blog, tips, and tricks to help you grow your dropshipping business, as well as new YouTube videos to give you more insights about the e-commerce market, and much more.
If you enjoyed reading this, you can as well join my Facebook group. Thank you for reading how to make money dropshipping online from the comfort of your home.
Click The Image To Join My Dropshipping Community in TelegramDOWNLOAD INSTAGRAM STORIESINSTAGRAM STORIES