Can you Use Shopify POS for offline Sales proceesing ? Well,Yes.
Looking for the Best Point of Sale System & Retail POS? If that's the case, you should explore the Shopify POS. It works as follows. Proceed to download the Shopify POS app to your smart device. 
If you do this, you may bring in customers who would otherwise be unable to shop at your online store and sell them anything you'd ordinarily sell on your Shopify website.
Just do it.
Shopify POS Lite, often known as Shopify POS, is the solution's base version and is included with all Shopify plans.
For $89 per month, you can subscribe to Shopify POS Pro and access increased security, streamlined features, and detailed stock reports.
To process a sale, seek the product's desired item(s) in your Shopify catalog, accept their credit, and buy an order confirmation.
All of this and more is possible with Shopify POS.
Naturally, Shopify POS interfaces with almost everything relevant to your platform's online and physical sales.
Continue reading to learn everything there is to know about Shopify's POS system!
What is Shopify POS?
Shopify is one of the most popular systems for selling products online, as you may well know from reading the numerous favorable Shopify reviews accessible online. It has been a dominant player in the e-commerce sector since 2005.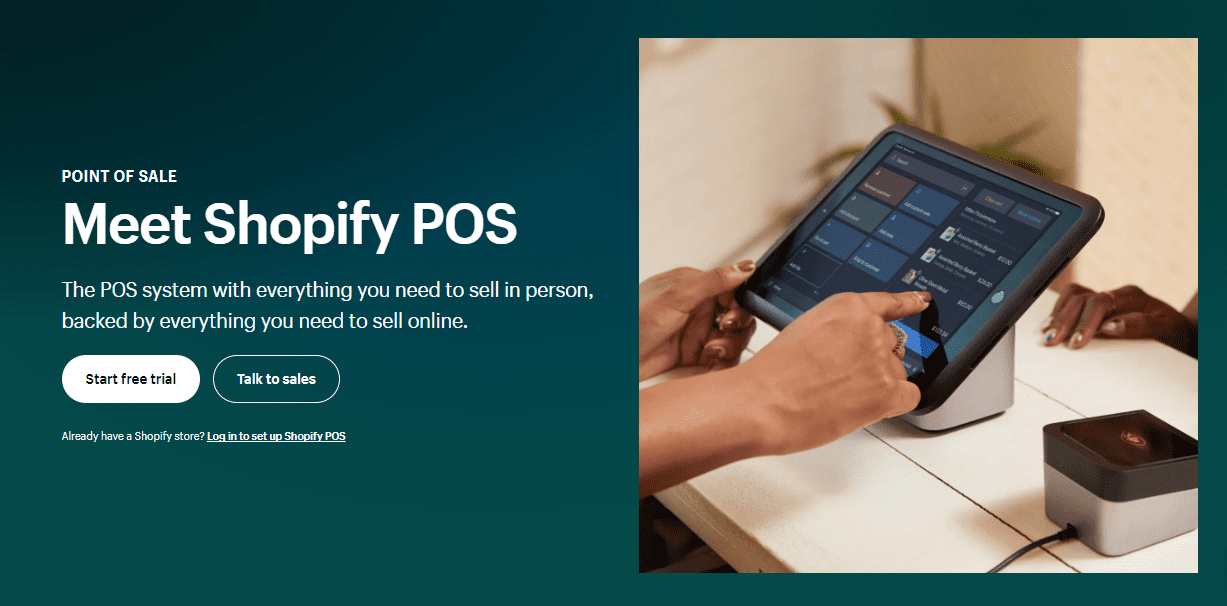 Shopify initially focused on online commerce but has since 2013 expanded into the physical products market with its POS app.
In a word, Shopify POS is a mobile point-of-sale app that works with Apple and Google mobile operating systems. It's an excellent system for allowing entrepreneurs to sell their products in the business from virtually any location. Shopify POS is a fantastic option, whether selling things at a flea market or in a permanent store.
You may use this app on your iPhone or iPad to set up a shopping cart for each of your customers, accept payments (via several payment options), and make deliveries. Shopify POS Pro is a portable terminal that allows you to accept customer payments no matter where you are.
This app is fantastic because it works in unison with your Shopify store. You may then keep track of orders and stock levels across all sales channels.
It should be noted that the more expensive payment plans, such as the "Shopify plan" or higher (more on these later…), are required to begin adding hardware to this system (such as a chip and pin machine).
Which is better: Shopify's POS or POS Pro?
Shopify's point-of-sale software comes in two flavors. First, you want a simple point-of-sale system without spending extra money on payment processing. In that case, the default Shopify POS can be sufficient.
Shopify POS, or the "Lite" version, is included at no extra cost with all Shopify plans.
When picking between Shopify POS Pro and Shopify POS Lite, remember that both require a Shopify plan. This means that unless you are already paying Shopify to power your online store, Shopify POS Lite is not actually "free."
Discover the power of unifying in-store and online sales with Shopify POS. Start your free trial today. Click the image below.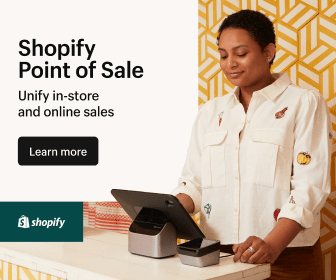 A Shopify subscription offers access to the system's POS app for Android and iOS smartphones, which you may download and customize. Shopify Basic and Shopify Advanced allow you to change and organize products at the POS, customize your store's plan and tax sales, and enable Shopify Payments. In addition, you can set up other payment options and order orders for point-of-sale hardware in addition to receiving customer payments.
Shopify POS Lite
With Shopify POS Lite, the features you get include:
You may sell unlimited products, collections, and versions with Shopify POS Lite.
Cash flow, sales, financing, and product utilization are just a few reports that may be watched and reported.
Acceptance of various card types, including credit, debit, and prepaid cards, as well as alternative payment payments such as gift cards.
Retail hardware integrations outside of the payment system (such as cash drawers and receipt printers) 
Manage stock levels across several retail sales
Integration: Easily connect to your social media and email marketing initiatives.
Refund options, promotional codes, and digital receipts are all available.
A smart grid environment that can be configured to access the products, discounts easily, and features you use most from your home screen.
Customer loyalty programs have different customer profiles.
Shopify Payments hardware with a variety of payment terminals
Shopify POS Pro
The features mentioned above and a few others are accessible as part of the Shopify Plus plan's integrated Shopify POS Pro service. In addition to the features we've just discussed, Shopify POS Pro provides the following:
Unlimited support for staff members who can utilize your system, with unique staff permissions and role kinds.
Assistance with customers redeeming automatic discounts via triggers (such as when they spend a certain amount)
Customers can buy products online, pick them up in-store, or have the item shipped to their address.
Exchange processing.
Daily sales reports and cash tracking information.
Custom printed receipts with all of your company's branding.
Access to purchase orders, inventory counts, premium inventory analysis, and low-stock reporting capabilities.
However, Shopify POS Lite is free on Android and iOS; however, the Shopify POS Pro app appears to have faced some issues in being converted to Android.
Shopify POS: Features
Ease of Use
Shopify's point-of-sale software features a slick, professional layout. The software's user interface is so simple that even a child could use it. The front- and back-end functionalities are pretty simple when you launch the app.
As a result, this app is excellent for shop merchants who need more knowledge or time to learn how to utilize more complicated computer systems.
Simply by pressing a button(s), you can:
Create variations 
Run reports 
Make sales 
Import products 
Create variations 
You can have everything ready to go in as little as one hour.
Integrations
There are many different types of integrations accessible. For example, a smartphone app can aid you with almost any task. However, accounting programs and marketing apps are a few tools to help you run your business.
A more advanced option is to leverage Shopify's application programming interface (API) to construct custom apps.
Although Shopify's number of integrations is impressive, keep in mind that some accessible plugins are not free.
Shopify POS Review: Reporting
In-app statistics in Shopify POS encompass:
You can filter your sales by staff members, location, date, customers, etc.
Product reports: these inform you which things are your greatest sellers.
All of your reports can be exported and turned into spreadsheets.
A dashboard for monitoring sales, orders, and traffic trends.
Shopify POS Review: Store Management
Shopify's administrative panel provides a one-stop shop for all your e-commerce needs. For example, suppose a customer demands a refund, for example. In that case, you can process it quickly and efficiently through their original payment method. (Please remember that this feature is only available to Shopify and Shopify Advanced subscribers.)
With the same products, you may track cash float and staff changes. Similar concerns apply to staff personal identification numbers (PINs), which can be modified to ensure optimum security while allowing you to keep track of every cash register transaction.
You can also view your order history (both online and offline). You can sort these purchases by customer, product, or date to find a specific purchase.
Shopify POS Review: Customer Service
Shopify offers free, round-the-clock technical support to all of its users, so you don't have to worry if you run into any issues. Support can be reached via live chat, email, or phone.
The live chat agents respond quickly and offer helpful and pleasant assistance. Email support, on the other hand, may take up to 24 hours to respond.
Shopify POS Review: Customer Management
The system creates a new customer profile when a buyer registers for an account. Great for understanding more about your consumers' shopping habits.
Any orders placed by customers, regardless of the channel through which they do so, will be updated in your Shopify store.
You may quickly load information on your customers, such as their contact information and purchase history. Excellent for handling email marketing campaigns. Send emails to these addresses to begin connecting with your audience.
One technique is to send out an email blast announcing impending sales and offers. Another option is to build trust with your email list by providing valuable content. This material has numerous possible applications.
Shopify on Mobile
Shopify POS has you covered if you're a mobile business owner who requires access to their point-of-sale system wherever you go.
For example, suppose you own a Shopify store. In that case, you may use its control panel to quickly and efficiently address any emerging problems. You may also manage the products in your store by adding, modifying, and removing them as needed.
You can also utilize the Shopify POS Pro mobile device, which features Shopify POS pre-installed on the hardware and comes with a protective case and strap. Retailers who frequently travel to different venues, such as trade exhibitions, will find this device extremely useful. It works brilliantly for both large and small businesses.
Shopify POS Review: Payment Methods
On an iPad or iPhone, customers can pay in practically any way they choose. Credit card transactions in the United States and Canada require a swipe.
You can accept credit cards and contactless payments in the United Kingdom or Ireland with an EMV-compliant Tap, Chip, and Swipe reader.
You'll need to pay for a third-party credit card terminal from a reputable payment processor if you do business outside those regions.
If you're using an iPad or iPhone, you can also provide your customers the option of paying in installments. It is simple to allow customers to pay using many methods in a single transaction.
Shopify POS Hardware and Operating System Requirements
To use Shopify POS, you'll need the right hardware installed. You need to be able to accept payments from customers, whether they pay with cash or a credit card.
Suppose you want access to the hardware that Shopify has designed for traditional stores. In that case, you'll need the Shopify plan or higher. For example, the Shopify POS software can be linked to hardware peripherals, like scanners, printers, scales, and registers.
Shopify POS Go: Mobile Point of Sale Hardware
Shopify POS Go billed as a universal solution, is a small but powerful piece of hardware that can run as a mobile sales terminal or (with the addition of additional Shopify POS Gos) power your entire point-of-sale system.
Shopify POS Go is typical $399; however, it can be purchased with a protective case for $428.
Essential for providing excellent service, Whether working the floor or engaging with customers in line, it enables retailers to complete a sale anywhere, create a personalized shopping experience, and even inspect inventory from the palm of their hand.
Because the module includes the entire Shopify POS system, store owners can stay in touch with their operations at all times, whether it's to view customer data, manage inventory, change sales channels, or check on the status of their staff.
Conventional Shopify POS: Card Readers
The card reader you choose for receiving payments at your Shopify register will be dictated by factors such as your physical location, the nature of your business, the payment processor you've chosen, and the device you use.
To use a card reader with Shopify POS, you can:
• The Tap, Chip, and Swipe card reader 
• The Swipe card readers 
• The Moneris iPP320 terminal 
• The Tap, Chip, and Swipe card reader 
Shopify POS is compatible with the apps mentioned earlier. Payments made using Shopify's POS system will be reflected in your Shopify dashboard.
Except for the Moneris iPP320, the following are required if you want to fulfill credit cards using Shopify's approved card readers:
A physical store in the United States, the United Kingdom, Canada, or Ireland is necessary.
Shopify POS needs the usage of Shopify Payments or another third-party payment processor.
Getting Started with Shopify POS?
First, the Shopify point-of-sale (POS) app must be installed. Then, you will be asked to sign in if you already have a Shopify account. That is acceptable, so go ahead and do it.
The app will then be filled with all of the products you sell. If you haven't already, sign up for Shopify's 14-day free trial. Regardless of whether you sell online, you must have a Shopify account because the Shopify POS system is managed here.
Read Also:
I have fantastic news for you: your creative potential is limitless. However, there is a limit to the number of products you may list before your device begins to slow down. Furthermore, you are only permitted to sell your items in a limited edition of stores. That is highly dependent on the terms of the payment plan you've chosen.
Shopify POS is compatible with a wide range of retail hardware, including:
Shopify POS is compatible with a variety of retail hardware, including 
• Shopify POS Pro (mobile POS device)
• Receipt printers
• iPad stands
• Cash drawers
• Barcode scanners
I suppose you understand what I'm getting at.
Installing Shopify POS on numerous devices allows you to utilize it with several registers simultaneously (at no extra charge). As an extra advantage, Shopify makes it simple to monitor everything that happens in your store from any device.
Sales can be processed even if you don't have fancy equipment. For example, you may accept cash, debit cards, IOUs, and other payment methods with Shopify POS.
You will need a Swipe card reader if you use Shopify POS for Android rather than iOS. The Shopify POS app and a Shopify account are the only things you need to run your business from an iPad or iPhone.
Alternatively, you may save the bother of choosing between Android and iOS by purchasing a Shopify POS Pro device directly from Shopify.
Shopify POS Pricing Structure
Shopify Point-of-Sale (POS) gives Shopify merchants an easy and efficient checkout experience. The Shopify POS is included with all Shopify subscriptions. In addition, a POS system is offered as standard equipment with each Shopify plan.
Every Shopify plan has the same base POS software. These features include:
Customer profiles for enhanced customer service
Product and order management for your small business 
A mobile POS and hardware accessories 
Product and order management for your small business 
The Shopify Starter Plan
Shopify's "Starter" plan costs $5 per month. Unfortunately, an online store is not included in this plan.
Sadly, customers enrolled in this plan will be subjected to the highest credit card interest rates available. A 2.7% fee will be added to all of your purchases. One of Shopify's payment processors is also necessary.
The good news is that you can configure as many products and devices as you want. They provide 24-hour service if you have any inquiries or issues.
The Basic Shopify Plan
The $29/month Basic Shopify package is the next rung up. In contrast to the 'Lite Plan,' the digital store is included. Accepting credit cards online incurs a 2.9% surcharge plus 30 cents for each transaction. On the other hand, the 'Lite Plan' rate applies to all in-person purchases.
You get the 'Lite Plan' features, two employee accounts, and social media sales channels on Facebook, Pinterest, and Twitter.
The Shopify Plan
The Shopify plan is now an eye-watering $79 per month. In addition to all of the features offered in the "Basic Shopify Plan," your credit card rates will be much lower:
Online store: 2.6% + 30%
In-person: 2.5% + 0
External payment gateway fee: 1.0%
Five staff accounts 
Professional reports 
Five staff accounts 
In sum, it's a reasonably great bargain.
The Advanced Shopify Plan
Shopify Plus is the second-most extensive upgrade available. At $299 per month, it's not expensive.
It has, unsurprisingly, the lowest credit card rates among the various options:
In-person sales: 2.4% + 0
Online sales: 2.4% + 30%
A 0.5% fee for using an external payment gateway
15 staff accounts • Gift cards
A powerful report builder • Shipping rates calculated by a third party
This works best for larger businesses.
Shopify Plus Plans
Shopify Plus, the most comprehensive plan, is ideal for businesses of any size. However, because it is customized to your specifications, you need to contact Shopify to iron out the details.
One of Shopify Plus's numerous advantages is its solid point-of-sale version. Shopify Plus includes Shopify POS Pro and other vital features such as loyalty discount codes, an effective ecommerce platform, and social selling options.
Shopify POS Pro Pricing
Shopify POS is available in all Shopify plans; however, the tools and functionality you receive can be improved.
For example, the Shopify POS Pro is a more advanced version of the original Shopify POS.
To access the Shopify POS Advanced features, you must purchase one of Shopify's packages and pay an extra $89 per location monthly.
Bring your business ideas to life for $1/month On the Shopify Platform. Click the Image Below.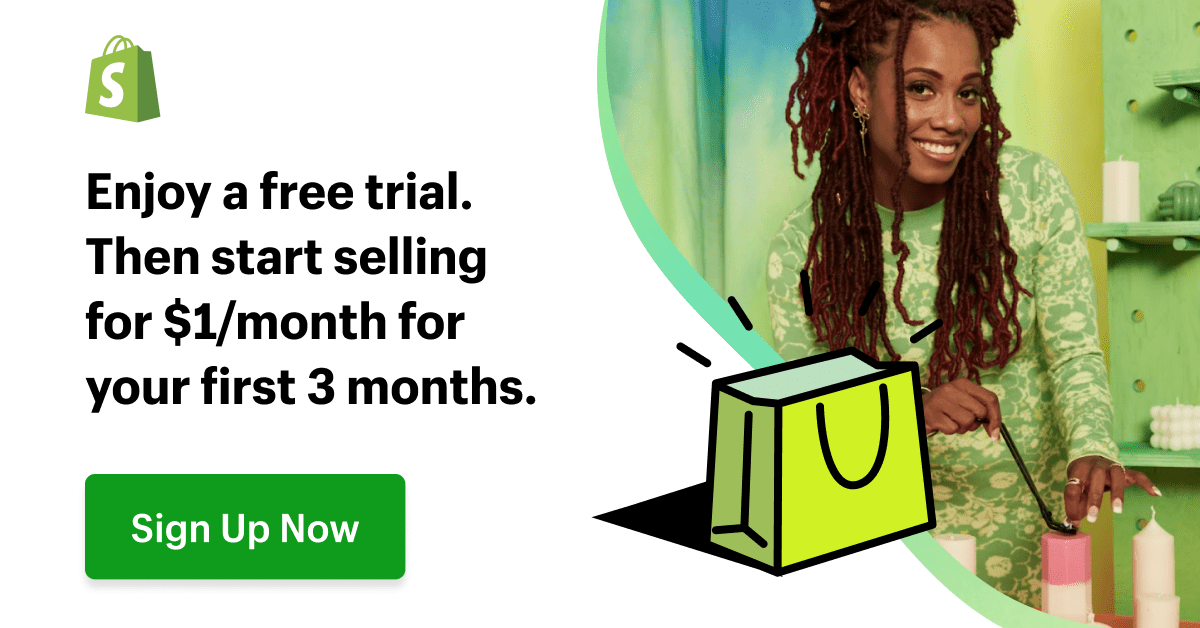 This means that the cost of Shopify POS pro climbs in direct proportion to the number of stores you want to serve.
The Shopify POS Pro edition is more expensive. Still, it features additional tools not available in the basic version. As part of the service, you will have access to the following:
• Unlimited store staffing
• An infinite number of registers
• Staff permissions and tasks
• Features for selling across many channels
• Selling through many channels
• Intelligent inventory management
• In-Store Analytics
If you already have Shopify Plus, you will not have to pay anything extra to use those tools. Instead, the POS Pro software is a free add-on to your package.
Please remember that the prices indicated here DO NOT include the appropriate state sales tax. However, you'll be glad to know that Shopify offers a 10% discount if you choose their annual plan and a 20% discount if you choose their biannual plan.
The "Retail Package," which may be added to any plan for an additional $49 per month, has the following features and benefits:
• Hardware integrations
• Staff accounts
• Register shifts
You try out Shopify risk-free for two weeks if you haven't already. However, your credit card information is not required, and you will not incur any unwanted charges.
Shopify POS Pros and Cons
Pros
Listed below are some of the various benefits of Shopify POS:
You can process transactions offline: This feature eliminates the need for an active internet connection to complete a sale. When you return to your Shopify account, your offline sales will be updated to reflect your current stock level.
This software syncs instantaneously with your online Shopify store.
Their customer service is second to none.
The software is designed to be user-friendly.
For example, Shopify POS Pro is the most mobile-friendly POS solution, allowing you to process payments while strolling the floor or checking product details while engaging with customers on the curbside.
• Shopify is constantly updating its app and providing new versions to fix any flaws as soon as possible.
Gift cards: You may start selling gift cards to your customers if you like. When using Shopify as your POS system, you can email or print a gift card for your customer.
It's fantastic that Shopify POS customers can save so much money on hardware by selecting either the Shopify or Shopify Advanced plan, which includes free hardware. In addition, you will be provided with all cash register hardware, including the cash drawer, receipt printer, and barcode scanner, at no cost. With this offer, you'll be saving a lot of money, as the hardware would otherwise be much more expensive.
Shopify's point-of-sale software provides many customization choices. For example, you can select from five different levels of functionality and a wide range of point-of-sale (POS) capabilities. As a result, finding a POS system that works for your business without breaking the budget is possible.
Shoppers appreciate discounts, which you can provide with Shopify POS by providing them with specific products. The option is to apply a discount cut to an order's total.
Shopify's POS software allows you to customize your emails, invoices, and even the URL of your online store.
You can design one-of-a-kind payment choices for your customers to use to make things easier for them. So you're free to accept cheques and other unconventional forms of payment from your customers.
Apps: You can choose from over 2,400 apps to expand the capabilities of your POS system.
Cons
Shopify POS, like every other piece of software, could be better. Some of the significant issues with this app are as follows:
Users have complained that several inventory features are missing, which could be owing to the software's ongoing issues. Many customers have complained that these flaws have made using the experience tedious. Furthermore, numerous consumers have asked for an alert when supplies run low.
Their offline performance falls short of that of the online variants. Accepting credit card payments, for example, is impossible if you're not linked to the internet.
Applying a storewide discount to a specific set of products is time-consuming. Manual deductions get tiresome when there is a significant quantity of things for sale.
We've already informed you that the "Retail Package" will cost you an extra $49.00 monthly. In addition to basic functions like tracking and integrating hardware, you receive access to user accounts for additional workers and other bonuses. In addition, some consumers have complained that even the most expensive payment tiers do not have standard POS functions.
A standard Shopify countertop device will not be able to communicate with the Shopify POS Pro. They share the same data and can access it concurrently, but they do not synchronize.
Finally, the analytics functions may be improved. Standard reports are pretty basic. Even if you purchase one of their more comprehensive plans, you will find that their reports are inferior to their competitors.
Viable Shopify POS Alternatives
Consider the following Shopify POS alternatives:
Shopify POS Alternative: Square POS
Check out some Square customer reviews to learn more. As a result, if you require a simple POS solution, Square POS is an excellent choice. It's also fairly priced. Depending on your chosen pricing plan, a tiny white card reader will be provided for payments in person. You'll need to utilize one of Square's more recent readers to accept chip, PIN, and contactless payments.
Shopify POS Alternative: Lightspeed POS
Explore our Lightspeed review to learn more about how the products and services provided by Lightspeed POS may assist your business in making educated decisions. They can give their customers the experience they deserve if they have access to this data.
Lightspeed POS is a cloud-based POS solution with features and connectors to ensure a high level of sales. This software would be most useful to independent firms with medium- to large-sized product lines.
Shopify POS Alternative: iZettle
IZettle is a POS system that incorporates a cash register, inventory monitoring, and analytics tools. It's a one-stop shop for business owners looking for a cost-effective and aesthetically pleasing way to sell their items online.
Shopify POS Alternative: Bindo POS
If you own a physical retailer, Bindo POS is an excellent choice. They offer a POS app for iOS smartphones intended for business owners. Bindo POS is a cloud-based point-of-sale system that allows you to add and manage your product inventory anywhere.
Giving your customers access to a dedicated mobile app is another way our POS system can help you develop your business online. This app promotes connection with nearby consumers and gives them the option of same-day delivery for their purchases.
Bindo POS, like Shopify POS, keeps your offline and online sales in sync. This way, you can be confident that the inventory information you're viewing is correct. Profit, sales, customer behavior, and other associated indicators, as well as a variety of other analytical tools, will all be at your disposal.
Shopify POS Alternative: Air POS
Our Air POS review will show you that it is a simple POS system. With this software, you may accept cash and contactless card payments from your customers. This is in addition to the standard functions of sales reporting, connection with mainstream accounting software, and inventory management.
Because Air POS is compatible with the iPad, Android, and Windows software systems, you should be able to get it to work with your hardware and credit card readers. On the other hand, Air POS offers next-day delivery of cash registers, printers, card readers, and barcode scanners (should you order one).
Final Thoughts
When Is Shopify POS Most Effective? Shopify POS is a terrific choice for offline businesses that utilize Shopify for online sales.
This software can synchronize your physical store's inventory with your online store at a low cost. Furthermore, the Shopify POS software is portable. The Shopify POS Go device is one of the most convenient ways to roam from location to location within a store or to an event and accept customer payments.
Please share your Shopify POS experience in the comments below. Please share your thoughts on the topic with us; we hope to hear from you soon.
So, what do other people think of Shopify POS? The existing review for Shopify POS in Shopify's app store is 3.1 stars. However, if you look at just a small sample of the comments users have made on this software, you'll notice that they're all over the place.
Shopify POS FAQs
Here are some of the most frequently asked questions (and their answers) about Shopify's POS system.
How Does Shopify POS Work?
In a nutshell, Shopify POS is an app that assists business owners in managing their online Shopify store. The Shopify POS app is available for both iOS and Android. You can use this software to accept payments at both permanent retail establishments and temporary booths.
The Shopify admin dashboard is where you'll control everything behind the scenes, from inventory management to point-of-sale operations.
What Is the Price of Shopify POS?
Their "Basic Shopify" plan includes everything you'll need to get your new brand up and running. The monthly charge for this service is $29.
On the other hand, the 'Shopify' package costs $79 per month and includes broad access to tools for growing your business.
Finally, for $299 per month, the "Advanced Shopify" plan is excellent for business owners looking to grow their operations.
Can I use Shopify POS abroad (Outside the US)?
To address the question straight, yes.
You can use Shopify POS if your store is in the United States, Canada, the United Kingdom, or Ireland or if you are in another country. Just install the Shopify card reader to take credit card payments from customers. You can do this from anywhere in the globe if you have an internet connection.
What Hardware Can I Use with Shopify POS?
Suppose you operate a business in the United States, Canada, the United Kingdom, or Ireland. In that case, you can purchase a hardware kit or individual devices from Shopify's Hardware Store.
At this time, Shopify hardware kits are only available in these countries. As a result, you must purchase the necessary hardware from a certified seller.
Shopify POS Pro is a handheld module created by Shopify that allows merchants to run Shopify POS and accept payments from customers anywhere in the United States.
If you already have retail hardware you wish to keep, you may need to migrate to Shopify POS from your current platform.
What Payment Methods Can Customers Use With Shopify POS?
With Shopify POS installed on your iPad or iPhone, you can accept payments from practically any payment method. A credit card reader is legal in the United States and Canada. While the EMV-compliant Tap, Chip, and Swipe card reader allow you to accept credit cards and contactless payments in the United States, the United Kingdom, and Ireland.
The Shopify POS app for Android allows you to collect cash, credit, and swipe credit using the Swipe card reader.
Does Square POS integrate with Shopify?
From Shopify POS is concerned, Square POS is not compatible.
Can you use iZettle with Shopify?
No, iZettle cannot be used with Shopify's POS system.
Small Request
Kindly share it with your friends. Especially the ones you believe need this information. Sign Up Now and Get your first 3 months for only $1 monthly.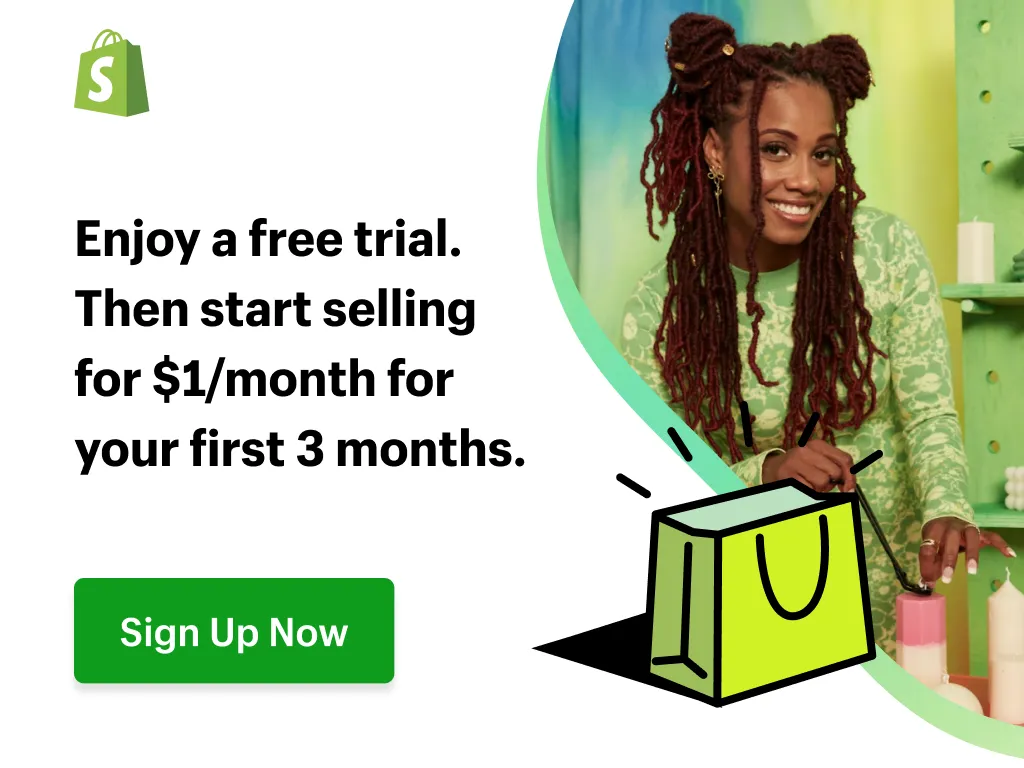 Sharing this information with others can make a huge difference. You may ask why.
Well, the truth is, my main aim is to provide the best information about drop shipping for both beginners and experienced dropshippers.
And I plan to continue doing so for as long as I can.
I would also like to thank those who support my work by reading and sharing my content.
Trust me, when you take your time and share, it will greatly help me and others needing this information.
Here are some great suggestions:
 Pin it
Share it on another blog.
Share on Facebook (Share it with friends and even on Facebook groups)
Tweet it
Stumble it
This will only take a few seconds of your time, and I would appreciate it.
I appreciate you a lot. Thank you!
Join my Shopify dropshipping group mastermind and follow my blog to learn more about Shopify tips, dropshipping guides, tricks and checklists, and e-commerce in general.
If you enjoyed and learned something from this post, you can get me updates for free!
I send out email newsletters about new posts published on the blog, tips and tricks to help you grow your dropshipping business, new YouTube videos to give you more insights about the e-commerce market, and much more.
If you enjoyed reading this, you could as well join my Facebook group. Thank you for reading how to make money dropshipping online from the comfort of your home.
Click here to Join My Dropshipping Community in Telegram