The biggest problem experienced by online eCommerce businesses is converting visitors to customers. One strategy to boost conversion rates is to use accurate product descriptions, which are crucial for the success of your eCommerce business. Today we talked about the use of the Jasper product description template to write high converting product pages.
Sadly, most businesses have no idea how to write an enticing description to convince customers to purchase their products.
And even if they do know-how, hiring someone to write these types of descriptions for them is highly time-consuming and costly.
This forces businesses to choose between writing inferior product descriptions or not having any at all.
To tackle this dilemma, we can use Jasper AI-powered copywriting software to generate more effective product description copy quickly.
As I've stated already, your product description is a crucial mechanism through which your product is introduced to your target market.
Users make a purchasing decision based on the product description.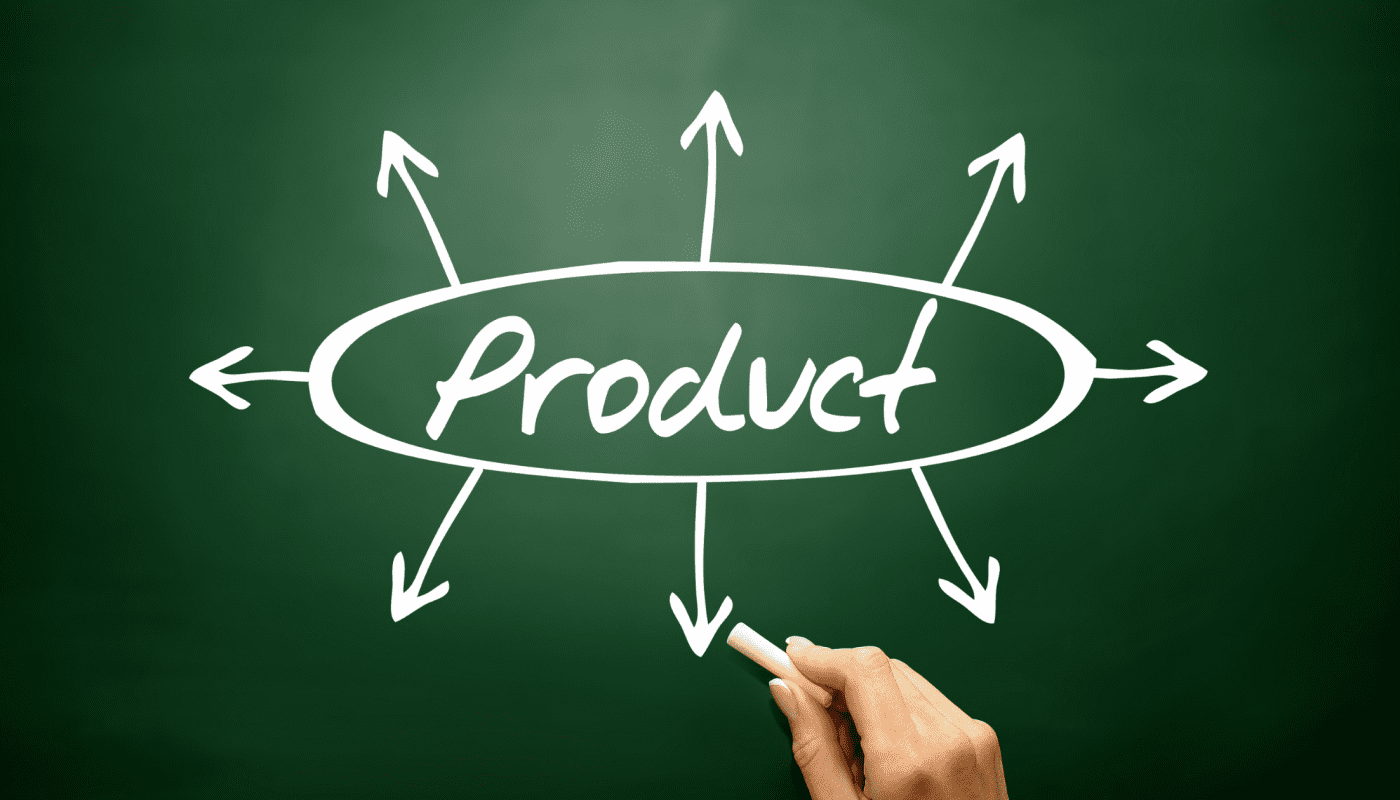 As a result, product descriptions must be compelling. The following article will explain product descriptions, create them, and address common questions about product descriptions. This is your manual for developing persuasive product descriptions.
In this Post
What Is a Product Description?
Using Jarvis.ai to write product description
What Should a Product Description Include?
Product Descriptions That Sells
Creating a Product Description That Sells
Using Product Descriptions to Generate Revenue 
The Advantages of Using a Product Description Agency
Effective Product Description Examples
Product Description FAQs
What is Jasper AI?
Jasper Ai integrates artificial intelligence algorithms and human writers to give you the best of both worlds – high-quality content crafted in an engaging style at an affordable price and in record time.
It assists you in creating compelling product descriptions that enhance customer engagement and conversions on your e-commerce store or website. It gives you complete control over templates, allowing you to modify them based on your needs easily.

Jasper AI is the first artificially intelligent copywriter to write original descriptions of products or services instantly.
If you want your conversions to skyrocket without hiring a pricey content curator or spinning content yourself, Jasper AI can take care of it for you!
To get started, type in what you're selling, and Jasper AI will instantly generate a catchy, 100% original description for you.
You can then tweak it to your liking or leave it as is – it's up to you! Of course, Jasper AI is fast, efficient, and always learning, so you can be sure that your product descriptions will be the best they can be.
Read Also: How To Use AIDA Framework In Jarvis AI Copywriting Tool 2021
What Is a Jasper product description template ?
Product descriptions are a critical marketing tool for inspiring and motivating customers to buy your product. The best type of description will appeal to people with positive messages because it's more likely that they'll want to buy from a company that appears confident in what they're selling, so include benefits like "saving time" or even simply state: You'll love __because.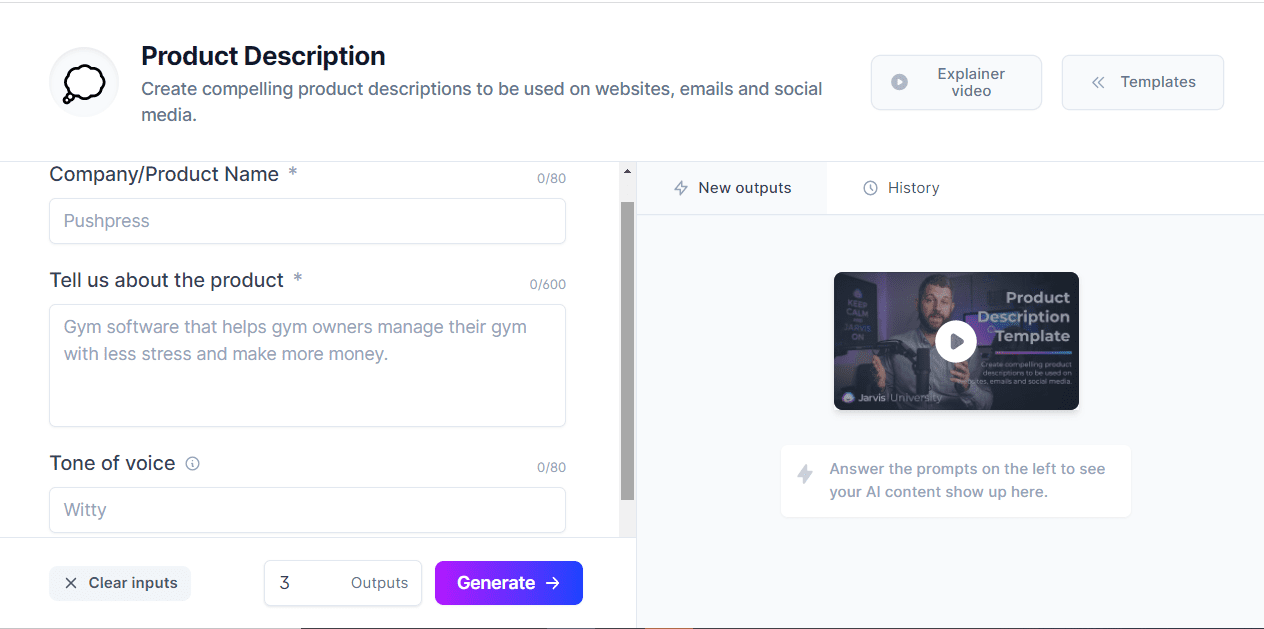 A product description makes for an integral part of a product listing that informs the reader about the nature, design, and function. It's a form of marketing designed to entice a prospective customer to make a purchase.
Compelling product descriptions can be a vital component of a marketing strategy that aims to boost revenue, expand a brand's market presence, and acquire new customers.
To be effective, a product description should explain the product while also informing the reader about its benefits. An essential aspect of a product description is its conciseness.
As a result, writing a compelling product description entails creating essential information and responding to consumer questions in a few concise sentences. Additionally, the product description should incorporate important keywords that aid in SEO and increase visitors.
Creating a product description needs proficient writing, comprehension of marketing principles and techniques, and a firm grasp of your target market. Some businesses create their product descriptions in-house, while others outsource to professional writers at advertising agencies.
Using Jasper ai to write product description
So, how do you use Jarvis to write high-converting product descriptions?
It's now straightforward to write a great product description quickly with the aid of an AI tool.
Jasper is an intelligent artificial intelligence (AI) software that generates product descriptions based on your brand and what's already online, so you can get started in minutes. It includes five templates for writing descriptions in a variety of styles.
If this is your first time using Jasper AI, you must first create an account.
After registering, you'll be directed to the Dashboard. Navigate to the section titled templates. Furthermore, To get started, click "Product description."
Open product description template. As illustrated in the screenshot below.
Input information about your product, like its name or services, and a brief description of your business; this enables Jasper to generate highly relevant descriptions.
Jasper AI is the answer if you're looking for an edge over the competition. Not only will your product descriptions be original and catchy, but they'll also be backed by cutting-edge technology that ensures accuracy and relevancy.
With Jasper AI on your side, you'll be able to outperform the competition and boost your profits – guaranteed.
What to Include in a Jasper Product Description template
A product page should include information about the products, a photo of the products, and a contact form.
The information about the product should consist of what makes it unique, where it can be used, how much it costs, and anything else customers should know.
The product photo should show its appearance so customers can determine if they like it or not before purchasing. A contact form should be included on the page so people who do not want to buy the product can still contact the company.
This page should be designed to be easy for customers to use and understand.
The information on the page should be updated regularly to ensure that the most accurate information is being provided to the customer.
When writing a product description, keep the following key points in mind:
To begin, fully describe the product: To describe your product, tell the customer what it is, what it does, and its benefit to the users.
Then, include some essential uses: Including critical uses will assist the customer in visualizing and conceptualizing the numerous ways the product fits into their lives.
Finally, provide evidence for your claims: Using customer testimonials and reviews, substantiate the claims made in your product description. If you lack testimonies, you may also use facts.
Hacks to improving product descriptions include the following:
In your product description, emphasize the most critical information. Remove anything that is not necessary for this task. If you leave minor details in a text, people will be discouraged from reading it and quickly lose interest.
Do not compel users who have no intention of reading an excessively lengthy product description to do so. Protracted texts are utterly unsuitable for mobile devices, which are becoming increasingly prevalent on the Internet today. A few simple lines are sufficient to convey critical information about your product while remaining considerate of your customer's time.
Your description should be straightforward to read. As a result, it is critical to use concise and clear language. Additionally, keep in mind that your staff should proofread the text regularly to ensure that errors are corrected.
At least one image must accompany your product description. Users need to understand what they are purchasing, so it is critical to include a relevant image. If you lack time to create alternative content, the images can be screenshots from videos.
Your product description should be concise and easy to read. You'll need to choose a font. Headers should be 9-10 pt in size, subtitles should be 8 pt in size, and the main text should be 7-8 pt in size (depending on the device used).
Check out: Jarvis.ai Long-form Assistant Tips To Quality Content (2021)
To ensure that your customers can easily read everything, separate paragraphs with white space. Additionally, avoid using an excessive number of bold sentences. They can be difficult to read on mobile devices or for those who have visual impairments.
The text must be sized appropriately. If your users are not using a computer screen, they will need to zoom in on the text to read it comfortably. This may cause them discomfort, and they will almost certainly skim the description.
Therefore, keep this in mind whenever you insert images or adjust the size of your text. It would be preferable if you adhered to a specified length. For the majority of products, 2-3 paragraphs should suffice.
You must adhere to a certain length. For the majority of products, 2-3 paragraphs should suffice.
10 mistakes people make when writing about their product
When writing about a product, people tend to make a few common mistakes. Here are the ten most common ones:
1. Focusing too much on features instead of benefits
2. Not highlighting the unique selling points of the product
3. Not being clear and concise in explaining what the product is
4. Not tailoring the content to the audience
5. writing long, rambling paragraphs that are difficult to skim or read
6. Not using images or videos to break up the text and add visual interest
7. Burying the lede – i.e., not mentioning the most critical information upfront
8. Not proofreading or editing their work before publishing
9. Neglecting to update their content as their product changes over time
10. Not sharing the article on social media
Why Write Effective Product Descriptions?
Jarvis.ai product descriptions can be used to demonstrate a variety of business benefits and outcomes. Here are some of the advantages of a well-written product description:
Establish Consumer Trust
Entice a Buyer
Improve SEO
Act as an Informative Resource
Establish Consumer Trust
Compelling product descriptions accurately describe the product. Due to the product descriptions, shoppers can be reasonably confident that the product they purchased online or over the phone will meet their expectations. This Jarvis.ai template contributes to the development of a bond of trust between your brand and the shopper.
Trust is a critical component of customer retention and returns purchases, a cornerstone of any digital retail brand. ECommerce stores must work even harder to earn and maintain trust because they lack brick-and-mortar locations where customers can view, touch, and try products before purchasing.
On the other hand, when product descriptions are sparse, there is a greater chance that a customer will be dissatisfied with the product. In these instances, evidence suggests that the customer is unlikely to make another purchase from the company.
Simply put, an accurate product description results in happier shoppers who have their expectations met and fewer returns—customer satisfaction increases, which is critical for any brand looking to expand.
Entice a Buyer
A strong product description should be capable of directly converting a visitor into a buyer. It contains all of the information a customer requires to make a purchase decision without requiring them to look elsewhere.
This may include customer reviews as well. When you consolidate all vital information in one place, the product description simplifies shopping for consumers who want to make the most out of their purchases.
When considering a product description as a sales and marketing tool, it's clear that a critical component includes emphasizing the benefits that the product offers consumers.
When consumers see benefits listed alongside a product description, they better understand whether the product is a good fit for them or not. When consumers have access to all information necessary to purchase within the product description, buyers are more likely to buy the product.
Improve SEO
eCommerce stores rely on search engines, and product descriptions are a tool that helps them rank in organic search results.
Jasper.ai assists in the generation of unique product descriptions that include product keywords, which assist search engines in finding the products during a search query, hence improving the website's ranks.
Marketers can take advantage of this template because search engines strive to deliver the most relevant content to users searching for products. By deliberately using the most important keywords, you can increase the likelihood that your listings will be seen by customers searching for your products.
 Act as an Informative Resource
Product descriptions act as an educational resource for customers who are gathering information before making a purchase. According to eCommerce research, customers are more likely than ever to conduct product research before shopping. Today's consumers are considerably more digitally savvy and recognize the distinction between online and in-store shopping.
Shoppers can touch and try products in stores before making a purchase. Consumers who shop online rely on research. As a result, and to maximize conversions, customers should be able to access a lot of information about your product without leaving your site.
How to Write a Product Description That Sells
Product descriptions are highly effective tools, but only if they are written well. That is why marketers must grasp the following steps while utilizing this Jarvis.ai template:
1. Ask the Right Questions
While brainstorming your next product description, there are several questions to ask. The basics are as follows:
Who are the prospective buyers? This includes the demographics of your intended audience. If you're creating product descriptions, you've already determined your target customer. If you haven't already, there are several ways to do so, including through customer service and the use of social media sites.
What are the product's specifications? Subdivide the product's basic details into essential keywords for the description. Once complete, the description should accurately represent the product's specifications and address any customer's questions about the product.
What circumstances necessitate the product's use? It's one thing to inform a potential shopper about the nature of a product, but it's also prudent to tell them when they can use that product. This could be handy in the product description for an OTC drug that should be taken once daily at bedtime.
Can the product be used in any environment? If there are any restrictions on where the product may be used, this is a critical point to highlight in the product description. "Use in a well-ventilated environment," for instance.
Why would someone purchase this item? Discussing why a product is valuable aids shoppers in determining if the product is a good fit for their lives. For example, "Buy the Ionic Vacuum because it effectively eliminates pet hair and allergens from all types of carpets" makes for an example of a why statement.
How does it work? Even the most straightforward products can operate better when accompanied by a brief description of their intended usage.
2. Write for Your Target Customer
A preliminary step in the process of developing the most accurate product description possible. Utilize this template to create a description that is tailored to your target buyer. Many businesses have a clear concept of who their products are aimed towards.
If not, now is the moment to educate yourself about your target buyer. To accomplish this, you must have a detailed profile of your potential buyer.
The most effective product descriptions establish a personal connection with a specific buyer persona. It's critical to be specific and to connect with your buyer when selling products, and in those instances, vague content may not be optimal or effective.
Use the Jarvis.ai product description template to create a comprehensive buyer persona strategy:
Capture demographic data: You may learn a lot about your customers' website traffic by utilizing analytics solutions. From fundamental marketing tools, you can establish information such as geography, gender, and age group.
Analyze psychographic data: These data points provide insight into customer behavior and assist marketers in defining more abstract concepts such as level of engagement with your site or products, why consumers want to purchase a product similar to yours, and how your product affects their life and goals.
Combine psychographic and demographic data to create user profiles: Once you've examined all of the data available from marketing and analytics platforms such as Google Analytics and Facebook for Business, you can begin combining psychographic and demographic data to create user profiles. For example, a profile for a retail supermarket chain could be parents in their 30s in the United States who shop for their family and value wholesome foods. This profile incorporates both demographic and psychographic data.
3. Consider Formatting
Include both paragraph and list material in your format for the following reasons:
Bulleted or numbered lists: For one thing, clean pages are simpler to read. They are accessible to individuals who have ADHD or other forms of neurodiversity. However, this format has significant drawbacks in terms of narrative storytelling. As a result, it's advisable to use bullet points to describe a product's technical characteristics and prose to illustrate how it fits the customer experience.
Paragraph sections: When writing the product description, this Jarvis.ai template assists you in stringing together a few brilliant lines that convince the customer why the product is worth using. This should be accomplished in a brief paragraph of four or fewer sentences. These should be narrative and not technical. The prose section of the description will complement the tidy bullet points in the technical requirements by offering engaging, vital information that will appeal to a broad audience.
4. Define KPIs
To ascertain the effectiveness of your product descriptions, it makes sense to develop key performance indicators for product campaigns. One method for determining KPIs is A/B testing, which compares two distinct product descriptions to discover better work.
Several reasons to employ KPIs include the following:
Increased conversion rates with A/B testing. If your new product description works better than your previous one, you should observe a greater conversion rate in an A/B test.
A/B testing results in lower cart abandonment rates. Additionally, you will notice that fewer shoppers abandon their carts as a result of the increased sales.
Decreased instances of people returning to purchase as opposed to buying the spot. The return rate drops as more customers shop and complete their purchases without needing to return anything.
A decline in customer service calls regarding product inquiries. When your customer service department receives a high volume of product-related calls, it's a hint that your product descriptions should be more robust.
Improved keyword search rankings and SEO. When your SEO for targeted keywords improves, chances are your product descriptions are performing well as well. Marketers may monitor this by observing how their search results for job description keywords increase following a product marketing campaign launch.
5. Communicate the Narrative
Having established a format, it's time to create your narrative using a product description template. Suppose your product has an adorable, unique, or highly intriguing story. In that case, chances are it's one worth telling to your audience. By including a unique story about your product's journey, you may add personality and create an emotional connection with potential customers.
Consider what you want to include in your narrative. It could consist of evidence of significant product testing, positive customer evaluations, and hand-crafted charm. Investigate the details of what makes your product unique and valuable, and use them to craft a narrative.
If your product is highly technical, feel free to incorporate language that your target market will understand. Clarifying technical standards can assist in removing uncertainty.
Additionally, you could consider other writing approaches that add suspense to your stories, such as questioning Jarvis.ai, confronting your shoppers, and adding consumer quotations or award information. All of these factors contribute to your ability to tell your brand's story.
6. Build and Fine-Tune Brief, Relatable Copy
It's critical to keep product descriptions concise and relatable, which the Jarvis.ai template facilitates. A brief paragraph that offers a compelling story and includes answers to some of the most often asked product questions and bulleted technical details can make a persuasive product description without being overly wordy. Additionally, the product page layout should assist in keeping your copy brief and clean by utilizing elements such as white space to create visual space on the page.
A product page is a required part of any e-commerce website. It provides an opportunity to showcase the products and services that you offer and highlight the company's philosophy and mission statement.
The first thing you should do is create a distinctive design for your product page.
Think about what emotion or feeling you want your page to convey, and then choose a color palette and font that gives this feeling to the viewer.
The next step in creating your product page is to include plenty of images and videos.
These will help put everything into perspective for the viewer and generate more interest in your products.
You should also include any awards or accreditations you have received so that your visitors can see how credible your company is.
Additionally, be sure to list the features and benefits of each product so that people can see what they're getting if they decide to purchase.
Read Also:
Using Product Descriptions to Generate Revenue
Product descriptions are a critical component of your e-commerce website. It should be straightforward, concise, and packed with information that would entice potential customers. The way you format this text is critical, as it has the potential to turn off a customer if not done correctly instantly.
You should take a logical, accessible, and easy-to-follow approach when writing your product descriptions.
With the knowledge and steps for creating a compelling product description from this Jarvis.ai template in mind, consider the following tips for creating and leveraging product descriptions to drive revenue:
Product descriptions formatting guidelines.
Formatting the product description entails adhering to a few fundamental formatting standards. To begin, you should write in paragraphs so that customers may simply skim the information. Writing in continuous lines without paragraph breaks makes it more difficult for people to decipher your information because it is presented in one large text block.
Conduct keyword research
Second, you should emphasize keywords. Keywords are words and phrases that customers are likely to search for when looking for a product like yours. These words should be included at the beginning of your sentences to draw the viewer's attention to the product they are interested in purchasing.
An excellent product description is built on the foundation of keywords. If you're unsure of which keywords to use, a perfect place to start is by examining the product descriptions of competitors' products and choosing keywords and key phrases that make sense for your brand as well.
Additionally, you can utilize online tools to extract keywords from your website's search results and competitors'. These tools typically tell you how you compare your competitors in keyword rankings and which keywords you should grow organically versus which ones you should consider purchasing. HubSpot, AHREFs, Moz, & the free tool SpyFu are all examples of SEO tools that assist businesses in isolating essential keywords.
Be Particularly Specific
The more specific your product description is, the better for your customers who rely on your information to make purchasing decisions—being specific means including only the most pertinent information, such as a description, a purpose, and usage instructions.
When exploring your who, what, where, when, why, and how questions, delve into the product and generate multiple questions for each term that will assist you in describing the product in precise terms. This will make shoppers make a product decision.
Refrain from using manufacturer's product descriptions
Copying-pasting content from the manufacturer of a product you sell on your eCommerce site can have a detrimental effect on your SEO. Additionally, manufacturers attempt to rank for keywords that make sense for them, not for your business's unique requirements.
It is preferable to use Jarvis.ai to engage shoppers with original, unique, and informative product description content that tells the story of your product's journey from the perspective of your brand, not the manufacturer.
Create Interest in Your Product
Thirdly, format your information appropriately. You can list the advantages of purchasing a product, break things down with numbered lists, or use bullet points. Any of these formats will read the readability of the product description, but you must make which one works best for your products and customers.
In the product description, use the writing techniques to create interest in your product. This makes the likelihood that your target market will find it more engaging to read. Additionally, it assists you in making your product sound interesting and useful. To create product intrigue, you can employ a variety of writing techniques, including the following:
Ask questions of the consumer
Narrating the user journey
Pose a challenge to the reader
Proofread Thoroughly
Before publishing your product descriptions, you should proofread them. This is especially important if you're using a bulk upload system, as a single error can wreak havoc on your entire batch.
When the Jarvis.ai template has finished generating the product description, it is vital to proofread thoroughly. A minor typographical error, such as a missing comma or misspelled word, can erode consumer confidence in your brand.
Building brand confidence is critical for businesses that rely on consumer trust to succeed. If you work in a digital eCommerce business, producing error-free content is essential to building your brand and generating sales effectively.
Run A/B Tests
A/B testing is an important marketing tool. Marketers can compare the outcomes of updated product description language to earlier versions when they perform A/B tests. This enables marketers to determine what works and what doesn't for their product efforts.
Follow these steps to run an A/B test:
Determine a testing variable: It is better to test only one variable at a time.
Define the objective: This is the desired outcome. By creating goals, you establish your hypothesis.
Design a control group and a variable group: You should have a control group, test group A, variable group, test group B.
Create random sample groups and compare each group to a random sample.
Execute your test: In this final phase, conduct your test by calculating the outcomes of each product description.
Apply unique Phrasing and Sensory Language
The product description template includes innovative and unique wording that makes sense to your reader, incorporates video and other media whenever possible, and utilizes sensory language to elicit emotional responses from shoppers about your product.
You create more than a product description; you create an experience for shoppers when they read the product description page.
Check for Social Recognition
Exploit social media to your advantage if people are discussing your brand. You may help enhance shopper interaction with your brand by posting customer testimonials from social media reviews. This is enhanced when you include a photo and the person's name from their social profile with their permission.
Optimize Your Brand's Voice
Every piece of content on your website should be tailored to your brand voice, and this is no different for product descriptions. When using Jarvis.ai to make your product description, it is critical to stay true to your brand by understanding its brand language fundamentals. This may contain characteristics such as optimism, informational content, youth, and fashion.
The Advantages of Hiring a Product Descriptions Agency
After understanding the value of a well-written product description, which Jarvis.ai assists you in creating, you may be asking how to proceed with the product descriptions for your products.
Many businesses choose to perform product description services in-house, while others outsource the task to an agency. The advantages of hiring a product description agency are numerous, including the following:
Labor Cost Savings
When numerous consistent, high-quality job descriptions are necessary, partnering with an agency eliminates the need for organizations to hire salaried writers. The ability to retain fewer direct marketing personnel is a significant benefit of working with an agency. It saves businesses money by charging just for their services, rather than salary and benefits for direct staff.
Procuring a More Accurate Product Description
When you work with experts at an agency, you will receive a higher-quality product, as writers are vetted and only retained if they can perform the job successfully. Agencies link with writers for various vocations, including product descriptions, and maintain relationships with professionals in multiple industries. As a result, teaming with an agency can result in a more robust product description.
Ranking for More Keywords
Marketing agencies employ people skilled in all facets of marketing, including search engine optimization. Content marketers understand SEO guarantees that your product descriptions rank for important keywords that drive the correct customers to your brand.
Improved SEO
Improved SEO is one of the most evident benefits of improved product descriptions. There are numerous advantages to increased SEO, including the following:
Focusing on attracting high-quality consumer traffic
Providing on average more clicks than PPC campaigns
Boosting public relations awareness of your content
Giving competitive advantages over other businesses in a comparable industry
makes constant optimization to assure the strength of your content
Tools for reporting and analysis
Generating Metrics for Product Descriptions
Agencies may be pretty beneficial in assisting brands in establishing measures for reporting and analyzing their product descriptions. Tracking traffic, keywords, goods in the cart, and purchases is a few product description metrics. Establishing these measures enables businesses to set objectives and perform their performance over time.
Results Reporting
Agencies can report on the usefulness of a product description and optimize it using data from an eCommerce website's analytics. Product description reporting gives critical data to business leaders and marketers that can be utilized to strengthen product descriptions and increase traffic and sales. Reporting on product description data also enables eCommerce professionals to understand their seasonality and user behavior better.
Effective Product Descriptions Examples 
Consider the following examples of product descriptions as a starting point for your own:
Jewelry Listing Example
Vintage Sterling Silver Ring
This 1930s art-deco design ring would complement any jewelry collector's collection of sterling silver pieces. Without a doubt, this one-of-a-kind and magnificent piece of jewelry has traveled a long distance and passed through numerous hands over the years. Make it yours today and be a part of its incredible adventure.
Size 10
Stamped 925, genuine sterling silver
Art-deco
Vintage, in excellent condition with only a few minor scratches and no nicks
Ships sailing from Paris, France
Free international shipping
What do customers have to say about Custom Jewelers Co. jewelry? "This ring is stunning, precisely sized, and arrived just as pictured," Mary from Portland said. Allow three to four weeks for delivery.
Women's Clothing Listing Example
Armani Silk Scarf
This scarf instills a sense of "designer" in its wearer. You will fascinate audiences like a star with its intricate design of geometric shapes and vibrant hues. This scarf is ideal for cold winter months or as a statement piece throughout the warmer seasons. Because silk is breathable, you will not feel hot or sweaty while wearing it, making it great for people who value fashion in different climates. If it describes you, this Armani scarf is a must-have.
The silk is 100% dyed
Dyes derived entirely from nature
Approximately 70 inches in length — and extra-long length!
Genuine Armani accompanied with a certificate of authenticity
Ships from Brooklyn, New York
Shipping exclusively within the US
"I'm going to buy all of my accessories from your store due to your lightning-fast shipping," Sam from New Hampshire says.
Men's Clothing Listing Example
Men's Versace Jeans
These blue jeans are the ideal way to showcase your sense of style and devotion to high-end brands. Versace delivers comfort and functionality to every man who appreciates a nice pair of jeans. You'll look stylish whether you're out on the town or at home for the afternoon. This versatile addition to your wardrobe will be fashionable and durable.
Authentic Versace
Available in sizes 28″ – 43″
Tailoring services available upon request
Ships originating in the United Kingdom of Great Britain and Northern Ireland
Free international shipping on all orders.
Nearly nine out of ten clients return. Today, add the latest addition to your wardrobe and discover why.
Women's Shoes Listing Example
Women's Louboutin High Heels, Size 9
My excellent discovery becomes your excellent buy! These well-loved Louboutins were discovered while thrifting and are now available for purchase. Acquire a pair of exquisite designer shoes in perfect condition for a fraction of the price of new. These shoes will help you stand out in an interview or make you appear like a celebrity on the street. When you buy these lovely pre-owned shoes, you'll be seeing stars. If you require anything sooner than later, expedited shipping is possible.
A designer brand
Leather is 100% genuine
Heel measures four inches
Red sole with distinctive design
Domestic shipping is free
Nancy's Boutique consistently receives positive feedback from customers for their high-quality pre-owned items. "Nancy's Boutique is where I buy all of my expensive clothing," one feedback states. They are consistently delivered in the condition depicted and on time."
Men's Shoes Listing Example
Men's TOMS Casual Shoe
Are you seeking a casual shoe that is comfortable and created from sustainable, recycled, and natural materials? If that is the case, you have come to the right place. TOMS casual sneakers for men in size 11 provide comfort and style without sacrificing the environment. TOMS is beloved by ethical shoppers, and you may now join them. Wear them for the long-term comfort, fashionable appeal, and long-lasting value they provide.
Sustainable fashion
All standard sizes are available
Color options galore
Flexible return policy
Free shipping
According to data, 40% of people in New York and London's fashion capitals are worried about the need for more sustainable apparel. Invest in TOMS today to stay ahead of the curve.
Software Listing Example
Nolan Anti-Virus Software
According to The National Software Review, Nolan Anti-Virus Software is the "greatest virus protection software for gamers in the year 2020." Nolan is a well-known brand in the anti-virus industry. Nolan anti-virus software is designed exclusively for gamers' demands, offering a complete anti-virus software that integrates perfectly with your operating system to protect you from attacks without slowing down your computer.
Award winner for the most innovative new software
The award winner for the best anti-virus software for gamers
Virus protection on an end-to-end
Business-to-Business Product Listing Example
Multi-Media Ad Listing
By appealing to your target demographic, you may promote your brand with the greatest in multimedia advertising. Multimedia Ad Company has placements that will get you in front of the greatest possible audience of clients seeking brands similar to yours. This means that when you collaborate with MACO, you can anticipate an increase in conversions and sales.
Ad space of 200 x 200 pixels
Full-color digital A
Design support available upon request
Our ads touch over a million people online, ensuring that your message reaches the widest possible audience.
Product Description FAQs
If you're a business owner or marketer who wants to learn everything there is to know about creating great product descriptions; you might benefit from reading the commonly asked questions. The following section contains frequently asked questions concerning product descriptions and the recommended practices for writing them:
Is Jarvis AI the best tool for creating product descriptions?
I've experimented with various artificial intelligence-powered product description generator tools, but Jarvis AI is the best. It generates more compelling copy than any other piece of software I've encountered, which means my marketing efforts will be significantly more effective in sales.
What Other Issues the Product Description ought to Address?
Numerous who, what, where, when, why, and how questions should be addressed in product descriptions. Consider the following kinds of questions to ask while brainstorming a product description:
What are the product's technical specifications?
What is the total number of available units?
Do you require any additional items to operate this product?
How many product variants are offered?
What are the available colors/styles?
Is the product subject to future design changes?
Who is the product's primary beneficiary?
How Can I Know if My Product Descriptions Are Keyword-Optimized?
SEO checker tools assist businesses and websites in determining their position in search results for specific keywords. You can pick the keywords for which you rank without using an SEO checker tool. To begin, examine your analytics.
When you begin digging into the analytics tool you're using to learn about your website's traffic, you should be able to find a section on "non-paid keywords," as Google Analytics refers to them. This will not provide you with all your keywords, but you will have a solid starting point. Following that, you may use a tool called Google Webmaster Tools to learn further information about your site and other keywords. Additionally, you can strategize around anchor text to aid in keyword optimization.
Read Also:
What Free and Open-Source Analytics Tools Are Available to Me to Track the Effectiveness of My Product Description Campaign?
Businesses can conduct keyword analytics on their product description campaigns using a variety of free tools. The following are the most effective analytics tools:
Google Analytics: Google Analytics is the gold standard of analytics tools in many aspects. To begin, it is completely free. Additionally, it provides marketers with a robust array of options, making it an appealing alternative for a broad-spectrum keyword campaign for your product description.
Bitly: Not only can you use Bitly to shorten links to your product pages, but you can also track their performance through A/B testing with changed product description wording.
Piwik: This tool provides unmatched analytics by merging competitors into a single robust and accessible tool. One disadvantage is that the software must be downloaded.
Open Web Analytics: Open Web Analytics, or OWA, is similar to Piwik. It is a downloadable piece of open-source software with no limit on the amount of data it can save.
Clicky: This popular tool is free up to 3,000 page views per day; after that, a subscription fee based on usage is required. On the other hand, Clicky is rapidly gaining popularity among bloggers and webmasters due to its comprehensive features and thus deserves notice.
SimilarWeb: SimilarWeb is an intriguing tool because it encourages you to spy on your competitors rather than on your page. You can analyze analytics from similar websites to determine which keywords to target and include a content marketing strategy into your product descriptions.
SEMrush: This keyword research tool is widely regarded as the tool's best. This can assist in bolstering your product description campaign by offering a solid array of keyword tools that help you develop your brand through unique product descriptions.
Moz Keyword Explorer: Moz is a direct competitor of SEMrush when it comes to keyword analytics. Numerous people in the marketing sector rely on these tools to optimize keywords in product descriptions.
What Should I Consider Regarding A/B Testing a Product Description?
Expect to see an increase in bounce rates, conversions, and overall consumer experience when you A/B test a product description. As such, A/B testing product descriptions is recommended.
Marketers preparing to undertake A/B testing should conduct research and use the scientific approach to determine how well a product description performs against a specified metric.

This blog post shows you how to use the Jasper AI copywriting assistant tool for your business, upload a product description or write one from scratch and then let Jarvis do all of the heavy liftings by suggesting what words should be used in which order. With its help, writing an enticing description will be more accessible than ever before!