As with nearly everything else on the internet, your Instagram bio is all about establishing an instant and lasting impression.
The majority of people spend a few seconds scanning your bio and photographs before deciding whether or not to follow you.
If your Instagram bio entices them, they may choose to connect with your content or follow your account. If it isn't, you risk losing their attention indefinitely.
Okay, perhaps not indefinitely. However, only until you implement some tweaks.
We'll explain what a bio is, how to write one, and some fun Instagram bio hacks in this article. Most importantly, we'll provide you with several Instagram bio examples that you can practically copy-paste into your profile.
Instagram Bio Defined
A bio on Instagram is a brief description of yourself or your brand that appears beneath your username. Your Instagram bio might contain a short description of yourself or your brand, contact information, emojis, and hashtags, among other things.
The following is an example of one of the best Instagram bios:
Marie Forleo's Instagram bio is impressive. The first line establishes her identity: 'CEO. Writer. 'Fancy Dancer.' MarieTV.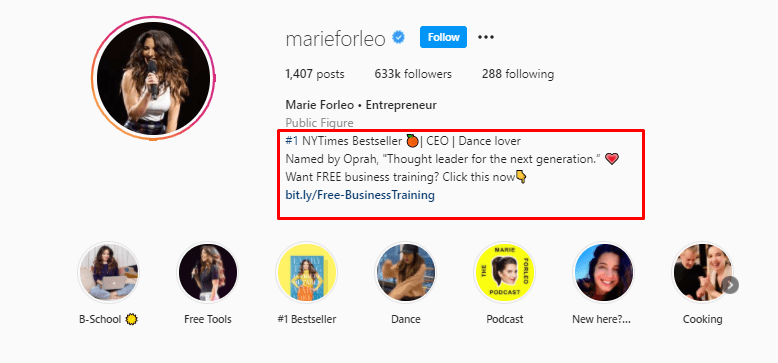 The second line of her cool bio serves as social proof: 'Named by Oprah as a "Thought Leader for the Next Generation." ' I don't know about you, but this tells me she's someone worth following.
And the final line is her call to action, which includes a link to a free content download. Additionally, she used two emojis to make the text more readable and to call attention to it.
If you're seeking Instagram bio ideas for girls, Marie Forleo's technique is worth copying.
Instagram Bio Template to Follow
You are free to write your Instagram bio as you choose. Here are a few Instagram bio suggestions based on popular trends. If you're interested in learning how to master Instagram, follow these recommendations and enroll in our Instagram course today.
(#1). Include a Description of Yourself
The most successful Instagram bios include a self-description. Consider including your professional title (s), the company you own or work for, some claims to fame, hobbies and interests, and what makes you unique.
Read Also: 300+ Instagram Captions Powerful For Photos & Videos (2021)
Queen Latifah's Instagram bio is an excellent description of her. In the opening line, she states, 'Actor/Rapper/Singer/Producer.' When fans visit her fan page, they will learn that she is more than just an actor and will likely check out her other gigs to learn more about her.

Additionally, that tiny blue tick appears on her page, signaling to visitors that she is famous. One of the Instagram bio ideas Queen Latifah tells us is that even a brief bio can teach a lot about a person.
(#2). Outline Your Interests
To generate a favorable first impression, you must establish a rapport with your audience.
How are you going to accomplish that? By expressing your interests.
For instance, Paola Antonini's Instagram bio hints subtly at who she is and what her Instagram is all about. She describes her interests as "Lifestyle | Travel | Gratitude."
When the word appreciation is included, you become intrigued. And while clicking through a few images, you'll notice Paola's wearing a prosthetic limb.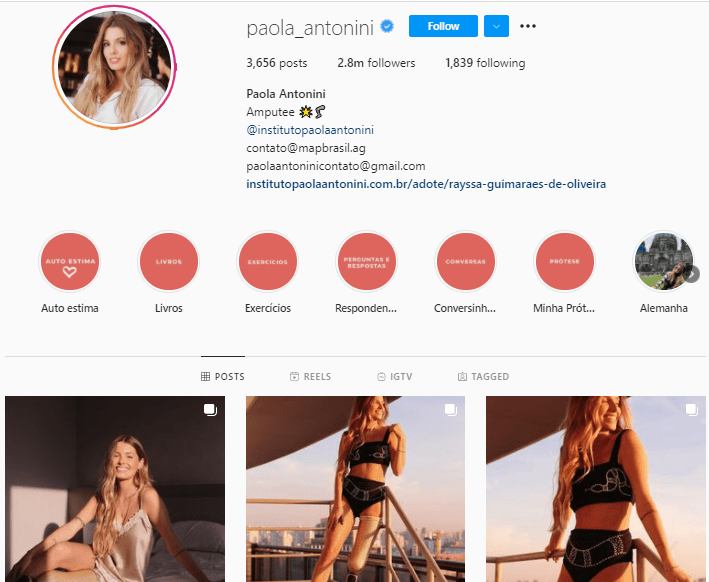 And a large portion of her Instagram is dedicated to photos of her living life, traveling, and having fun, making her an interesting person to follow. I'm sure her 2.6 million followers would concur.
The finest bio is always simple to read and incorporates your most attractive interests, two critical Instagram bio ideas to copy.
(#3). Share Contact Information
If you own a fan page or a business, or a famous person, your Instagram bio should include your contact information.
The majority of people write something along the lines of 'For business inquiries, email name@email.com.' However, you can alternatively direct folks to your DM for messaging.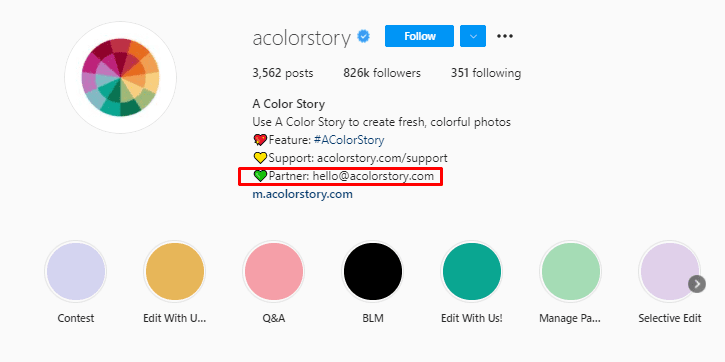 A Color Story's Instagram bio provides an email address for quick communication. After all, the entire purpose of social media is to connect people, thus making your contact information more available is one of the Instagram bio suggestions you must follow.
( #4). Incorporate a CTA
Be you're a business owner or an influencer, your Instagram bio should include a call to action.
Bear in mind that you only have one link available to users. Therefore, include a call to 'join my course," see my latest blog article,' or shop the most fantastic trendy products now.'
Dropshippings Instagram bio includes the call to action 'Watch the Documentary.' The finger emoji points to the link to draw additional attention.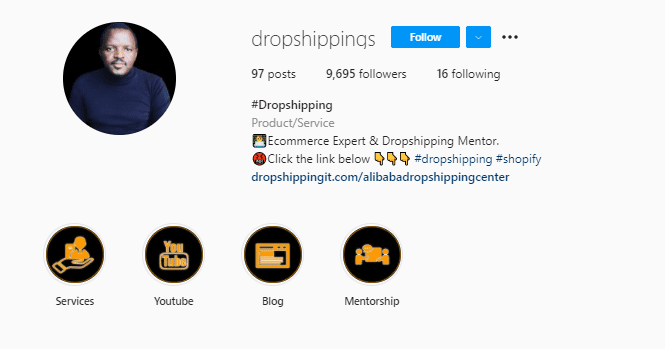 Try These Four Instagram Bio Tricks
Would you like to learn a few Instagram bio tactics to help you stand out from the crowd? The following are four of the most popular:
(#1). Instagram Bio Fonts
LingoJam for Instagram bios
You can quickly copy and paste different Instagram bio fonts into your profile using a program like LingoJam. Simply enter in the words you want in a different typeface, such as your name.
Then, scroll through the available fonts until you find one that you like. Simply copy and paste it into your Instagram bio.

(#2). Instagram Bio Symbols
Emoji in the Instagram bio
You may copy and paste symbols and fancy text using a website such as CoolSymbol.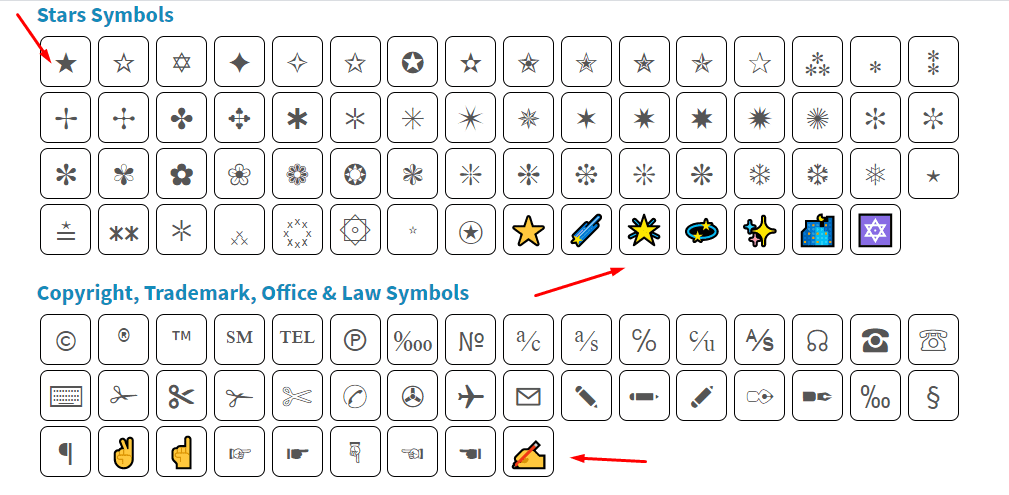 There are numerous fascinating symbols, like stars, copyright, arrows, currency, brackets, hearts, and zodiac signs. When you click one of their icons, it is immediately copied. Then, navigate to Instagram and include it in your bio.
(#3). Instagram Bio Link
As a result, you presumably already know how to include a link to your website in your Instagram bio. However, what if you wish to add multiple links?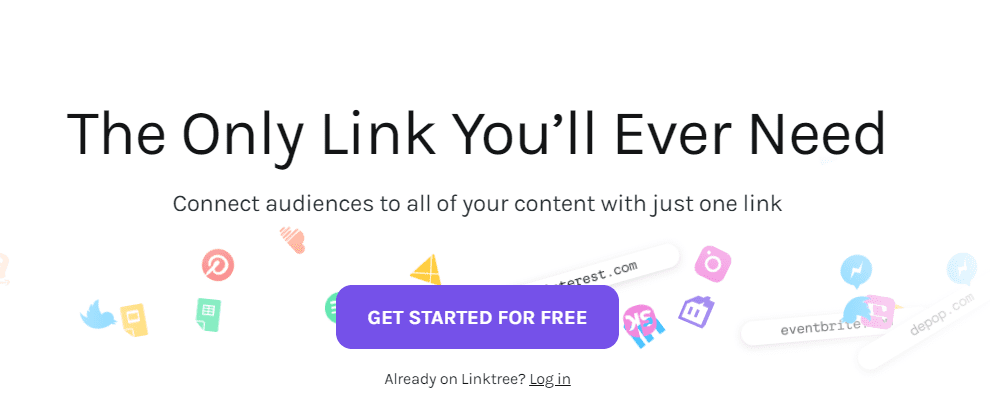 Linktree is a neat little website that will assist you in this endeavor. All you have to do is enter your Instagram account, sign up for a free plan, and add the links you like.
(#4). Instagram Bio Space 
Using Apps4Life's free application, you can add line breaks to your Instagram bio (or captions) and then click the Convert button to copy the text to your clipboard.
After that, simply open your app and paste the text immediately into your Instagram bio. This is the simplest method of obtaining an Instagram bio space. Thus, it eliminates the need for you to create space within the Instagram app manually.
200+ Copy-Paste Instagram Bio Ideas to Help You Step Up Your Game
Awesome Instagram Bios
The best things in life come from venturing beyond one's comfort zone.
Here is my account for the record books.
I'm a cupcake on a mission to find her stud muffin.
Be yourself in a world where everyone can be anyone.
My veins are teeming with success.
Indeed, I am but another Instagram influencer.
Scratch here to reveal my hidden bio.
That is not a dream. It is the reality I live.
What do I include here?
Hello, and welcome to my world.
Most Excellent Instagram Bios
The secret to happiness is simplicity.
If I were a writer, I would have a more impressive Instagram bio quote.
You can not attain greatness without first achieving mediocrity.
In a world filled with worry mongers, be the warrior.
It will not always be simple, but always attempt to do the right thing.
She transformed her impossibilities into possibilities and her fantasies into plans.
Life is what occurs when you are scrolling through Instagram.
A typical day in my life of consists of the following: eating avocado toast, posting Instagram videos, and reading Instagram comments.
t is now my turn to take the stage. It is something I have earned.
I put what I post into practice.
Unique Instagram bios 
Dreams & Objectives
If there is "love in the air," why is it so polluted?
It took me years to attain this appearance.
Currently accepting new adventurers
I'm injured, but I continue to grin. That is the story of my life.
Snacks at midnight.
Because everyone else has been taken, this is my place.
Recovering cake aficionado
I earn money while I sleep.
Although most people call me Sam, you can call me tonight.
Instagram Bio Ideas With Emoji
I'd like to extend a warm welcome to my kingdom.
Check out my most recent blog post.
(Twitter handle): (Snapchat username): (youtube handle)
Traveler and book aficionado who is obsessed with tacos
We love all creatures and donate a portion of our profits to marine life.
I am a cancer survivor.
Personal trainer; dancer; and meditator
At the moment, I'm hanging around in
Spreading over the world as a lover, not a combatant.
Entrepreneurial Nomad Motivational Speaker
Quotes from Alicia Keys' Instagram bio
Instagram Bio Ideas for Girls
Leaving a smidgeon of radiance wherever I go
I believe in making the impossible feasible because giving up is not enjoyable.
I transformed my dreams into visions and my visions into realities.
Smart. Strong. Silly. Straight-up gentleman.
I am not flawless, but stories always benefit from a smidgeon of imperfection.
My expectations are high… just like my heels are.
Me: The prettiest girls are those that are happy. Additionally, I'd like to purchase fifteen pounds of makeup.
Who is in control of the world? ME.
Happiness is a timeless commodity.
I am a woman with ambition and a golden heart.
I glow from within, and no one has the power to dim my light.
Instagram Bio Ideas for Boys
I'm living my life according to my terms.
I couldn't care less what other people think of me. This is the most authentic version of myself.
I'd prefer to be despised for who I am than to be loved for who I am not.
It takes calculated risks. Adventurer. Globetrotter. I am living out my dreams.
I may not yet be where I want to be, but every day brings me closer.
I look to be a happily married old man sharing wild tales from his wild childhood one day.
I got where I am today by simply being myself.
I was destined to do just what I am doing today.
You're not a fan of mine? I'm indifferent.
I'm out here hustling 'to reclaim what's rightfully mine.
A biographical sketch of Richard Branson
Effective Instagram Bio for Growing Followers
Stick To My Path To Greatness
Follow a relationship with me, and I'll follow.
We appreciate your visit and hope to see you again.
Not sure what to do? You can begin by clicking on the "follow" icon.
Follow a close eye on my story.
To become a part of my adventure, simply click the follow button.
Do you want to hear my story? Select the "follow" button.
I am on my way. Sustain a relationship with me by following along.
After you've followed me, click the link below!
Kindly become our Instagram follower.
My story promises to inspire you, so be sure to click the follow button.
Follow me to get a glimpse into the backstage of my life.
Follow the reading to see history being made.
Great Instagram Bios
I'm falling for you.
Struggling, fortunate, and coffee-obsessed
I'm having the best time of my life.
Seeing the world through colored spectacles
I am as sweet as honey.
Do not examine me. You will not graduate.
I'm sending NASA my selfies since I'm a celebrity.
Kindly terminate my subscription to your publications.
The current state of hunger
Kanye's attitude combined with Drake's emotions
Witty Instagram bio
They call me Febreeze due to my youthful appearance.
Avoid killing my vibe.
Follow my Instagram, or I will no longer be your nacho friend.
I believe in bee-ing.
My Instagram page is quite a-peel-ing.
The day at sea
I enjoy pausing to inhale the aroma of the rosé.
I'm awesome and having a perfect day at the moment.
Spending my days in a manner that enables me to say they were well spent
Artists never retire; instead, they withdraw.
As the adage goes, 'You are what you eat.' Guess I ate a seductive beast this morning.
Although my name isn't Mary, I'm still popping.
Instagram Bio Puns
Simple Instagram Bio
I am an anomaly.
Simple but vital
Enhancing performance
Getting down with the homies
A smidgeon of existence
Attractive and Profitable
Life is exquisite.
Glitter is the only acceptable option.
Quite the contrary.
Everything is beautiful to me.
The objective: a larger smile.
Funny Instagram Bios
I apologize for any posts made while hungry.
Unassuming, with a smidgeon of Kanye
I'd rather rob you of your dessert than of your boyfriend.
Sassy, classy, and a smidgeon of badass
I hope to become an adult one day.
I used to believe I was a little impulsive, but now I'm not so sure.
Because life is short, I'm smiling while I still have all of my teeth.
Breakfast, lunch, and dinner, all topped off with a chocolate dessert, are my hobbies.
Netflix and ice cream are currently in a relationship.
Chanel is responsible for the bags under my eyes.
The Instagram biography is currently loading.
In reality, I am not funny. I'm simply mean, but people always assume I'm joking.
I'm a whiz at social media. I truly am.
Funny Instagram bios of Anna Kendrick
Adorable Instagram bios
Numerous smiles are a result of you.
I'm thrilled to be able to share my world with you.
All of your dreams are possible, and I will ensure their fulfillment.
You belong in the sunshine.
My life is superior to my daydreams.
I'm constantly sprinkling kindness wherever I go.
My followers are more important to me than life itself.
Don't rue the opportunities you passed up because you were afraid to take them.
Occasionally, we could all use a little magic – don't conceal your own.
Every day may not be a good day, but every day contains some good.
Kermit the frog's Instagram bios are adorable.
The Perfect Instagram Bio
Not the same as the rest of them.
You, you
Unique in its kind
The finer things in life are pretty costly. You can have me for $7 billion if you want to.
With regards, Aloha
Hi. Hello. Hola. Ola. Bonjour. Ciao. Have a wonderful day. Namaste. Salaam.
Life is short; eat it.
Enhancing your day with a bit of glimmer
I have no regrets about anything you see in this feed.
My greatest fear isn't that I will not start. My greatest fear has to do with not reaching the summit.
Instagram Bio for a Business
I firmly believe in assisting others.
Since 2013, we've put our customers first.
Instagram account for (brand name).
FLASH SALE THIS WEEKEND ONLY – HALF OFF
Submit your photos to us using the hashtag # (brand name)
International shipping is always free.
Contact us via email at name@email.com.
To shop our Instagram, simply click the link below.
A fantastic selection of (product type) merchandise
Take a look at our best-selling items below.
Bio Captions
I love every minute of it; follow along and see for yourself.
Once the pain subsides, you will realize how much good comes from a bad situation.
I wish you both love and peace.
Mentally, I'm on the beach.
If you desire tea, please follow me.
Dreaming beyond my imagination's capacity
Beginning anew
Adopting a laissez-faire attitude
I am as glistening as my water.
While I do not provide instructions, my captions are the next best thing.
Self-Portrait Quotes for Instagram bio
Since 1999, we've kept it real.
I'm as uncommon as Fortnite's Reckon Expert outfit skin.
I'm a one-of-a-kind; there is only one of me.
I'm going to be better than I had ever been in 2019!
Reduce the amount of talking and increase the amount of action. Consider my pictures if you do not believe me.
I am deserving of the greatness that I possess.
It is not your responsibility to like me; it is entirely mine.
I'm awesome, don't worry; I believe you are as well.
I have not come to be average; I have come to be the best.
Born to shine
Always be authentic, as an original is always more valuable than a replica.
Swag Instagram Bio
Even if you had instructions, you would still be incapable of handling me.
Quite the contrary.
Keep your youth. Be effeminate. Conduct the show.
I will recall and recover, but that does not mean that I will forgive and forget.
I'd rather make mistakes than pretend to be perfect.
I do not wipe away tears; rather, I wipe away the people who caused them.
I'm similar to coffee in that I'm dark, bitter, and far too hot for you.
In the average world, I'm a savage.
It's difficult to find someone who is intelligent, funny, adorable, and an all-around badass. My only piece of advice is that you don't forget to follow me.
Too glitzy to care
My Instagram demonstrates that I'm constantly striving to be a better version of myself.
Instagram Bio Quotes
I couldn't care less what you think of me; I like the way I am.
Love without bounds
I am experiencing a severe case of not being a Kardashian.
We could be unstoppable if we work together.
Look up at the stars in a world of darkness.
I'm so deep that even the ocean is envious.
Inform me not to do something, and I will do it twice and photograph it.
My sole purpose is to win. In any case,
In a world in which anything is possible. First and foremost, be a giver.
Because you become what you believe, invest in yourself.
Instagram Alexis ren
Instagram Bio Short Quotes
This is who I am.
Follow me
Hello, welcome to my Instagram page.
Visit the link provided below.
This is where I am.
I own nothing.
Disregard perfection.
Happy thoughts
Simply smiles
Meet (name)
This is my bio.
Lucy Liu no Instagram bio
Instagram Bio Description Text
Single. Determined. The act of living.
Bringing the world's sunshine
I'm curious as to how many calories my ex-partners consumed when jumping to conclusions.
Always better when we work together xoxo
You will never be able to shine if all you do is cast shadows.
Just a smidgeon of inadequacy
Genuine queens mend one another's crowns.
Today is the kind of day for which I live.
Nobody's life is quite as perfect as their Instagram account.
I'm not sure where I'm heading, but I'm going there.
Instagram Bio Inspiration
Each day, I craft a life I adore.
When the world is dark, cast your gaze upward to the stars.
I'm attempting to see more sunsets than Netflix allows.
I'm prepared — let's get this done.
Consider yourself a flamingo in a group of pigeons.
Making mistakes is preferable to feigning perfection.
Adding a dash of magic
Sharing my joyous sentiments
Preserve each moment.
On a dreary day, I'm the rainbow.
Fashion Instagram Bio
I dress as if I'm preparing to face off with my arch-nemesis.
My clothes may not alter the course of the world, but I most certainly will.
I'm going to make you pause and look.
My clothing serves as a visual representation of my vibrant life.
While I am a fashionista, I am not entirely focused on labels.
Shopping is my therapy-plus. It's less expensive.
"I require new clothing." -Me, daily.
My ex is incompatible with my attire.
Money can not cause all evil, given how much delight shopping brings to people.
Women can appear stunning in any clothing, but the correct one can make them powerful women.
Fitness Instagram bio
Exercise enthusiast and certified personal trainer
Assisting you in establishing better habits
When you feel like giving up, persuade yourself to continue.
You are defined by your actions, not by what you promise to do.
Strength comes from overcoming obstacles you previously believed were insurmountable.
Today, do something for which your future self will be grateful.
Today does not require your justifications. Make it so.
The worst workout is the one that you skipped.
Increase your muscle mass via hustling.
Train insane or revert to your original state.
Models' Instagram bios
My name is Shh… I am Victoria's Secret model. It's such a closely guarded secret that not even Victoria is aware of it.
Instagram model on a full-time basis – DM for commercial inquiries.
I am not only a young woman with a phone; I am a model.
The most beautiful smiles conceal the greatest secrets.
I wear my confidence proudly.
The most critical component of any camera is the subject in front of it.
I take numerous selfies in preparation for my future biographer.
Because life is brief, make each selfie count.
#Beyourselfie
I don't use filters on my photos — I'm a natural gal over here.
Instagram bio for Travel
I may be unsure who I am, but I am sure of where I want to be. Immediately upon arrival in paradise.
My most memorable adventures are contained within the pages of my passport.
I have not yet visited, but it is on my list.
Wanderlust is an unquenchable urge to travel.
Along for the ride on my next excursion!
Travel is the one purchase that increases your wealth.
I only require Vitamin Sea.
I enjoy taking picturesque routes.
Utilize every chance that comes your way, as some things only happen once in a lifetime.
Fill your life with events to ensure that you always have a compelling story to tell.
Models of Instagram bios
It is preferable to be an alone lion than a popular sheep.
Wake. Play. Slay.
One day at a time, I'm creating the life of my dreams.
My thumbs have scrolled millions of kilometers.
Although life is not perfect, your photos can be.
That is life.
I attempt to impress myself.
Consider the positive aspects of the world.
I'm single and enjoying my life to the fullest.
While I may be a handful, remember that you have two hands!
Conclusion:
Whether your objective is to increase your following or to increase sales, you may include calls to action in your bio to compel visitors to take specific actions when they visit your profile.
Read Also:
However, do not pass up the opportunity to give further information about yourself and your brand. One of the most critical aspects is to be remembered and engaging-so; don't be scared to be a little whimsical and entertaining.
Which of these Instagram bios will you use? Drop your perspectives in the comments below!