Have you ever asked yourself how to Engage People With email Marketing for your dropshipping Shopify store? Well, you are in the right place. In our previous post, we covered Running Facebook ads for your dropshipping Shopify store, today we dig deep into the email marketing world.
You've never tried email marketing before, No? Not at all? That's fine. You are well aware that you must tell the people about your new store. But you can't spend any more time or money on Facebook ads.
The good news is that there is a less expensive way to do this. It also allows you to reach people in a place they visit every day – their inbox.
Email marketing is an excellent strategy for strengthening relationships with customers and increasing sales.
Making Profitable Email Campaigns From Scratch: The steps below will show you how!
Before we get into the specifics of email marketing, let's define it; talk about what is email marketing?
Email marketing: The Fundamentals, you can use this tool to offer discounts, inform people about new products, or do other things. This type of marketing can help you connect with people and make more sales over time.
How Does Email Marketing Work?
Usually, email marketing works like this: You send a message to a group of people.
You build a list of people to send information about your brand
By giving you their email address, people join your list.
You then use email to share information with these people, and you do it
As soon as you send an email, people open it and engage with the content inside.
Hack! As a beginner, you can automate most of these steps using email marketing tools. We'll tell you all about it when we get to the end of the chapter.
The Importance of Email Marketing
What Is the Importance of Email Marketing? So that you can get people to read your emails.
The following statistics show that email marketing is essential, so let's look at some.
According to the Direct Marketing Association, you can expect to earn $42 for every $1 spent on email marketing, so that's how much you can expect to earn.
That's incredible! No other digital marketing strategy provides such a high return on money.
Email marketing is a low-cost method of attracting people to your store that provides a good return on money.

Leveraging Email Marketing Strategy
A good email marketing strategy can help facilitate your business a great deal.
You can achieve significant results by building an email marketing strategy that works for your business and its customers.
Good value. Running an email marketing campaign with paid ads is one of the cheapest ways to market.
Massive reach: Email marketing allows you to reach hundreds, thousands, or even millions of people quickly and easily.
A lot of excitement. You send direct messages to people who have signed up for your newsletter and are interested in your brand as soon as you send them emails. This is a good strategy for obtaining high-quality interaction.
A lot of excitement. They are more likely to purchase something because they are already interested and because you are sending them messages and offers that are likely to be relevant to them.
It's very simple to do. There are many tools and platforms available to assist you in creating, building, and launching an email marketing campaign without knowing how to code.
It is easy to measure. You can determine how each email performs using tracking and measuring tools. This feature is already built into many email marketing campaign tools and platforms, so it doesn't need to be added.
Guru-Inspired Insights
Dropshipping is suitable for people who want to sell items. Yuliya and Mike, business gurus, made $200,000 in their first year of dropshipping. Their expertise in branding, customer service, and customer loyalty contributes to their success. They believe that email marketing is not only good but also necessary.
According to the two, email marketing is great because it's yours to keep once you get a customer's information. In the case of a platform like Facebook, you can no longer access them if Facebook goes down, which is not the case. Because it is theirs, a business can use email. However, you don't have to pay for customer acquisition costs as long as you have that email address.
Basics of Email Marketing
In this segment, I'll go over everything from how to choose an email marketing tool to what types of emails you should be sending. So grab a notebook because things are about to get very interesting.
Choose an Email Marketing Tool
First and foremost, you must select an email marketing tool from which to build your campaign. The good news is that Shopify has one built into its platform.
You can use Shopify Email to launch, send, and track email campaigns directly from the Shopify tool.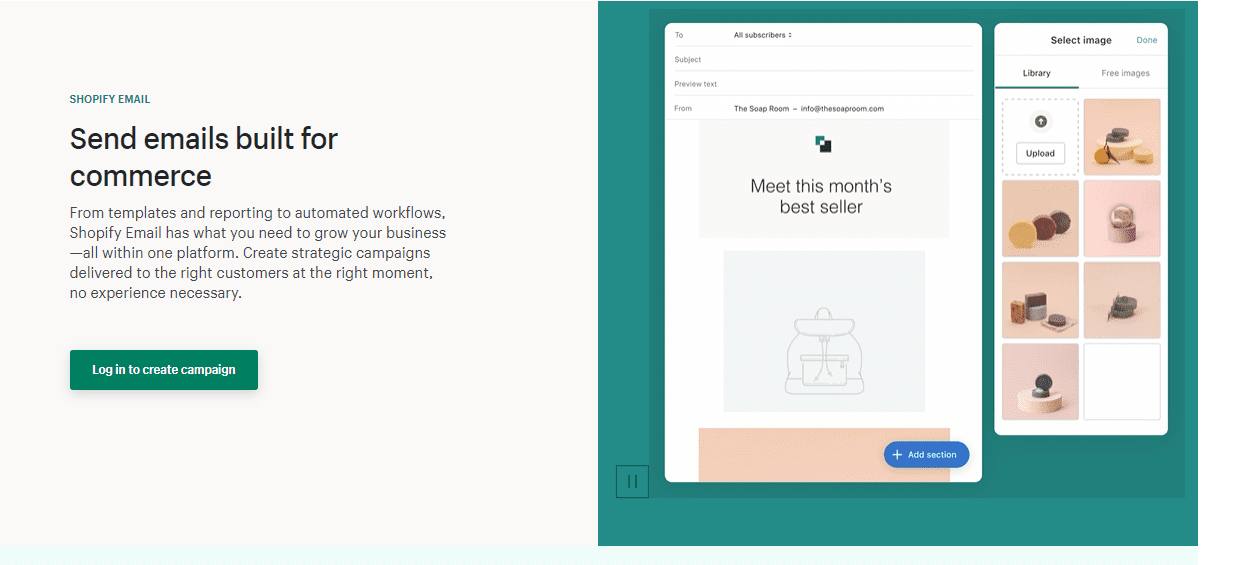 Shopify Email makes it incredibly easy to start your next campaign. You can customize your emails by using your store's brand images, customizable templates, and product images. You can also send emails using your store's domain name without setting anything.
Presently, Shopify Email is only accessible in a few countries. If you can't find it in the Marketing section of the Shopify admin, you might want to try a different email marketing tool to build your campaigns.
There are numerous tools available in the Shopify App Store that you can use to accomplish your goals. Some good options are as follows:
Each of these tools has a free plan that you can use to get started.

You should also make that the tool you select can handle the volume you intend to use.
You don't want to use a tool that can't send 1,000 emails per day to 100,000 people.
You won't have many subscribers when you first launch your blog. However, if the tool has a free trial or version, it should be sufficient until you have many people on your list who want to use it.
Guru-Inspired Insights
Yuliya and Mike like email marketing tools as well.
Many great tools, such as Klaviyo, make email marketing simple for dropshippers to start immediately because they already have pre-made templates for you. Turn them on, and you're done. They're very good at persuading people to buy.Email marketing may appear intimidating initially, but it is very easy. So, just use the automated email marketing flows, make your logo, and then change and put it over time.
Step by step How To Engage People With Email Marketing For Shopify
1. Build Your Email List
The first step is to build an email list.
People who drop ship on their website should include a pop-up form in their email signature.
A pop-up form, web form, or opt-in form is typically a small box that asks people for their name and email address.
You can have pop-up forms appear when you do certain things or at certain times. Furthermore, they allow you to show lead magnets, one of the most effective ways to get people to sign up.
They will make a special offer or something else to entice them to buy from you in exchange for their email address. Unfortunately, lead magnets in ecommerce often include a promotion, such as a coupon or a gift, but this is not always the case.
Most email marketing tools allow you to create pop-up forms for your website.
This is just one example: Privy has a lot of templates for things like announcement bars, pop-ups that appear when people leave your site, and more.

Make whether or not your email marketing tool allows you to put a pop-up.
If that doesn't work, pop-up tools like Sumo and JustUno might. They can make you create pop-ups and link the emails you receive to your email marketing software.
Hack!
Making functional pop-up forms necessitates the following steps:
Use a single, clear call-to-action that is easy to understand.
Reduce a lot of form fields significantly (2-3 at most)
Free shipping or a coupon code can be effective for lead magnets.
Use a variety of color shades to draw attention to the content and the call-to-action.
Make that the design of your pop-up is consistent with the design of your store.
You can also use Shopify's built-in newsletter form to collect people's email addresses, but you can also use pop-ups.
Set up a newsletter signup form for your store to receive emails from your site's home page. Here's how:
Sign in to your Shopify account to access it.
Go to the "Online Store" menu in the Shopify admin area and click "Themes" from the drop-down list.
Next, in the top right corner of the screen, click the "Customize Theme" button.
Scroll down and check the box for "Show newsletter signup" in the "Footer" submenu, then tick "Save."
Finally, click the "Save" button.
There is also an option to show a newsletter signup form on the checkout page. Here's how: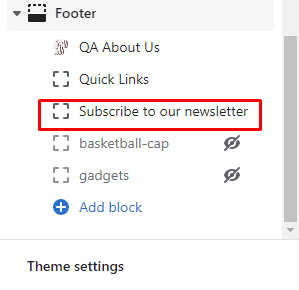 Go to your Shopify account and log in.
Click "Settings" and then "Checkout" in the Shopify admin area to access the settings.
In the "Email marketing" section, check the box next to "Show a signup option at checkout," then tick "OK."
Check the box next to "Preselect the signup" and then click "Save" if you want Shopify to choose the signup form for customers who do not already have an account.
Finally, click the "Save" button.
The GDPR laws were addressed in Chapter 1. Do you remember them? As a general rule, only send marketing emails to people who have signed up for them on your website.
They did that because they put their email address in a pop-up form on your website or filled out a newsletter signup form on your homepage or check page.
Engaging Email Content That Boosts Sales
You have a to-do list. Let's start creating an email that people will want to open, read, and click on.
It all starts with the subject line.
Email Subject Lines That Sell.
Whenever you send an email to your subscribers, the subject line is the first thing they will see. At this point, they decide whether to open your email or delete it.
It is up to you to make that your reader is paying attention.
Here are a few general guidelines to follow when writing email marketing subject lines:
1. Tell them enough, but not too much
Make sure you don't reveal too much of what's in the email.
If you use too many words, your message may be diluted and cut off in their email preview.
According to research, the sweet spot is 6-10 words, followed by 0-5 words and 11-15 words.
But there is no hard and fast rule, so don't worry about the word count.
A good rule of thumb is to be clear and concise while remaining interesting and concise.
Here are some effective email marketing subject lines.
Ready for summer? Same here, too – Check out our new swimwear line.
Sign up for our Loyalty Program and get an extra 10% off.
Get a lot more kitchen space using these 5 quick fixes
2. Make them feel important.
Personalization techniques are the most effective way to make your readers feel special.
Their name should be mentioned. Tell them how valuable they are to your company. It's a good idea to give them a lot of special privileges and access.
The following are some examples of good subject lines for email marketing that will make them feel warm and fuzzy.
Nikita, we're glad you've joined us.
Members-Only: You can get our Cyber Monday deals 24 hours early.
Dee, your private invitation ends tomorrow.
3. Project your brand's personality
If your brand is one-of-a-kind, don't be afraid to show it.
Be self-aware, and lighthearted, and if it's your thing, crack a joke or make a pun if that's your thing.
Useful subject lines for emails that keep it light and fun:
Is this the last time you'll see us? Say it is not so…
Congratulations, your order has shipped!
5 authentic Indian food recipes for chapattis lovers
4. Drive a sense of urgency and personal investment.
First, make people feel compelled to act quickly and as if they have something to lose.
I don't think you should always make yourself feel like you have to do something right now, but it can be very motivating when the time is right.
Some things can make people open the email, such as time-limited deals, events, or reminders.
As a final step, try to appeal to their sense of responsibility for themselves and their goals.
People who own smartphones may receive emails from companies asking them to consider purchasing a new phone or how well it works.
Good subject lines for email marketing that entice people to read them are as follows:
Zharnel, your prescription has lapsed.
Is it time for new contact lenses?
This is it: Buy One, Get One Free on Mother's Day Bouquets. Fantastic offer!
The most common customer service mistakes.
Email subject lines can be hard to understand. What works for one person may not work for another. Be flexible and try out different subject lines to develop new ones for the best results.
Read Also:
Email Body Content: Layout, Copy, and Visuals
It doesn't matter what a good email looks like. Some brands like to use flashy designs, while others stick to text and links. This is entirely up to you, and it is an integral part of telling your brand's story and making your brand more visible.
Some fundamental email marketing design principles should also be considered. For example, we've put together a handy chart if you want to know what to do and what not to do when creating an email marketing template.
Your body content should be organized, written, and displayed so that visuals can easily be read and understood.
Don't forget to keep these Dos and Don'ts.
EMAIL
DO'S
DONT'S
LAYOUT
Use an attention-grabbing headline with your main point, supporting information, and the CTA at the top.
Create a visual hierarchy by using headings and subheadings, different colors and font styles, and different sizes and shapes of text boxes and text boxes with text.
Use white space (the space that isn't used in the layout) to balance the layout and make your CTA stand out.
Instead of writing long blocks of text, strive to make it easy to read and understand.
Aim to use too many colors and fonts simultaneously; instead, choose two or three that are consistent with your brand.
Don't make your emails too wide; they'll be hard to read if they're too wide. They should be around 600 pixels wide.
COPY
Try to keep your writing short and to the point, with each word supporting and relevant to your main point.
Make sure your writing is both clear and conversational and use descriptive language and helpful, clear, and immediately applicable.
Link to everything relevant to bring them back to your website or landing pages so they can go there.
Send a different message to each person; don't send everyone the same generic message.
Use simple words when writing. Make your writing as simple as possible so that no one has difficulty understanding it.
Don't spend too much time discussing the features of your product or service; instead, show how it will benefit them and what they will gain from it.
VISUAL
Add eye-catching visuals that add real value to your message to make it more interesting.
Format and resize images, so they don't look distorted or blurry in your template because they're too big or small.
Keep in mind that there is such a thing as too many images, which may make your CTA less clear.
Don't include visuals just because you think you have to. Don't add too many images because simplicity is a good thing.
Instead of just taking pictures to show your friends, use other media such as videos, GIFs, and illustrations.
Avoid using large media files, which will take a long time to load and lose your readers' attention.
CTAs and Buttons
CTAs and Buttons are two different things.
What do you want the person to do after reading your email? This is called a call-to-action (CTA)
Consider it the primary reason you're sending the email in the first place.
Requested that they use a discount, look at a new product, or read your latest blog post.
The CTA is typically depicted as a button that leads the reader to a website (referred to as a "landing page") where they can do so, where they can do it.
Using a single CTA in each email is one of the best email marketing tips. However, there is less distraction by giving one explicit instruction, which leads to more action, which is better.
Whirlpool discovered this on its own. Their CTAs decreased from four to one, and the number of people who clicked on the CTAs increased by 42%.
Hack!
If you can't come up with just one CTA, choose a primary and secondary one, but don't use more than two in your emails!
This email from City Slickers encourages people to buy loafers. Their "Shop Loafers" CTA button is simple and clear to understand.
Let's look at the various marketing emails you can send once you've determined what makes an email good.
Types of Marketing Email Formats
To keep your subscribers interested, send the following marketing emails:
Welcome emails
Transactional emails
Abandoned cart emails
As we go over each type of email, we'll go over the fundamentals and some more advanced techniques.
Creating an Email Series
Some weeks have an email series that consists of several automated emails sent over a while. This could be for a few days or even months. You can use an email marketing tool to make one for your project.
There are numerous types of email series, including:
Welcome series
Cart abandonment series
After-sale service series
Welcome Emails
When you get someone's email address, you first send them a welcome email. Then, they can be sent whenever a user acts, such as by sending an email.
Signing up for your newsletter
Creating an account on your website
Joining a club, program, or privilege of another incentive
On making the first purchase
It can be either a single email or a series of emails to welcome you.
Attempt to make a specific point in your first conversation (CTA). It usually takes the form of a special discount or promotion for many e-commerce stores.
Kate Spade sends a welcome email with a discount code for 15% off any online or in-store purchase, which can be used both online and in-store.
If you aren't ready to offer a discount, you can try a different tactic to get their attention. For example, you can tell them about a program or offer that makes your brand stand out, or you can direct them to some great content.
Welcome, Series Helpful Hints!
The customer had only recently purchased their first item. These four emails could be sent to people who sign up in a welcome series.
1–3 hours after purchasing: Introduction. Show off your company, team, and what you do. Tell people what happened behind the scenes and show them photos to make the story more personal.
 3–5 days: Getting to know new people. It's a good brand to show a follow-up email outlining how the customer can contact you online. This could be done through social media, your blog, or another method.
In two weeks, we'll find out what the product will look like and how it will function. Message: Shift the focus away from your brand's history and toward your best products. To show your brand and what people like about you: You can also make personalized product recommendations for items related to what they just bought.
3–4 weeks: a good-luck message Give them a discount or do something else to make them make a second purchase if they haven't already.
Transactional Emails
It makes sense to send a transactional email after completing a transaction. For example, when a customer purchases something from the website, the company sends them an order confirmation and a receipt. This is an example.
The subject line of these emails is usually simple, such as "Purchase Confirmation" or "We've received your order." The main order information is in the email's body. This could be:
A confirmation or order number
The date of purchase
What made the individual purchase?
Charge of items and the total cost
The method of payment
A note about when your order will arrive.
If usable, the package's tracking number.
A marketing email from 1800-Flowers demonstrates how to write a transactional email, such as this:
These are single emails rather than a campaign or series of emails in most cases.
Abandoned Cart Emails
These emails can be used to re-engage customers who clicked the "Add to cart" button but did not purchase the item.
A cart abandonment email should include the following information:
A reminder of what they have in their shopping cart, preferably with a product of the item in it (s)
There should be a simple link to take them directly to the purchase page.
A freebie-optional but effective; the incentive will get them to buy now. 

You can also include product ratings for an added boost. This is a great way to use social proof to attract and retain customers.
A great abandoned cart email is shown in the example below.
Here's why it's so great:
It has a photo of blueberries that looks awesome and delicious. People, great food photography sells.
With three short USPs-compelling selling points, it explains why this product is so good and why the customer needs it in their life.
It includes, among other things, customer reviews of similar products to the brand and its products to show how good they are.
Abandoned Cart Series Helpful Hints
Then, suppose you want to send a few emails to ensure that you can re-enter an abandoned cart. In this example, we'll send three emails.
It's been an hour since the cart was left behind. To determine why the person abandoned the cart behind, solicit feedback. As a result, you can use this feedback to make the person in question, and you may also be able to improve the overall shopping experience.
Give them a discount or some other reward if they return one day. This offer is only valid for three days.
Remind them of the discount you sent them in email #2 and that it expires today.
Guru-Inspired Insights
Yuliya and Mike also send welcome emails and emails to people who haven't bought anything.
There were three days of welcome messages for the series. First, they would send out a series of messages for three days. Then, with abandoned carts, they reminded them that they had an item in their carts that they needed to buy before getting it. They also include reviews so that people can see what others think. Of course, people may not purchase from you because they do not trust you. So you can send them feedback. Their process is very efficient, and it allows them to keep 10% of our abandoned carts, which they then convert into sales.
Post-Purchase Email Series
You can use this email series to repeatedly entice more customers to return to your business.
Post-purchase emails are a general marketing strategy that can be used by anyone who has bought something. Of course, you'll still want to personalize things like the item(s) you offer as an upsell, but this strategy works for everyone.
You will receive six emails in a four-week series following your purchase covering six different topics.
Right after purchase: You will receive a confirmation and a receipt when you buy something. This is a standard email informing them that they've bought something. Consider including a discount in the receipt email as well. Set the expiration date for the discount to be anywhere between a few days and a few weeks.
Three days after purchase: Get feedback from others as well. You want to make sure they received their physical product within this time frame so you can ask them about their purchase and delivery process. They are not happy. To figure out why and try to make them happy again. Yes, they are. You can use that information to write a good review.
1–2 weeks: People will write product reviews at least once every 1–2 weeks. Send them this one after they've had enough time to begin using the product or service they bought. Then direct them to a special website where they can leave product reviews.
One day before the discount expires-2=two weeks: A reminder about the discount, such as this: If you gave them a discount in their purchase receipt email, make sure to remind them that they have 24 hours to use it.
For the next 2–3 weeks: cross-sell! Send 1–3 personalized product recommendations based on what they bought.
Four weeks: There will be another discount for four weeks: A promotional email can be sent to people who have previously bought something, such as offering an additional discount for referring someone else to buy.
Email is still a great way to communicate with your customers. To get your business seen more often, combine email marketing with the strategies in Chapter 10.
Small Request
Kindly share it with your friends. Especially the ones you believe need this information. Sign Up Now and Get your first 3 months for only $1 monthly.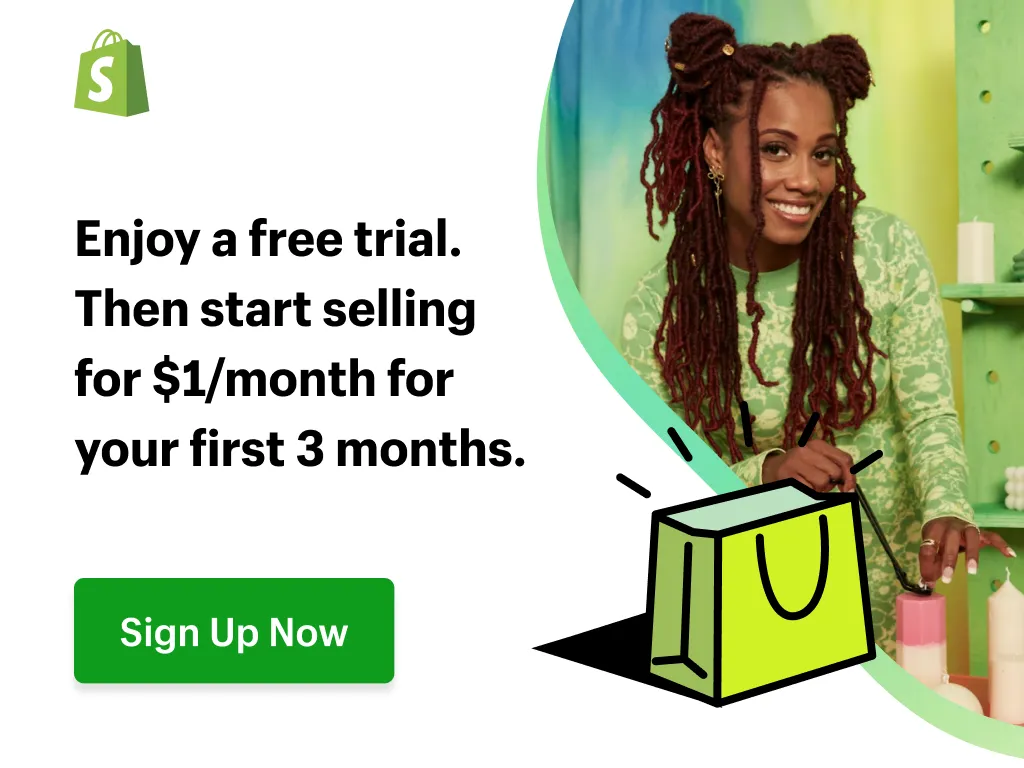 Sharing this information with others can make a huge difference. You may ask why.
Well, the truth is, my main aim is to provide the best information about drop shipping for both beginners and experienced dropshippers.
And I plan to continue doing so for as long as I can.
I would also like to thank those who support my work by reading and sharing my content.
Trust me, when you take your time and share, it will greatly help me and others needing this information.
Here are some great suggestions:
 Pin it
Share it on another blog.
Share on Facebook (Share it with friends and even on Facebook groups)
Tweet it
Stumble it
This will only take a few seconds of your time, and I would appreciate it.
I appreciate you a lot. Thank you!
Join my Shopify dropshipping group mastermind and follow my blog to learn more about Shopify tips, dropshipping guides, tricks and checklists, and e-commerce in general.
If you enjoyed and learned something from this post, you can get me updates for free!
I send out email newsletters about new posts published on the blog, tips and tricks to help you grow your dropshipping business, new YouTube videos to give you more insights about the e-commerce market, and much more.
If you enjoyed reading this, you could as well join my Facebook group. Thank you for reading how to make money dropshipping online from the comfort of your home.
Click here to Join My Dropshipping Community in Telegram