Suppose you're on the lookout for a new graphic design tool. In that case, Canva is undoubtedly the most popular online graphic design software, with tens of millions of users and a valuation running into billions of dollars.

Canva is a fantastic option for those who create graphic content. You may find Canva limited in customization and other features – particularly vectors if you're a skilled graphic designer.
However, if you lack design knowledge, you'll likely appreciate Canva's simple interface and diverse selection of design templates.
Before Canva, I designed with a mashup of Adobe Illustrator, Adobe Photoshop, and PicMonkey.
Canva had added a slew of new features that simplified its use and enabled it to do more.
If you're not a designer and need to create designs for your business, Canva is a top-rated tool to consider. This post will look at Canva's pricing, features, and competitors.
Canva – What is it?
Canva is a free online graphic design tool with 55 million monthly active users and creates visual material for offline and online marketing. Canva received an average rating of 4.7 out of 5 stars from over 9,400 Capterra reviewers.

Canva offers hundreds of thousands of templates and elements for creating personal and business designs. Customize your visual material by including your brand kit and images from your library.
Canva is a comprehensive design tool accessible to everyone who is not an expert designer. While most people think of it as an image editing program, it is much more. You may design anything from printable documents to PDF invoices, flyers, infographics, and websites.
You can either start from scratch or use their templates, depending on your experience.
It is available as a web application and mobile and desktop app.
How to Proceed With Canva
To begin using Canva, create an account using your email address, Google, Facebook, or Apple ID. Next, you'll be prompted to select an account type: student, teacher, small business, large business, nonprofit, or personal. Templates and other resources will be suggested based on the account type you've selected.
You can begin a free trial of Canva Pro or use the free version to start if it's the appropriate graphic design tool for you.
For whom is Canva ideal?
Who is Canva's ideal user? Canva is suited for small business owners, online entrepreneurs, and marketers who need to design rapid designs.
Photoshop is perfect for creating sophisticated visuals. However, it might take a significant amount of time to become comfortable with the software and its hundreds of features, and it's essential to have a strong foundation in design.
Photoshop is also a robust piece of software. You may need to invest in a more powerful and pricey computer.
Additionally, Photoshop is not the most incredible tool for designing multi-page documents for print or digital; you need to invest in a tool like InDesign. This will incur additional costs and time, a complicated tool.
Using Canva to design
Canva will propose various post kinds for your initial design. Depending on the type of account you create, you'll see template categories for social media postings, documents, presentations, marketing, events, and advertisements, as well as categories for launching your business and building your online brand.
Begin by selecting the type of post you wish to create or doing a more precise search. For example, you may perform a search on the name of a social network to view a list of templates for that network's various post types.
However, Canva enables you to accomplish all of this with a single drag-and-drop tool. Additionally, it is more convenient to use and is completely free. There is also a low-cost paid version available for $12.95 per month.
How Much Does Canva Cost?
Canva offers three different pricing options. Plan Types: Free vs. Pro vs. Enterprise
These three plans are free, pro ($9.95 per user, billed annually), and enterprise ($30 per user, billed annually).
The free edition is suitable for freelancers who create between ten and fifteen designs per month. You gain access to over 100 different design kinds, over 8,000 free templates, and thousands of free photos and graphics.
If you create a high volume of photographs for yourself or your clients, the Pro plan is better suited to your needs. For example, you gain access to over 420,000 templates, over 75 million graphics, photos, stock images, and videos, as well as a variety of other features. A noteworthy feature is the Brand Kit, which allows storing brand assets (color palette, logo, etc.).
The Enterprise plan is suited for agencies and organizations with many team members. You gain access to various Brand Kits, design workflows, and a limitless amount of storage.
Free Plan
The following features are included in the Free plan.
Publish designs across various channels, including Instagram, Facebook, Twitter, LinkedIn, Pinterest, Slack, and Tumblr.
More than a hundred design kinds, including business cards, presentations, and social media posts.
Collaborate with others on designs by sharing, collaborating, and commenting on them.
Thousands of free photos, logos, fonts, and graphics.
Access to more than 250,000 free templates.
5 GB of cloud storage for your designs.
The Pro Plan
The Canva Pro plan for up to five people begins at $12.99 per month (or $119.99 per year) and includes all of the features found in the Free plan and the following.
Over a hundred million high-quality stock photos, videos, audio clips, and graphics
More than 610,000 paid and free templates updated daily
Up to 100 Brand Kits customized with your organization's colors, logos, and fonts
Access to the Background Remover and the Magic Resize features.
Create templates using your artwork.
Store your designs in the cloud with 100GB of storage.
Create and schedule social media designs for eight platforms, including Instagram, Facebook, Twitter, LinkedIn, Pinterest, Slack, and Tumblr.
Enterprise plan
The Canva Enterprise plan begins at $150 per month for five people and offers all of the features included in the Pro plan, plus the following.
Manage your team's access to apps, graphics, colors, logos, fonts, and uploads with brand controls.
Use built-in procedures to gain approval for your designs.
With template locking, you may restrict your team's ability to edit and maintain brand consistency.
Store your designs indefinitely.
Log in using single sign-on (SSO) and access 24-hour Enterprise-level support.
Nota bene: There are no-cost programs for nonprofit organizations and education.
Publishing With Canva
Canva's free users can download their designs or share them on various social media networks, including Instagram, Facebook, Twitter, LinkedIn, Pinterest, Slack, and Tumblr.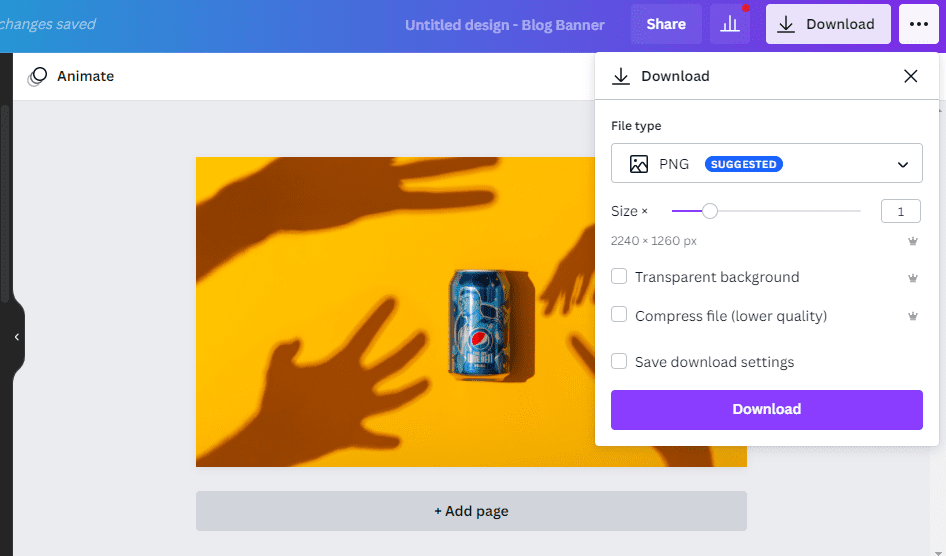 Subscribers to Canva Pro get access to the Magic Resizer, which enables them to create various post formats from a single design.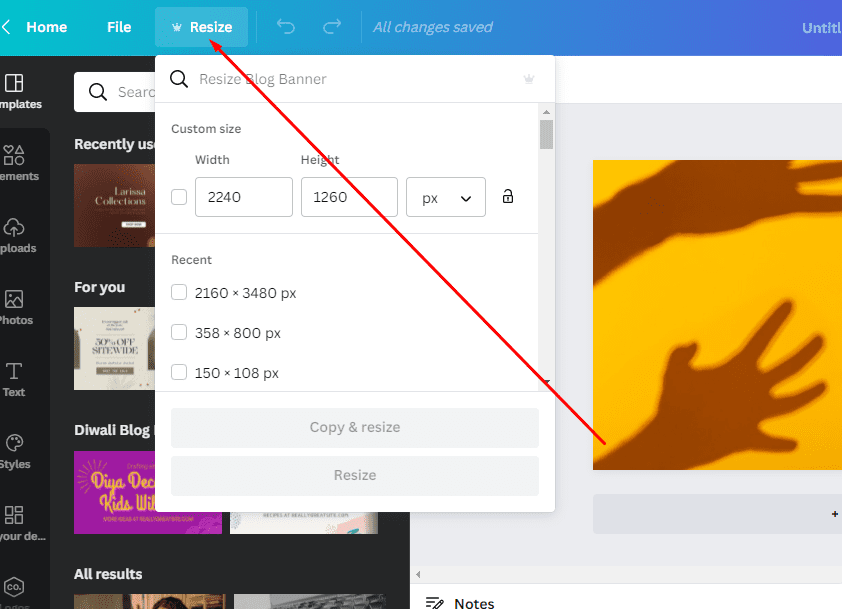 For instance, you can start by designing an Instagram post.
Canva's Magic Resizer allows you to resize it for posts on other social media platforms, Stories, Reels, and other formats.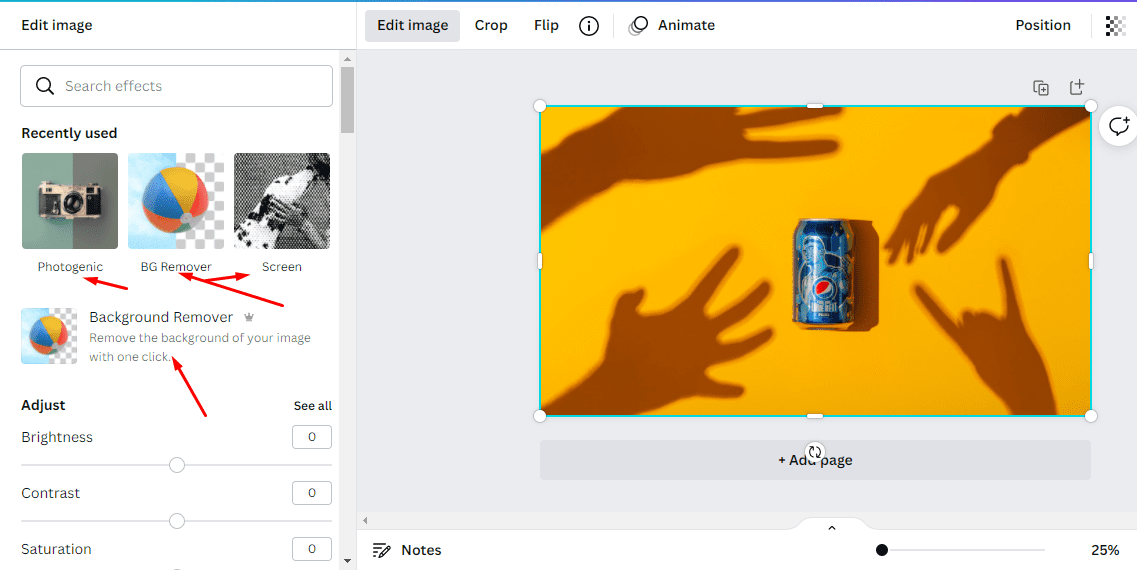 Subscribers to Canva Pro can now utilize the Content Planner to schedule updates to up to eight profiles/accounts on Instagram, Facebook, Twitter, LinkedIn, Pinterest, Slack, and Tumblr.
Canva Top Features
Elements
The Elements tab in the Canva designer provides access to lines and forms, graphics, photos, videos, audio, charts, photo frames, and photo grids. You may search Canva's whole library using the search box on the Elements tab.
Again, Canva features a vast library of elements, so be particular in your search term. Additionally, you may like to search the following tabs to view the search results in their entirety.
Enhance your photos with photo effects Canva offers a variety of photo editing effects. In addition, you can apply effects to both Canva-provided and user-supplied images.
They are visible at the editor's top when you select a photo.
These let you flip photos, crop them, apply filters, and adjust the brightness, contrast, saturation, color, and blur of your images, among other things.
There is an effects tab to apply Duotone, Background Remover, and Liquify effects.
While most effects are free, some, such as Background Remover, require a subscription.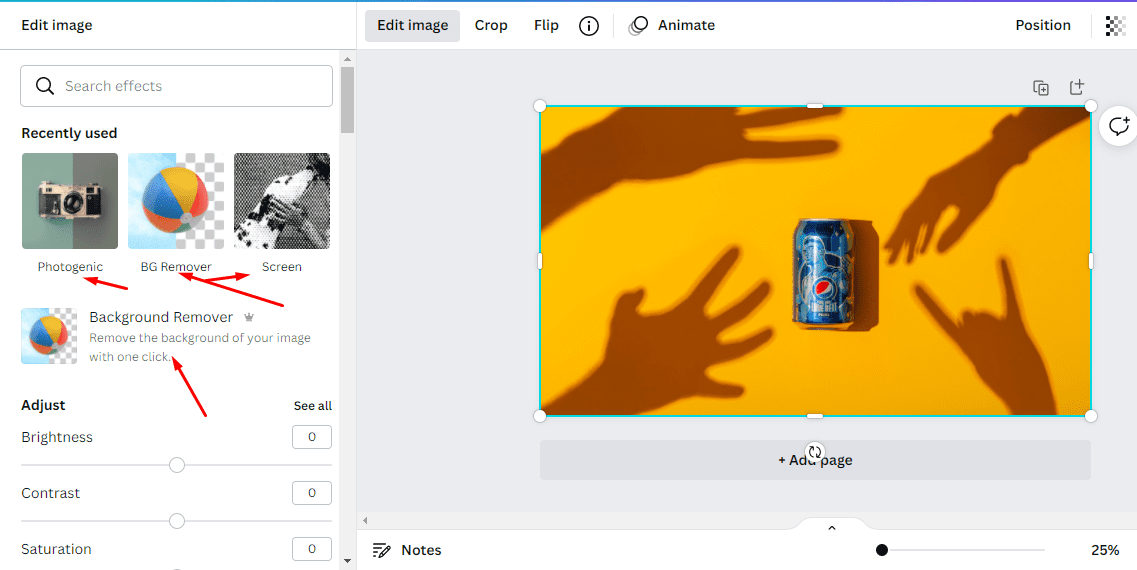 Accessing photos, videos, and templates
With the Canva Pro subscription, you get access to 75+ million photos and videos, as well as 420,000+ templates; just a percentage of them are available with the free plan.
Click the Templates tab on the editor's toolbar to access the templates. Canva will find templates based on the design type you've chosen.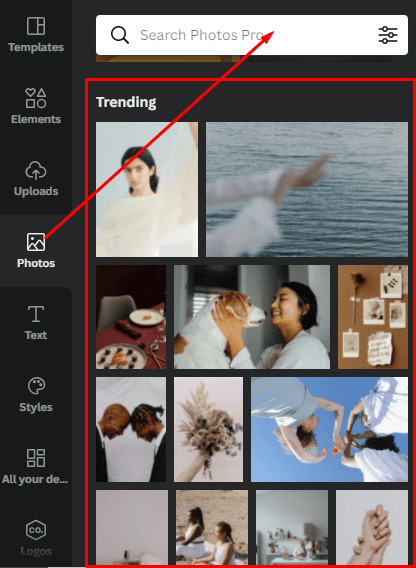 You can browse or search for templates based on color or even language.
To find photos, click the Photos tab & sort through them similarly to how you would with filters. Additionally, you can upload photos using the Upload tab.
The other place you'd find photos is the More tab.
You may immediately access photos and videos from Pexels, Pixabay, Facebook, Flickr, YouTube, Instagram, Dropbox, and Google Drive.
Additionally, there is a Video tab where you can find videos.
The accessibility of icons, shapes, and stickers
Canva's Elements tab contains icons, shapes, stickers, charts, grids, and gradients.
They can be added to your images, and their color, transparency, and size can be adjusted.
Font library
Canva includes a font collection under Text that includes dozens of fonts ranging from simple to sophisticated and individual fonts and font combinations.
Canva identifies both the actual font and fonts that complement it when you search for a font. You can choose a pair and add it with your text.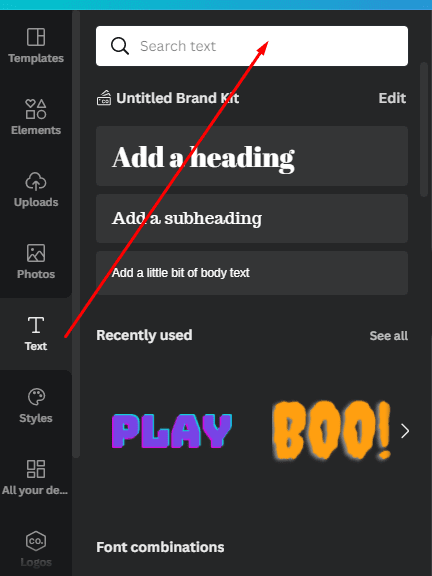 If you have a Pro account, you get to upload fonts as long as you own a license to use them; you cannot upload any font.
Drag-and-drop editor
Working with photos, videos, templates, elements, and fonts is a breeze with the drag-and-drop editor. Choose the type of project you're working on, and Canva will display all of the necessary elements. You can add them and edit them using the drag-and-drop method. Your visuals should be able to be created in a matter of minutes. If you have previously utilized the templates, you can probably make them in a matter of seconds.
Capacity to create more than images
Canva is frequently misunderstood as an image-creation tool. However, you may create invites, planners, business cards, blog banners, newsletters, menus, certifications, workbooks, websites, and flyers, among other things. There are also numerous resources for online schooling.
You may now revert to the drag-and-drop editor. Select the type of creation, and Canva will recommend appropriate templates. You can use one of the existing templates or create your own.
Animate still images
Canva enables the application of animation effects. Simply click on Animate. This demonstrates all of the effects available. Block, Breathe, Fade, Pan, and Rise are all free; premium animations are also available.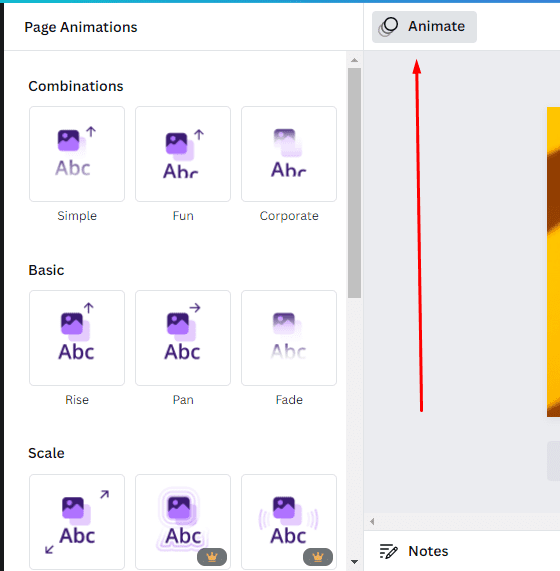 I strongly advise you to experiment with these effects. First, they'll help you create stunning images, mainly on social media.
Schedule or publish on social media
As is the case with most online photo editors, Canva lets you share your images straight to several popular social media platforms. Recent enhancements include scheduling posts to social media platforms such as Facebook pages, Facebook groups, Twitter, LinkedIn profiles, LinkedIn pages, Slack, and Tumblr.
Content planner
Additionally, the content planner is a new feature. You may view all the images you've scheduled in this section. If there are any gaps in the calendar, click the '+' sign to add an earlier design or create one immediately.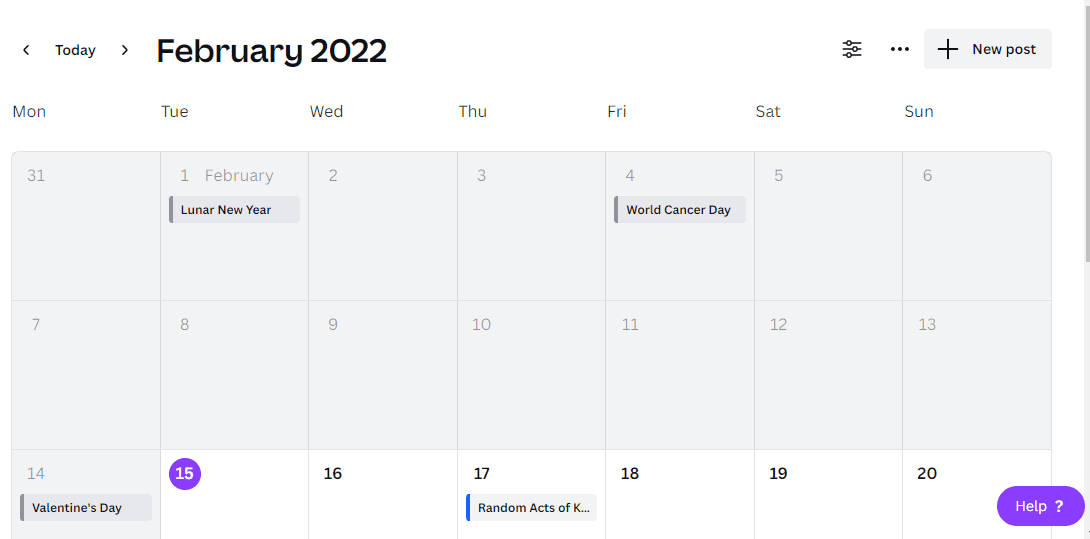 Text
The Text tab enables you to add headings, regular Text, and graphical Text into your design.
When you click on Text in a template, you'll see options for changing the font, font size, color, format, spacing, text effects (such as shadows), and transparency.
Subscribers to Canva Pro can customize their brand fonts via the Brand Kit or the Styles tab. Enterprise-level controls ensure that your team's visual content remains consistent with your brand.
Audio
Are you in the process of creating an animated image or video? Search for audio elements to add to social news feeds to grab users' attention.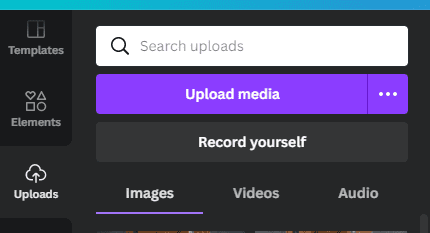 Alternatively, you can upload audio from another stock site or your recordings in the Uploads tab.
Backgrounds
The Background tab has free photos explicitly created to find as backgrounds for your designs. Change the background of a template to give it a more customized appearance.
Logos
If you have a Canva Pro subscription, a Logos tab will be available. In addition, you can incorporate variants of your brand logo throughout your designs by uploading them here.
Additionally, Canva enables you to create logos. Nota bene, you cannot trademark logos that contain stock content.
Canva Teams
Subscribers to Canva Pro can collaborate to optimize the visual content workflow. Canva allows you to create designs and send them to the appropriate team members for approval. Teams can make comments, edits, and revisions to documents and keep track of them using the version history.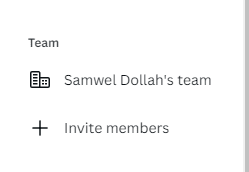 Canva Print
If you're creating an offline marketing design, Canva has a Print division that competes with VistaPrint. They can print your designs on banners, wall art, mugs, t-shirts, business cards, stickers, invitations, cards, and flyers, among other materials.
Canva Print is ideal for businesses looking to leverage their customers' word-of-mouth marketing. Create designs that people will want to stick on their walls, wear, and so on. Distribute business cards that people would like to keep and share.
Canva Apps
Canva has its mobile application available for download from the Apple and Google Play stores. Canva has a 4.9-star rating from over three million Apple users and a 4.7-star rating from over 188,000 Google users.
The mobile app lacks some of the features found on the desktop browser version. Fortunately, most of them are accessible via mobile browser by visiting the Canva website and bypassing the app.
Apart from mobile apps, Canva offers apps and integrations that enable you to access third-party elements. For example, you can include Google Maps, Emojis, photos from Google Drive and Dropbox, YouTube videos, Flickr photos, and Bitmojis, among other popular visual content elements.
Brand Kit
The Band Kit serves as a repository for your brand's assets, such as fonts, brand colors, and logos.
The primary advantage is that assets are easily accessible while designing. It saves time and enables you to maintain a consistent design aesthetic across all of your designs.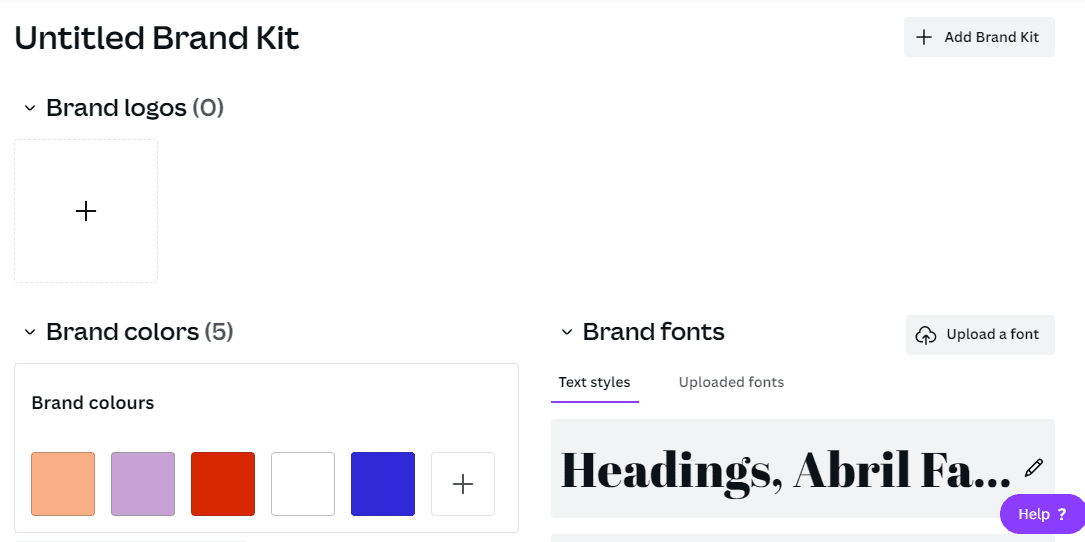 The Brand Kit is available only to Pro and Enterprise subscribers. A-Pro account allows for the creation of one Brand Kit. However, you must upgrade to Enterprise to create additional documents. It's better suited to agencies that design for various clients or corporations with multiple brands.
Canva Pros and Drawbacks
Review sites such as TrustRadius enable users to leave specific positive and negative feedback about their Canva experience. Among the over 500 reviews, here are some of the most salient points from the pros and cons noted by users.
Pros of Canva:
An intuitive and easy-to-use interface
It enables people with modest graphic design abilities to create professional-looking visuals.
Numerous templates ensure that you'll never have to start from scratch.
Branding kits to ensure that all teams adhere to the brand's colors and fonts
Capability for on-the-go visual content creation
Templates that apply to a wide variety of applications and networks
The ability to search independent searches for royalty-free images, video, and audio.
Cons of Canva
As previously stated, Canva has numerous pros but few cons; they have arrived.
•        You are handicapped to create unique elements.
Canva does not allow for the creation of elements. Instead, these are pre-designed designs and design enhancements such as lines, frames, icons, shapes, and stickers that you can add to your creations.
You may only use those that they provide. For example, you can change the colors and sizes of the objects, rotate and reposition them, but that's about it.
If you had Photoshop or Illustrator on your computer, you could create these items from scratch, as I did in this comic I drew.
It's a hybrid of hand-drawn elements and vectors.
•        The photos and templates tend to be generic.
Canva's library includes hundreds of thousands of templates and millions of photos. They look great and outperform many of the ubiquitous freebies. However, they can appear to be quite generic. Again, this is due to Canva's rigidity.
Creating anything unique is difficult. Additional unique templates and photos are available on design resource websites such as Freepik and Adobe Stock.
However, Canva offers a more fantastic selection of high-quality free and premium images for a low monthly fee of $12.95 (less if paid annually), making it more affordable.
•        Not the most proficient photo editor
Canva includes photo editor features, but it lacks the power of tools like Photoshop. If you work with a larger number of photos, you should purchase Photoshop or use Canva in conjunction with Lightroom.
•        On small screens, this is hard to use.
There is a mobile app, but it is more difficult to use than the desktop version. On the computer, the experience is significantly superior.
How to Use Canva
Now that you're familiar with some of Canva's most useful features let's use them to create an image.
We'll create an Instagram quote image; they're simple to create and attract a lot of attention. The AppSumo account regularly publishes them.
Additionally, they contributed significantly to Foundr's achievement of 2.6 million followers.
Let's get on with the ins and outs of Canva.
Select a visual type.
To choose a visual type, use the arrow, menu, or search bar on the dashboard, or navigate using the arrow, menu, or search bar. You can specify custom dimensions to create a unique layout.
When creating an Instagram image, you can click Instagram Post.
 Pick a template and modify it.
Canva will launch the editor in a new tab, displaying templates to the left.
Drag and drop a template into the editor to select it.
You can include a quotation image.
After selecting a template, you can modify it by inserting your quote and brand colors.
That is what you can do, as shown below.
This is how images using Canva templates are created. It's extremely simple. Additionally, you can create images from scratch by selecting photos and superimposing elements on them.
I'll show how to do this below, as we'll be exploring additional features.
Choose a picture
Start by selecting a visual type. Following that, click the Photos tab, the Uploads tab (to add your photos), or the More tab to import an image from another website (visit to verify copyright permissions!).
As you're creating a quote image, choose a photo corresponding to the quote I'm adding.
Add overlays
Then, on the elements tab, add overlays. Then, I added a simple white circle and drew a line in the center. Finally, the line will denote the break between the quote and the author's name.
By dragging a corner, you can resize an element. For example, if you hold Option/Alt while dragging, the aspect ratio will be preserved.
I chose white for the circle overlay because neutral colors like white and black work well on most images. I chose a color from the photo for the line.
Canva includes a palette finder that analyzes photos and displays their colors. Simply choose the image and click the color option. It will show the colors associated with the image on the left menu.
You can colorize the elements by clicking them. It's the simplest method for determining appropriate colors, especially if you're new to design. If you have a strong understanding of color theory, feel free to experiment with additional colors.
If you want people to see the background even after adding overlays, you can adjust the opacity of the overlays by clicking transparency & dragging the slider.
Add Text
Following that, you may include Text; browse for fonts, or search on the Text tab.
Several elegant and simple fonts prefer a simple font such as Montserrat.
Certain people will advise you to use a more ornate font. While fancy fonts are attractive and useful for specific purposes, stick to simple fonts when designing for the web. The same principles that apply to copywriting are applicable here as well.
You must provide easy-to-read material, as the internet is rife with distractions. Engagement and conversions will suffer if the font is too fancy and hard to read. You don't want people to wonder if that's a 6 or a b, or if that's an or an e.
The same principles that apply to blog writing and copywriting apply here.
Canva will find both the font & font pairs when searching for a font.
To add a pair to the editor, click on the pair you prefer.
After that, replace the text, resize it, reposition it, and add colors.
Additionally, you can include your branding if desired. Simply upload a logo or include your website's URL.
Adjust the alignment
Adjust the alignment of all the elements in your vision to ensure consistency. To start, select all elements using Command/Control + A.
Following that, click Position and then Center. Everything will be centered. If you prefer another alignment, go ahead and use it.
Click Animate and select an animation style from the drop-down menu to animate your image.
Resize your creation
Your image is finished, but before I show you how to share it, I wanted to demonstrate a time-saving feature.
Canva includes a resize feature that enables you to adjust the size of any image.
Simply click Resize and specify the new size or platform for which it is being created and whether to resize the current one or create a copy. Canva will resize it and adjust the design's elements automatically.
I created a duplicate of the Facebook cover image, and as you can see, the size is different, but everything appears to be the same.
Download or share
Once your image is complete, you can choose to download, share, or schedule it.
To download the image, click Download, then choose the desired format.
To share, click the "…" icon, share the platform, or click Schedule. While scheduling, you can specify the date and time and the social networks to use.
Best Canva Alternatives for Easy Graphic Design
Suppose you're not already creating visual content for your website and social media channels. In that case, it's probably not because you don't believe it's necessary, but because you simply don't have the time.
This is where do-it-yourself graphic design software comes in helpful.
Canva is a widely-used DIY design tool that offers a library of various templates and layouts for creating images for your website, emails, and social media platforms.
We'll briefly examine the top features and pricing of all Canva alternatives in this area.
Top Canva Alternatives
If you're not a fan of Canva or want to weigh your options before choosing the best design tool for your needs, we've compiled a list of Canva alternatives that you can use to create and edit graphics regardless of your graphic design skill level.
If Canva does not appear to be a good fit for you, you may want to consider the following Canva alternatives.
GoDaddy Studio
PicMonkey
Simplified
Venngage
RelayThat
Piktochart
Picmaker
Pixelied
Snappa
Stencil
Visme
Crello
Fotor
Easil
Pixlr
Tyle
GoDaddy Design Studio
If you are a GoDaddy customer, you can use GoDaddy Studio for free. This tool provides access to thousands of editable templates.
As with Canva, no design experience is required to create professional graphics. The app has an average rating of 4.8 stars in the Apple store, based on over 94,000 user reviews.
PicMonkey
PicMonkey is a powerful photo editing application that offers users creative things with their images, such as advanced editing, effects and filters, and collage creation. Because PicMonkey's primary aim was for photo editing, it's not the ideal alternative to Canva if you're looking to create images for the web and social media. However, it does include some templates and design elements for that purpose.
PicMonkey offers a seven-day free trial period during which you can evaluate the software before purchasing its Basic or Pro subscriptions. Are you looking for a PickMonkey substitute? You can view them here.
Select PicMonkey if you:
You wish to modify images without the requirement to understand Photoshop.
You place a higher premium on image quality than on having an extensive library of templates on hand.
Price: The Basic subscription is $7.99 per month.
Simplified
Simplified enables fast customization of your templates using a resource library that includes millions of photos, thousands of fonts, and various design components.
Additionally, Simplified enables you to leverage magical AI to erase backgrounds, create animations, and resize images with a single click. You will never again need to use several tools! Additionally, you may leverage in-app publishing and scheduling, which lets you create and distribute all of your marketing material from a single platform.
Select Simplified if the following applies:
You're looking for a central place to collaborate and scale your content development.
You'd like to use AI for simple graphic design and copywriting tasks.
Simplified is free to use with options starting at $8 for small teams and $24 for businesses, payable annually.
Venngage
Venngage offers a plethora of different templates from which users can choose. With social media images, cards and postcards, reports and presentations, and more, this Canva alternative is an excellent choice for anyone with a range of visual design needs.
Venngage also publishes a wealth of educational information on their blog to share best practices and new insights with their community, which may help you hone your DIY design abilities even further. As with Piktochart, Venngage's primary use case is data visualization and the development of infographic material. As a result, users will find a limited number of templates in other content formats but a plethora of infographic templates.
Venngage is more expensive per month than the majority of the other options on this list, but buying annually helps offset the price difference.
Venngage is the best choice if:
You have a lot of visual design requirements and want to create and keep all of your images in one place.
You plan to create data visualizations such as infographics, charts, and other data visualizations.
For students, the service is free; premium options begin at $24 per month, billed annually.
RelayThat
Relay
This is an excellent alternative for creating your own branded visuals for landing sites, social media, and advertisements when you don't have much time to moonlight being a designer.
Users simply upload their brand assets & RelayThat automatically suggests appropriate design sizes and formats for numerous platforms. For example, if you've used Canva and wish for additional template options or tested design recommendations, RelayThat is an excellent tool.
The more images & colors you add to RelayThat's library of customizable image templates, the more personalized image templates RelayThat will suggest. For example, if you've started amassing branded content, you may upload it to RelayThat; if not, it offers thousands of royalty-free images. Additionally, it offers picture SEO capabilities that will aid in the ranking of your images in organic search.
Pick RelayThat if the following conditions apply:
You're creating images for various websites, advertisements, and social media platforms.
You are not a designer, and you require an easy tool for choosing the appropriate colors and text styling to aid in converting your images.
Monthly fee of $25 for Pro subscription.
Piktochart
With the library of data visualization templates, Piktochart's expertise is assisting you in creating your charts, graphics, and infographics.
Piktochart is known for its simple-to-use data visualization tools, offering templates for creating custom social media images and presentation slides. Unfortunately, Piktochart does not include all of the possibilities offered by Canva. Still, it does provide additional data visualization templates and capabilities if that is a type of visual material you wish to create more of.
Piktochart's free plan has a limited number of templates, so if you plan to create a lot of infographics and charts with this tool, it's worth upgrading to the subscription tier.
Piktochart is a good choice if:
You want to create data visualizations that you can share on your website, in your content marketing campaigns, or on social media.
You're looking to create the visual appeal of your presentation slides.
Price: Free with a Pro subscription; $29 per month with a Standard subscription.
Picmaker
Picmaker is an artificial intelligence-driven graphic design platform that lets you create eye-catching designs in more than 70 categories. It includes a slew of pre-designed templates, over 100 million stock images, over 100,000 icons, a unique brand kit, and a slew of other robust features.
It enables non-designers to quickly and easily create social media designs, logos, memes, flyers, posters, invites, and certifications. Additionally, its MAD button, powered by artificial intelligence, lets you choose from a dizzying array of templates, colors, fonts, and images.
Pickmaker is the best choice if:
You'll require great designs and an intuitive platform powered by artificial intelligence.
You'll require access to over 100 million stock photos, a free AI-powered background remover, and one-click design resizing, among other features.
Collaborate with other team members on design projects and collaborative workspaces.
Pricing: Free options are available; premium plans begin at $7.99 per month, billed annually.
Pixelied
Pixelied is similar to Canva, except it includes thousands of pre-made templates and icons, millions of stock images, and a suite of photo editing tools such as one-click background removal.
Among the several features that Pixelied offers, two stand out and excite the designer in you. First, you get to use the mockup editor to create amazing product mockups for your brand.
Additionally, its workspace functionality enables you to simply move between workspaces, each with its own unique set of assets, designs, and team members.
Pixelized is the way to go if:
Your business requires a tool with a wild set of visual design capabilities.
You wish to unleash your inner designer.
Pixelied is available for free and $7.95 per month with the Pro plan.
Snappa
Snappa is another do-it-yourself graphic design tool that includes templates, royalty-free images, and the opportunity to upload your own branded images for inclusion in your designs. Snappa distinguishes itself from other Canva alternatives by allowing you to import your custom fonts and by allowing you to share your designs directly to social media without leaving Snappa.
Snappa's free users are limited to five downloads per month and cannot share images on social media; thus, if you want full access to all of your designs and the ability to share images directly from Snappa, its Pro subscription is a better alternative.
Snappa is the best option if:
You desire the ability to quickly create and share social media images (without needing to re-upload them to a social sharing tool).
You wish to incorporate customized fonts into your images.
Paid plans begin at $10 per month, invoiced annually.
Stencil
Stencil is a lightweight alternative to Canva that enables you to create images for your website or social channels quickly. It includes a variety of browser extensions that enable you to effortlessly highlight Text or capture an image for incorporation into your design projects. It has more than 100,000 different quotes for use in social media graphics. Stencil offers fewer templates to choose from than the other options on this list, so if you're looking for a starting point, Stencil may not have as many options.
Stencil users on the free plan are limited to creating ten images per month and must upgrade to the Unlimited plan going for $12/month to access the tool's full features.
Stencil is the best option if:
You plan to use motivational quotes in social media posts to engage your audience.
You gather visual content inspiration from various sources and want to access your design tools via a browser extension quickly.
Price: Free with a pro subscription; $9 per month with an annual billing cycle.
Crello
What differentiates Crello from the other Canva alternatives on our list is its Animation Maker package, which provides users with animated templates and objects to create more engaging images and videos.
Animated templates include vertical and square video formats and Facebook and Instagram stories, and Facebook cover videos, all of which assist in differentiating your brand online. In addition, Crello also features a robust template and image library, which includes illustrations and offers a variety of options for various web content formats and platforms.
Crello is available for free; however, major functions such as Animation Maker are reserved for Pro subscribers.
Crello is the best choice if:
You're interested in creating and sharing animated images.
You want to use a combination of stock photographs and illustrations in your images.
Crello Pro is priced at $7.99 per month when invoiced annually.
Visme
Visme is one of the most flexible Canva alternatives, enabling users to create exciting presentations, infographics, papers, videos, and graphics, among other things. The tool streamlines the content creation process by providing user-friendly templates, millions of images & thousands of icons, plus over 50 charts and data widgets. Additionally, you can integrate video or audio. Editing and customizing is also a breeze.
Visme's Basic Plan is free, while the Complete Plan starts unlimited projects, additional storage, and crucial features like the slide library.
Use Visme if:
You want easy-to-use templates, infographics, and a vast picture library at your disposal.
You're looking for a visual content producer with adaptability and all-in-one capabilities.
Paid plans begin at $15 per month, invoiced annually.
Fotor
Fotor offers extensive picture editing tools into a similar-to-Canva design interface, allowing users to alter images and use them to create web designs swiftly. Fotor also offers video tutorials on its website to help users continue to study and develop their skills with the tool.
Users can begin with Fotor's Basic subscription, which includes basic editing skills and advanced design capabilities.
Fotor is the best option if:
You desire image editing and retouching.
You wish to build a template for your web and social media images.
Price: The standard subscription is $8.99 per month.
Easil
Easil has some of the most powerful image editing features of all the Canva alternatives. It also offers a variety of templates for various platforms and web content formats. Easil enables users to upload brand assets and create custom templates for other team members to create branded images. In addition, users can print images directly from the tool if necessary.
Additionally, Easil offers its users exclusive stock images, allowing you to avoid utilizing the same royalty-free images that everyone else on the internet, and you get to use Easil to make animated GIFs in addition to static images.
Use Easil if you:
You must create branded templates that your entire team can simply utilize.
You desire a more distinctive appearance and feel for your images and designs.
Price: Free for new members; $7.50 per month for Plus members.
Pixlr
Unlike other Canva alternatives, Pixlr shines when it comes to photo editing. Pixlr makes photo editing more accessible, faster, and smarter than ever before – making it a viable alternative to Adobe Photoshop.
Have you ever attempted in vain to eliminate undesired items or persons from a photograph or to blur an unsightly background with pixel-perfect precision? For example, the AI Cutout option for those who lack flawless vision and calm surgical hands lets you remove backdrops with a single click. Additionally, you can add accents or textures to your photos, such as light streaks, dust specks, and glitter.
Pixlr is a good choice if:
You're looking for a do-it-yourself graphic design tool with photo editing capabilities.
Pricing: Free plans are available; premium options begin at $4.90 per month, invoiced annually.
Tyle
Canva is great for creating social media images, but it lacks tools for creating social media videos. Unfortunately, many marketers miss out on video engagement due to a lack of time and resources. That is where Tyle enters the picture.
Tyle's intelligent video and image editor lets you create high-quality content and daily social posts quickly and easily. You have to place a template and populate it with your media and messaging. From there, it's simple to change each layer promptly and efficiently to customize your video to your needs.
The best thing is that you don't have to record your video or capture your photos to create a socially shareable video.
Tyle's native tool offers direct access to three million free stock photos and video clips. Now you can concentrate entirely on your message and leave the aesthetics to the professionals.
Select Tyle if you fall into the following categories:
You're responsible for creating video content and social media postings for your business or brand.
You want to save time by automatically letting the smart editor enhance your video's appearance and readability.
You desire direct access to (over three million) royalty-free stock photos and video clips within the native tool.
Price: Free for the first month; premium subscriptions begin at $31 per month.
Amazing Canva Resources
Canva features a variety of free resources for designers.
If you need to make quick modifications to your photos, Canva features a free photo editor.
Canva's Color Wheel lets you see what colors complement one another.
The Palette Generator will create a palette of colors based on the colors of an image that you submit.
The guide on color meanings and symbolism can find you in determining the most significant color palette for your brand.
The design size guide details the optimal sizes for graphics on social media, video, and presentations.
Additional Resources
Adobe also offers some interesting free guides to delve deeper into graphic design. In addition, there are tips for numerous design types (tattoos, backdrops, newsletters, and logos, for example) and the application of graphic design concepts, colors, and symbols.
In summary, you can obtain these excellent Canva alternatives for a fraction of the price. Whatever your visual content creation goals are, one of these DIY design tools will help you save time and money when designing graphics for your business.
For Canva, alternatives offer startups the skills and templates you require at an affordable price.
If you're a content creator, marketer, or founder searching for additional tools to help you develop your business, check out these affordable business tools for entrepreneurs and their growing businesses.
Summary
Was this Canva evaluation helpful? Canva is a fantastic online graphic design tool for content providers who require visual content. It may be used for various tasks, from basic photo editing to developing social media photos, brochures, and documents. It includes many features and is available for a low monthly fee of $12.95. Additionally, there is a very generous free plan, and customer assistance is fantastic. In addition, it provides entrepreneurs and marketers with a positive design experience.
If you're a skilled graphic designer, you'll find their platform insufficient in customization and other features – particularly vectors. However, if you lack design skills, you'll find that Canva is easier to use than advanced graphic design tools such as Adobe Photoshop or Illustrator for the majority of jobs.
What I laud
An intuitive and easy-to-use interface
A plethora of pre-designed templates
In-built royalty-free asset search
Could be better
Limited advanced editing features
Some basic features are available exclusively to Pro subscribers.
There are no analytics available when sharing designs
Read Also:
FAQs about Canva
Is Canva a superior alternative to Photoshop/Illustrator from Adobe?
Canva positions itself as an easy-to-use design tool for people who aren't designers. Adobe Photoshop and Illustrator are designed for beginner to advanced photographers and graphic designers.
Can I use Canva for free in tandem with my business?
Yes, all of the free elements included in the Canva free subscription can be used commercially or non-commercially.
Am I able to trademark a Canva-created logo?
Yes, unless it has stock elements.
Can Canva be used to create videos?
Yes, Canva provides an easy-to-use video solution for creators of visual content who are not video professionals.
Can I sell Canva-created content?
Yes, as long as the image does not contain unaltered Canva media. Further information about licensing, trademarks, and commercial use of Canva content can be found here.
Is there a watermark on Canva?
No, Canva does not encrypt your finalized images. However, unless you purchase the media or a Canva Pro or Enterprise subscription, you will notice a watermark on copyrighted stock pieces in the Canva library.
If you notice a watermark on a prior design, it's because you had a Pro subscription and used a template or element that was only available to Pro subscribers.
Is Canva worth the money?
Consider the number of templates and aspects available only to Pro subscribers. If you're unsure about the platform, you can always start with the free version or cancel after the 30-day free trial.
How can I use Canva?
Canva enables non-designers to design diverse visual content for online and offline marketing. They contain visuals for social media, presentations, business cards, reports, and infographics, among other things.
Is Canva a free app?
Yes, Canva does offer a free plan for creating professional-looking designs.